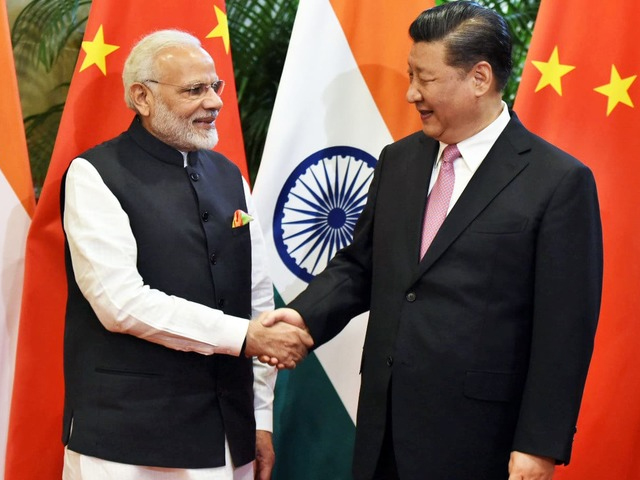 ---
The reality check that brought Narendra Modi and Xi Jinping together
China is wary of the US-India alliance and is willing to improve relations, while India is aware of China's position.
---
India-China relations have continued to be plagued by mistrust, ever since the 1962 Sino-Indian border war. India was caught unaware by the surprise attack, especially when it had espoused the Chinese cause at the international forum. Then Indian Prime Minister, Jawaharlal Nehru, even went to the extent of supporting China's membership of the United Nations Security Council at India's expense, since it is believed to have been offered a permanent seat as well by the US and the Soviet Union.

The war came as a severe jolt to Nehru, who had always believed in strong India-China relations. Consequently, the war severely dented the image and reputation of Nehru, from which he never recovered.

At the heart of the dispute was the unresolved border of 3,488 kilometres in the Aksai Chin area. China has also staked its claim over Arunachal Pradesh, citing it as once being part of Southern Tibet. Subsequently, China has refused to recognise the 1914 Simla accord, where the British administration along with representatives from Tibet and China agreed to settle the borders between India, Tibet and China. The Chinese representative who initiated the draft treaty refused to put the country's official seal on the paper. China also later issued a statement that since Tibet was not a sovereign state, it did not have the power to conclude treaties.

Despite serious differences over the border dispute, both countries maintained peace while conducting 20 rounds of border talks, which proved to be futile, as no solution could be agreed upon by both parties. Nonetheless, both realised that continuous engagement was key to preventing conflicts.

However, the Doklam incident once again brought to fore the tenuous relationship between the two states. This time, India took a tougher stand and prevented the Chinese from building roads in the disputed territory. China, having believed Indian leaders to be timid, was taken aback by India's aggressive stance. Unlike the past, China was now dealing with a bolder and more decisive leader in Narendra Modi.

The situation was diffused before it developed into another conflict. Although India itself was not a party to the dispute, China's attempt to build roads in Doklam would give it a strategic advantage towards India's North-Eastern states. It was this concern that prompted India to respond to Bhutan's call and stop the Chinese from building roads. The Chinese media went ballistic and warned India of serious consequences, but India stood its ground and prevented the Chinese incursion in Doklam, until construction activities came to a halt.

Thus, unlike the past, India now seems to be more confident in dealing with an assertive China. While continuing to engage with its neighbour, India has also taken steps to modernise its army. It is also feverishly building roads at the border so that, in the event of an eventuality, it can rush troops through the hilly terrain.

Apart from the border dispute, India is wary of an increasingly assertive China. The Chinese have been increasing their influence in India's backyard by building roads and other infrastructural projects in Sri Lanka, Nepal, Bangladesh, Myanmar and Pakistan. Recently, China has also reached out to the Maldives, which is an ally of India. Indian efforts to dissuade Maldives from allowing their territory to being used by China have proven to be ineffectual, and it views these developments as an attempt by China to encircle India.

India has also not taken kindly to China's repeated attempts to block its membership in the Nuclear Suppliers Group (NSG). This, along with China's investment and support for Pakistan, is viewed by India as an attempt to prevent it from becoming a global power.

Consequently, despite India refusing to join any axis that could be construed as an attempt to antagonise China in the past, it recently departed from its earlier position by joining the quadrilateral group consisting of the US, Japan, Australia and India. It also recently participated in the first Quad meeting held on the side-lines of the Association of Southeast Asian Nations (ASEAN) meeting in Manila. India's decision is, thus, seen as the post-Doklam effect where it no longer trusts its neighbour.

As China is wary of this strategic alliance between the US and India, it's showing a willingness to improve relations. It has also hinted it is open to reconsidering India's membership in the NSG.

It is in this context that Modi's visit to China becomes extremely significant, especially in view of the changing geopolitical landscape in the region. China has also agreed to address all contentious issues, including the unfavourable trade between the two countries. The meeting with Xi Jinping is being held at Modi's request, as he does not want another Doklam incident to dampen his efforts to win the next general elections in 2019.

On the other hand, while Modi does not expect any radical change in China's India policy, he is also aware of the changing geopolitical realities in the region, where China is not only emerging as a power in the subcontinent, but also in the South China Sea dispute. India is also cautious when it comes to US support. In the event of another standoff with China, it is unlikely the US will come to India's rescue. Thus, Modi is aware the only way to maintain peace at the border is by engaging with China.

Modi enjoys a good chemistry with Jinping, as can be seen by the warm welcome extended to him. Even the Chinese media has raised hopes over their meeting, as they feel the visit would become a cornerstone of providing a long-term relationship between the two countries.

In sum, the China-watchers know that when it comes to securing its business interests, China is not known to yield any concession. However, China is also wary of a rising India and does not want to drive it further towards the US. It is for this reason that China is making a serious effort to court Modi in an effort to promote mutual trust and reciprocity between the two countries.

As both India and China are on the cusp of becoming two of the three largest economies of the world, any future conflict will have the potential to derail their economies. It would be in their best interest to resolve all differences in a spirit of understanding and accommodation. Although not much is expected from the Xi-Modi meeting, the significance lies in the meeting alone, for such meetings will diffuse the tension between the two countries, as we saw during the Doklam conflict. For now, one hopes the leadership of both China and India will continue to engage and address all contentious issues to ensure peace and stability in the region.
Facebook Conversations
COMMENTS (5)
Comments are moderated and generally will be posted if they are on-topic and not abusive.
For more information, please see our Comments FAQ