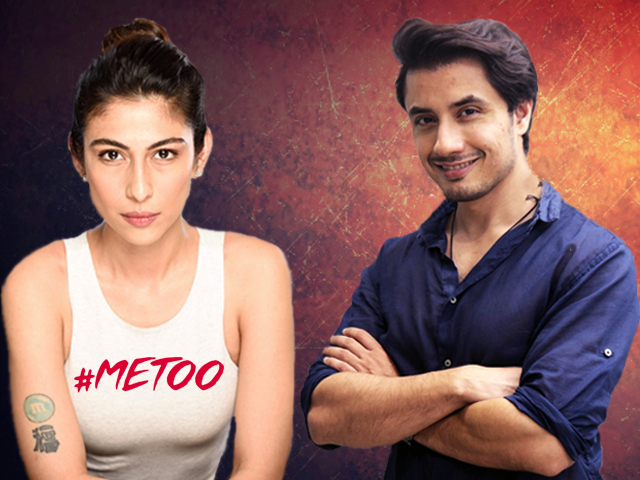 ---
Do Meesha Shafi's allegations hold no value just because Ali Zafar "looks like a decent guy"?
One in four men in Pakistan has harassed a woman. If they're supposedly not men like Ali, then where do they come...
---
I remember spending a whole day during school trying to convince my friend how good-looking this new singer was. She disagreed. But as an 11-year-old, I was very persistent, because not only was he good-looking, he was also ordinary. A boy who spent his days making portraits of others at a hotel lobby, who then suddenly went on to be known as Pakistan's very own Kishore Kumar. But she still disagreed. So I convinced myself that since she was not a Pakistani, she knew little about the country's beauty.

But that was 2003, and today is a different story.

Fifteen years later, Meesha Shafi accused Ali Zafar of sexual harassment, explicitly mentioning she faced 'sexual harassment of a physical nature'.


Sharing this because I believe that by speaking out about my own experience of sexual harassment, I will break the culture of silence that permeates through our society. It is not easy to speak out.. but it is harder to stay silent. My conscience will not allow it anymore #MeToo pic.twitter.com/iwex7e1NLZ

— MEESHA SHAFI (@itsmeeshashafi) April 19, 2018


In those words, she ruled out the possibility of what many would say 'flirting gone wrong', because as a nation deprived of a casual dating culture, we are naïve enough to believe flirting is anything but consensual. Within seconds of Shafi posting her statement on social media, all the Twitter-friendly educated class could talk about was the allegation.


Jab tak larki ko acha lagta hai , "its healthy flirt", jab larki ka mood na ho tu "sexual harassment". Larki num mangay tu "its just for fun" , Larka num mangay tu "its Tharkipan". If it's not a publicity stunt tu phelay Court mei file karti Madam, Social media kyun? #Meesha

— Waqar Zaka (@ZakaWaqar) April 20, 2018
Had an argument with Dr Firdaus Ashiq Awan in TV show who says "Agar aurat khud moqa na day to harassment nahin hoti" these are our representatives sitting in parliament. Shame on them! #MeeshaShafi #WeBelieveYou

— Nighat Dad (@nighatdad) April 20, 2018


A colleague of mine showed me Shafi's tweet while commenting,

"Well, I guess she needed the publicity."
Just in 30 minutes #MeeshaShafi gained followers on twitter from 30k to 90k.

I rest my case.

#AliZafar#MeeshaShafi

— Aladdin (@29ys1) April 19, 2018


Perhaps releasing another song wouldn't have done the trick. Another friend was genuinely shocked because Zafar looked like a 'decent' guy.

But here's the thing about harassers, most look decent. Most belong to decent families, and as Zafar stated in his statement, they are all a son to a mother, a brother to a sister, a father to a daughter or a husband to a wife.


April 19, 2018


So why is it so hard to believe Zafar could harass?

One out of four women in Pakistan has faced harassment at some point in her life. Ninety per cent of women face harassment on public transport, with 82% at bus stops in the city of Lahore alone. Ninety per cent of the complaints made to the Federal Investigation Agency (FIA) on cyber harassment in first quarter of 2018 were by women.

This means one in four men in Pakistan has harassed a woman at some point in his life. Ninety per cent of our men harass women on public transport, and 82% at bus stops in the city of Lahore. Ninety per cent of the complaints were made against men for harassing women online this year alone. And one in four men means out of approximately 106 million men in Pakistan, roughly 26,612,330 are harassers. If they are supposedly not men like Zafar, then where do they come from?

https://twitter.com/mahwashajaz_/status/988093523315560449

On the other hand, people know where Shafi comes from. She is from the entertainment industry, and wears 'indecent' clothing, sits next to men, and also has a picture with her alleged harasser. So she can't be harassed. A hug here and a touch there is 'acceptable' in her industry. Because she once shared a stage with her alleged harasser, she has no right to call him out now. And what should she be calling him out for – there is no harassment.


She looks pretty comfortable & happy with him. Ab iss trah hath lganay ko harrassment keh ri hain #meeshashafi madam tw she is another sharmeen obaid's sister trying to get the ujra hua fame!

This media industry is full of such pictures which later claim to be harrassment! Lol https://t.co/LLsx77ZTvG

— Sadia A. (@DrSadiaA) April 19, 2018
I don't say #MeeshaShafi is wrong , but I h've no reason to say she's right either , when a women dresses like that especially in pakistan , she loses all the rights to say I'm harassed . #MeToo pic.twitter.com/nlAIoFx8fi

— Summyya Almas Abbasi🇵🇰 (@manoabbasi10) April 20, 2018


Zafar isn't a harasser because his co-star Maya Ali saw him FaceTime with his wife and kids on a regular basis while shooting with him. Resham spent years working with him and was never harassed. The women in the room where the alleged incident took place didn't see any discomfort on Shafi's face, almost how the women who are ogled at on a daily basis reveal no discomfort.




https://www.instagram.com/p/Bh1Vvpbl-iU/?utm_source=ig_embed

Shafi doesn't have the bruises to show. No proof or evidence. Just her word, against his.

Just like the words of every single woman I know who has been made to feel uncomfortable by a man. Every single one of them. Let that sink in, because if you pay attention and listen, every woman you know has stories. If that is easy to believe, why is it any harder to believe perhaps every man you know has made a woman feel uncomfortable at some point in his life?

The patriarchs of our families – fathers, brothers and husbands – often ask women they are related to to 'stay safe'; some not letting them go out at a certain time or to a certain place because they don't consider them to be an exception, irrespective of what they are wearing or where they are. They do fear these women can be harassed, so why are the 'Alis' in our lives the exception to the rule?

Harassment is a broad term – making a woman feel uncomfortable by ogling or eve teasing constitutes as harassment, and not every form of harassment necessarily has to be physical in nature. And Shafi allegedly experienced just that.

It takes a lot more than just acceptance to come out and talk about harassment you have faced – whether you are a man or a woman – let alone mentioning the name of your harasser even in closed quarters. Keeping aside the fear of ostracisation, analysing what has happened and accepting it takes time; sometimes even years.

Most women are quick to shun it away – like Shafi did the first time it happened. They repeatedly question themselves if it even happened, whether the man even meant it, or whether it was something they only 'thought' occurred. Our conditioning makes us give our harassers the benefit of the doubt – a privilege only men are allowed, because a woman is often 'a person trying to malign a man'.


Ali Zafar has always been v respectful & decent w me. But this is not about me. Its about Meesha Shafi & other women who are sharing their painful experiences w us. Its a brave & difficult thing 4 any mother,woman 2 do. I stand in support, trust & in strength w @itsmeeshashafi ✊

— Nadia Jamil (@NJLahori) April 21, 2018
The sick mentality of those commenting on an issue as serious as sexual harassment as casually as they are just shows where the root of this problem exists - in our minds. We will continue to breed harassers for as long as we continue to desensitise this issue.

— Mahira Khan (@TheMahiraKhan) April 20, 2018


Apparently, there are reports that women have made allegations for their own benefit, and for Shafi, it was supposedly fame, publicity or attention. Only 2% of the reported cases are proven to be false accusations, and we love our 2%. So Shafi will just have to wait and trust the very due process put in place by privileged men to protect their own.

Once women are done questioning, analysing and accepting, more often than not they refuse to name their harasser or confront them. Because are men not violent? Have they not thrown acid, shot or raped women who dared to call them out? So if women were not an exception, then what should make them think they would be now? But Shafi thinks she is.

She called out that 'creep' in her life, the one almost every woman has. Lurking at her on streets; sitting too close for comfort in universities; touching her occasionally in offices; sending messages to her on social media, or living with her in her house.

That 'creep' – a word often downplaying harassment – is everywhere. In your mother's life, in your sister's life, in your wife's life. So why can't that creep (read: harasser) be your brother, father or husband? They are considered the exception to the rule, because those harassers are the 'other' men. Even though the victims are our very own, the harassers are not like Zafar. But then where do they come from?


Of course we know! We're the ones doing it! We know exactly what is discussed in the room after our female colleagues and classmates walk out.

Save your 'proof'. The male jury of the internet already knows what's going on.

DEEP DOWN WE ALL KNOW HOW WE ARE. #MeeshaShafi #MeToo

— anastipu (@teepusahab) April 20, 2018
I am starting to realize that all these men trying to define "harassment" to blame Meesha Shafi are not protecting Ali Zafar rather themselves. They are scared that this #MeToo movement will one day crush them too.

— Javaria (@JavariaWaseem) April 20, 2018


As for that 11-year-old, today she stands with Shafi, because she knows how it feels when somebody's body is violated without their consent.