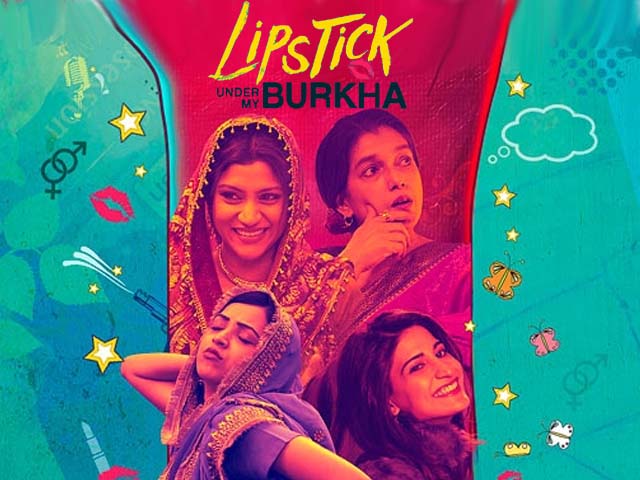 ---
Lipstick Under My Burkha does not empower women; it only pits woman against woman – one of patriarchy's best defences
The movie puts women 'in their place' by pushing them back to the very patriarchal setup they want to be freed...
---
A movie that was initially banned in India because it was too 'women-oriented' and led to a discussion on feminism and looking at women with their imperfections and sexual longings, was bound to be good. After all, it was set to create a revolution. But 
Lipstick Under My Burkha
 is anything but that. In actuality, it only hopes to inspire a sentiment of female empowerment, only to take you back to the chains towed by patriarchy, just like it eventually does to its protagonists.
As the movie opens, we are introduced to the four protagonists – Bua ji (Ratna Pathak), Leela (Aahana Kumra), Shireen (Konkona Sen Sharma) and Rehana (Plabita Borthakur) – through the narration of an erotica novel called '

Lipstick Waley Sapnay

' (Lipstick dreams).

 

The narration of this story is brought to light through Pathak's powerful voice, while showing glimpses of the lives of our four ladies.
Rehana is the unconventional Muslim girl trapped in a burqa in her conservative family. She hums Led Zeppelin with the same fervour that she sings Miley Cyrus's '

Seven Things

'. Rehana is, in simple terms, a rebel. She works with her parents at their burqa tailoring shop. However, she wears jeans and adorns a bold lipstick under the guise of her burqa. Every time she is within her parents' sight or anyone in her community, she tucks away her burqa in her backpack and her secret guise is removed. Crippled by the pressures of a middle-class household, she steals clothes and lipsticks from the mall. Like her idol Miley Cyrus in 

Hannah Montana

, she juggles two lives at the same time, one of parties, alcohol and boys, and the other of a conservative reserved youngster following the rules set by her conservative family.


Shireen is the mother of three children trapped in an emotionally abusive marriage. Her husband – who resides in Saudi Arabia and only returns to India a few times a year just to satisfy his sexual needs – views Shireen merely as a sex object. Numerous times, Shireen is left pregnant and alone. Stifled by the role she is forced to play within her marriage, Shireen's only respite are the days when her husband is back in Saudi Arabia, as she has the freedom to focus on her job as a sales girl.




Leela is an independent working woman hoping to start a new business as a bride consultant with her boyfriend. Unafraid to channel her feminine sexuality by demanding sex when she wants it, she is bold and ambitious but only outside her home where her single mother resides. Leela is the perfect representation of a middle-class woman wanting to achieve big but is instead forced into an engagement. She is pressured into this engagement to help free her mother from her loans.


Bua ji, also known as Usha ji, is a widow in her 50s with an interest in erotic fiction. Reading is the only way she can ever hope to get close to fulfilling her sexual desires. So she dreams of being Roxy, the protagonist in '

Lipstick Walay Sapnay'

, while attempting to live a life that fits within society's prescribed idea of a widowed old woman, who spends her days listening to 

bhajans 

(devotional songs) and 

satsans

 (Hindu religious sermons). As the oldest member and the owner of the colony building where the four characters live, Bua ji is the one everyone comes to for guidance.


Besides the small colony they live in, Bua ji, Shireen, Leela and Rehana have another thing in common – their aspiration to break free from the patriarchal milieu they live in.

But where Lipstick Under My Burkha starts off as a narrative in which these women achieve their aspirations to be free (in whichever limited ways freedom can be plausibly achieved), the film ends up being anything but that. As the story follows the life of these four women, the movie gives its audience, especially women, a reason to hope but shatters that very hope towards the end of the movie.

There is an odd similarity between the film and the regressive society we live in. We are told to dream big and aspire through stories, like Bua ji's guilty pleasures to Rehana's Hannah Montana-inspired lifestyle, only to be crushed once the reality hits us in the form of relentless and unyielding patriarchy.

And that is the trajectory of the journey of the four women in Lipstick Under My Burkha; they feel restricted by patriarchy, they want to break free of it and yet they end up trapped even further by it.

For example, Bua ji is thrown out of her house after her family finds out about her proclivity for erotica; the inevitable exposure of Rehana's dual life leads to her getting grounded and her father discontinues her education and decides that the one solution to her 'unreasonable' freedom is marriage; Leela is left torn between her lover, who she plans to elope with, and the man chosen by her mother who will free her of their debt; Shireen attempts to take up the job of a sales girls' trainer only to be 'shown her place' once her husband finds outs because "biwi ho shohar banne ki koshish mat karo" (you're the wife, don't try to be the husband).

And that's precisely where the problem lies. These women no matter how rebellious, on the quest to fulfil their desires, are thrown into imprisonment. They don't try to reason, question or demand. They don't demand the right to their own agency outside of their secret lives. In their secret lives, they are empowered but that is as far as it goes.

Movies have a power to give way to a dialogue, an elaboration of a different worldview than the one prescribed by society. Conversely, this film, in a strange and disappointing way, ends up endorsing a restrictive worldview or, at the very least, suggesting that resistance is futile. It puts women 'in their place' by pushing them back to the very patriarchal setup they want to be freed from.

A year ago, a friend told me that the truth of the matter is that in the big picture, there is no space for women. Lipstick Under My Burkha, no matter how bold, reminds me of those lines, but do we really want to believe that? Isn't it better to allow for the possibility of change, to believe in women putting up a fight and maybe even coming out on top? In this day and age, when there is an increased discourse surrounding the importance of narratives of female empowerment, it is all the more imperative to highlight these stories rather than the endless stories of women falling victim to the injustices of patriarchy.

Lipstick Under My Burkha plays with stereotypes often attached to women – a Muslim girl wanting to break through her conservativeness, a middle-class woman forced into marrying someone chosen by her mother, an old single woman who is known by the relation she has with others than her own identity, and a wife confined to the four walls of her home.

In a way, the story and its characters pit women against women – one of patriarchy's best defences. Instead of pointing fingers at the men in question, it puts the victims, the women, on the spot, thus complicating and destroying their lives further.

For Leela, the only way to get her boyfriend's attention was to make him jealous by clinging to another man, her fiancé. Because how else would a woman show her worth other than making a man realise she has another waiting at the altar? Movies should allow us to change the dire realties of our lives, not endorse these restrictions further.

In between the complexities of these characters, there is only one solace, other than the much debated feminine sexuality, and that is the unique friendship these women have. Yet it fails to hold much significance for the movie.

Lipstick Under My Burkha is bold and portrays woman as humans but fails to make a place for them in the bigger picture.