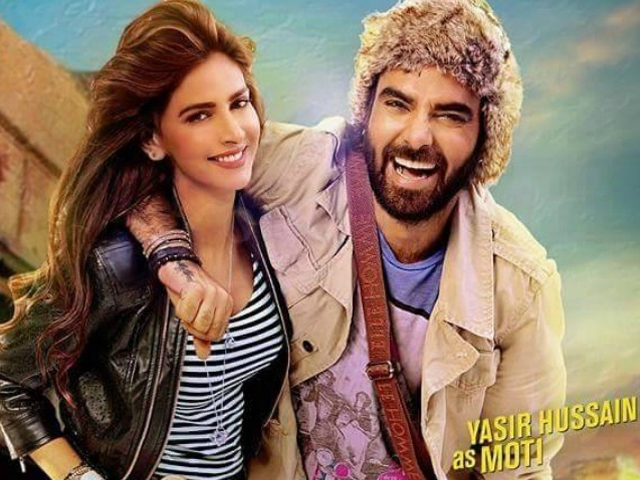 ---
Dear filmmakers, stuttering is a disorder, not a joke for you to cash on
Filmmakers should be more cautious when presenting sensitive issues, as there is a fine line between comedy & mockery.
---
Some days ago, I received a clip on Whatsapp of a scene from a Pakistani movie titled Lahore Se Aagay. The lead character, played by Yasir Hussain, tries to make the dialogue 'funny' by mocking the speech related disorder generally known as stuttering or stammering.

Upon further inquiry, I discovered Hussain has played the role of a guy who stutters several times in his career. In another movie, Karachi Se Lahore, which is the prequel to Lahore Se Aagay, Hussain tries to seem hilarious by stammering to the character's advantage. Though he believes his portrayal is empowering for those who stutter, it certainly does not seem like it from the movie itself. Even if unintentionally, it appears the phenomenon of stuttering is simply being used as a device to add comic value to his movies, and to me, this is a really disturbing idea.


However, using a speech disorder as a 'funny' plot device isn't limited to the Pakistani entertainment industry – Bollywood has been doing the same for quite some time as well. For example, Golmaal, one of the most famous series in India's comedy genre, has a character with a speech disorder for audiences to laugh at. This is problematic because the character is not particularly doing any comedy or cracking jokes despite his speech disorder for the audience to laugh at. No, in Golmaal, the disability itself is used as the punch line.


The same way I have never understood why it's so 'funny' to see men in drag (in female clothing); I am unable to fathom why it is socially and morally permissible to portray a naturally occurring disorder as a laughing matter, with no consequences or backlash whatsoever.

This is not to say cinema should never portray characters with such disorders, only to request filmmakers and comedians to be more cautious and aware about the way they present sensitive issues. After all, there is a fine line between comedy and mockery.

It is possible to portray characters and make films about people with any form of disability without any form of derision; Bollywood films such as Black and Khamoshi are proof of this. A particular example is of the Bollywood movie Kaminey, in which Shahid Kapoor's character has a speech disorder, but it is not presented as a joke or a device to add humour to the film. Rather, even though others make fun of him for being a "totla" (stutterer), he proudly embraces and accepts his condition and challenges those who only see him as the punch line.


Similarly, Rani Mukerji's latest film, Hichki, is centred on a character with a disorder, but the movie doesn't crack jokes at the expense of her condition. Instead, it depicts the life of a woman living her best life and pursuing her dreams without letting her condition hinder her.


Unlike all other forms of disabilities, it is the speech disorder that has found itself a frequent outlet for comedy. What makes speech disorders an easy target perhaps is the fact they are seen as less serious than all other disabilities. Maybe because the individual can speak, even though they have limited control over it?

This disorder is most common in school going kids, and is often made worse by the bullying they have to face as a result of it. Treating speech disorders can take time. Can you imagine a little kid taking speech therapy sessions for rehabilitation, and yet being the butt of the joke in the classroom, because his or her peers have recently seen a movie where their condition is presented as a joke? Emotional strain can negatively impact the child's treatment, and can even further aggravate their condition. By joking about such disorders, bullies are given a free pass, and the only people who suffer are the ones already suffering. Even if the stuttering goes away in the future, the child has to bear with taunting comments and derogatory remarks, which can dent their personality forever.

Speech disorders can be treated in a relatively easy manner, with no requirement for high-tech medical equipment or rare medical practitioners, and only the need for some good, sustained speech therapy. However, like most conditions, treating this one requires time and patience as well, and encourages the patient to speak more in order to fix the problem. However, it is hard to encourage those who stutter to speak when they are constantly faced with the possibility of people laughing at them for doing so. How are children to speak more, if they constantly face their peers and bullies laughing at them and bashing them for doing so? Will this not negatively impact children and simply force them to grow quieter?

Given that speech disorders largely impact kids, this should be taken quite seriously, but the reality is the exact opposite. It's considered "cool" to mock someone for stammering. Adding insult to injury, the funny faces made by the movie characters while stuttering provides more fuel to typical school bullies, who try the same for some 'fun' in the classroom.

It is hard to comprehend why people cannot see how unethical this practice is, and continue to take this matter lightly. Why are we not treating this condition as seriously as we do others? How often do you see a movie where the joke is on a character who is blind, or physically disabled?

Speech disorders are quite common and treatable, but that does not imply they aren't serious. If it seems funny to you, please visit rehabilitation centres, and witness how hard parents try to get their children better. If the media wants to absolve itself of responsibility and not try to highlight such issues in a proactive manner or educate people, the least it can do is try to not make things worse by making it seem like such conditions are a laughing matter.

For now, the real step forward would be for the censor board to ban such films from releasing in the country. If we can ban Padman and Pari for their content, the least we can do is ensure such negative messages are not spread to our masses in the name of 'comedy'. Children are very sensitive and need care and confidence in their formative years to prepare for the challenges ahead.

In a society already plunged with negativity, we can't allow kids going through a speech disorder to also go through a world that thinks they are a joke. What we do need is for their elders and peers to support them, and to provide a safe space for them to comfortably rehabilitate at their own pace. None of this is possible until we all realise a speech disorder is not a joke, and it certainly isn't funny.
Facebook Conversations
COMMENTS (2)
Comments are moderated and generally will be posted if they are on-topic and not abusive.
For more information, please see our Comments FAQ