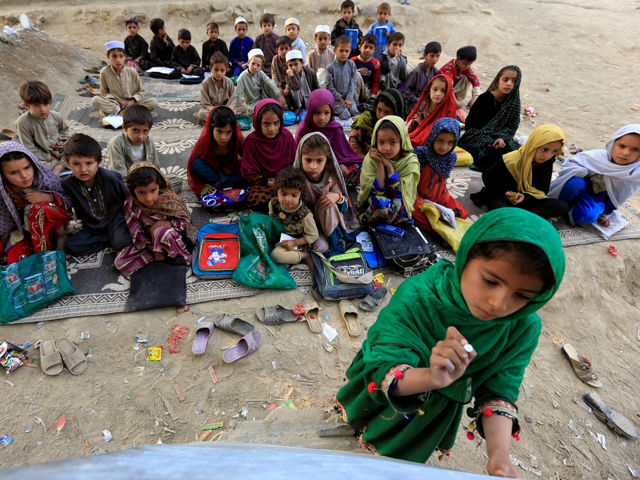 ---
In the war against the Taliban, why are we okay with children always being collateral damage?
Is an Afghan life worth less than an American one? The difference is in the nation's regard for its own children.
---
Who in this world heeds the cries of children? A week filled with images of Syrian children gasping for life, after yet another chemical attack launched by their own leader, making this the world's bloodiest conflict in recent memory. Even Afghanistan, and the long war once waged by the US, has now faded in memory in comparison.

Thus, the murder of young children, among the more than 70 lives razed to dust by air strikes in Kunduz, Afghanistan, did not penetrate the American news cycle, at a time when we are dealing with our own collateral of a presidency in near free fall. Al Jazeera reports that the madrassa, in the Dasht-e Archi district of the Kunduz province in Northern Afghanistan, was deliberately targeted by an Afghan air raid targeting Taliban commanders.

The tragedy, if it can be magnified, was made more heart-breaking by the fact that these children were at school, for a prize day acknowledging their achievements with awards. Little did they know, as they gathered for festivities, that there they attained the pinnacle of their short lives.

I remember these children. I know their faces from the faces of their fathers in my childhood. I was in Afghanistan when I was about the same age as some of the children so brutally immolated in the Kunduz airstrikes; strikes meant for the captains of destruction, which instead eliminated Afghanistan's hope for the future.

The year was 1975; before the Russians, and before the Taliban, when Jalalabad was green.

Afghanistan was a massive expanse on a map we had to cross as a family, to get to Pakistan at the end of a long road-trip from England. I was seven, and already an avid writer and stamp collector, who was also at the time an only child. We had stopped at a roadside in the high desert plains between Herat and Jalalabad. I marvelled at the flatness of the plains, the vast horizons and a playful, buffeting wind. There was no shade. Stony lands and a remote horizon disappeared into the vanishing point.

As my parents prepared our makeshift lunch, a tiny figure appeared on the horizon. Drawing near, I discerned two figures in the one silhouette. At last, with his tall, turbaned father in dusty robes and a ceremonial dagger, a little Afghan boy with rosebud lips and streaks of red poppy for cheeks, smiled at me shyly.

We looked at each other as seven-year-olds do – fearless, open-hearted and curious. He had nothing, nor did his father, other than sincere salaams and mid-day appetites; so we shared our food. We ate in a peaceable silence, and were all enriched by the sharing. A little while later, we bid our goodbyes and the figures once again disappeared into the horizon.

In the 40-plus years since, I have wondered what could have become of the little Afghan boy.

Perhaps he was now a father, mourning the fallen children in Kunduz? Or perhaps he became a Taliban commander, targeted by the raid? Maybe evading the strike had cost the lives of his nation's children? Or maybe he was felled years ago, by the relentless conflict that is seemingly Afghanistan's destiny?

Do their lives not matter, you may ask? Is an Afghan life worth less than an American one? Of course, in essence their lives matter equally, but the difference is in the nation's regard for its own children.

American children are simultaneously precious and expendable. More children die or are wounded in mass shootings in the US than anywhere else in the world. Do we care less for our children than the Afghans? No. Do we mourn them sufficiently? It seems not.

Only after the Parkland massacre in Florida – with more deaths of our children by our own hands, our own citizens, and their own schoolfellows – did something change. Only then did we finally acknowledge that the lives of our children are worth fighting for, as millions around the country turned out to march.

In Afghanistan, the world waits for the nation to grieve for these children in madrassas with no future, for those joining the streams of migrating Syrians, and for the mothers and grandmothers left widowed by war. Only when Afghanistan mourns for its children, its mothers, its grandmothers, and those bereaved, will the life of an Afghan seem valuable to the country.

The Ministry of Defence spokesperson, Mohammad Radmanish, claimed the air strike killed more than 30 Taliban fighters, including nine commanders, and declared,

"I can confirm that a Taliban training centre was bombed and no civilians were present."

Whether the claim of killing many of the Taliban is true or not, both sides are fighting for the same commodity – the future. And Afghanistan's future is to be had in the minds of its children.

As I think about these children, I am reminded of my 2009 experience of visiting children who were once Taliban operatives. Eventually, after a prolonged treatment, they became schoolchildren with skills and dreams of joining the Cricket Academy at Sabaoon, a remarkable school in Malakand, Pakistan.

Colonel Aamer Najam, the then Fort Commander at Malakand, had been fighting the Tehreek-e-Taliban Pakistan (TTP) in Swat since August 2008. Safeguarding the school, where children were deradicalised and then rehabilitated, depended entirely on his leadership. He captured the stark battle for minds surrounding the Swat valley, simply saying,

"We are tampering with the terrorists' investments. They have spent money on these boys, recruiting and training them. One day, they will come after us."

The Kunduz airstrikes were sanctioned by Afghanistan's own leadership, caught in a desperate battle with the Taliban, who are reliant on child recruitment and exploitation. Such massacres confirm our futures – Afghan and American – decimated in the collateral damage.

The possibility that children might grow up as reformers, humanitarians, community leaders, doctors, engineers, diplomats and role models; to be Afghans who could have done more for a country torn by conflict since almost my first memory of her over 42 years ago, stands felled in the dust.

After this strike, there may be fewer Taliban commanders for sure, while some may have been eliminated. However, along with them died not only the Taliban's most precious investment, but the most precious investment for the possibility of peace – the Afghan child. Now, all that remains is a future of alternatives lying vanquished in the dust.