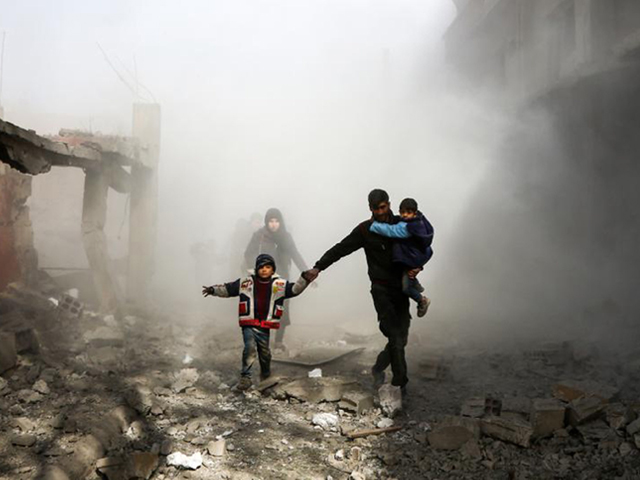 ---
The Syrian conflict approaches its seventh year, but the inhumanity is endless
For seven years, Assad has been treating civilians as terrorists or affiliates, while the global community watches.
---
"Everybody knows that the dice are loaded.

Everybody rolls with their fingers crossed.

Everybody knows that the war is over.

Everybody knows that the good guys lost." - Leonard Cohen, Everybody knows 1988

As Syria labels its latest escalation with Washington DC a 'war crime', an obscene irony in a civil war fast devolved into a brutal proxy war, on the threshold of its seven year anniversary, the world's most violent proxy war is fast spinning out of orbit.

The developments are dizzying. NATO's two largest armies, in a tense face-off, now stand on opposite sides of the conflict. In the cross hairs aimed at one another, the Kurdish forces – the Pershmaga, astonishing warriors (many of them women) who defeated the Islamic State (IS) – are caught in the middle. In retribution for US forces defending Kurdish troops from an aggressive incursion by Syrian regime forces, Syrian regime forces retaliated, pounding Eastern Ghouta with a four-day air assault which has claimed 228 lives, 58 of them children.

Elsewhere, overreaching Syria's southern border, an Iranian drone entering Israeli airspace has been shot down by Israel, only to result in an Israeli F16 being shot down by intense anti-aircraft fire in a salvo of over a dozen missiles. These are likely S-300 and S-400 Russian-supplied anti-aircraft weapons systems, according to London's  Financial Times. Fired from Syrian territory, the tensest standoff between Israel and Syria's brutal puppet masters, Iranian paramilitaries and Russian forces, also directly pits Israel against Russia. Around Israel, talk of imminent war rises.

In the midst of it all, Syria's Bashar al Assad, a Russian-Iranian hybrid Frankenstein, lurches on. A demented monster, who for seven years, has deemed all his civilians as terrorists or terrorist affiliates.

Because of Assad, the Syrian conflict has been remarkable in its brutality in many measures – the death toll exceeds half a million, the displacement of citizens at over 11 million (of Syria's pre-war 23 million population). Western Europe has been enormously pressured with the influx of refugees fleeing the world's most lethal war zone while regional and mostly poor Muslim countries, foremost Lebanon and Jordan but also Turkey, have been shouldering the bulk of the displaced. Exploiting the human migrant streams have been the IS operatives, conflating the scenes of fleeing victims of war with the fear of jihadist terrorism.

But perhaps most striking has been the disavowal of unobstructed humanitarian aid during armed conflict – codified in the first international humanitarian law in the world in 1864. The Fourth Geneva Convention demands warring parties to refrain from targeting civilians, with special protections to health aid humanitarian workers serving both wounded fighters and wounded civilians.

Assad's war mongering has been defined by massive aerial bombing campaigns, targeting Syria's own civilians and all societal structures needed to support civilian life. As a practicing physician myself, I have been especially appalled at the weaponisation of healthcare that Assad (himself a physician) has pushed to unprecedented boundaries from the outset of the conflict.

The December 2017 Lancet details these in a painful document – the execution of doctors treating patients in the nascent 2011 protests that would devolve into the brutal war. The mass detentions, arrests and murders of physicians, patients and paramedics and repeated attacks on clearly marked ambulances. The criminalisation of  the provision of care to those in need – laws have been passed (as they also were in Serbia during the Kosovo War) rendering those treating anyone injured by pro-government forces as terrorists subject to detention, torture, enforced disappearance and murder.  Seven years in, hundreds of medical facilities have been targeted in Syrian regime airstrikes, some of them repeatedly attacked. An underground specialty hospital Kafr Zita in Hama has been bombed 33 times since 2014, including six times in 2017 alone.

Beyond the edge of this Dante's Inferno, the world gawps with disinterest. Here in the US, it has been years since headlines from Syria lead the evening news. The last time Syria took centre stage was the infamous failure of President Barack Obama to act upon the US's own self-imposed 'Red Line' of the use of chemical weapons on Syrian civilians by Assad, and an emasculated Senator John Kerry ate humble pie – though clearly not enough to deter him from pondering a Presidential run in 2020.

The inhumanity is endless and seemingly the entire international community is incapable of bringing any of this bestiality to a halt, even as the United Nations Commission of Inquiry on Syria confirms there is sufficient evidence to convict Assad as a war criminal.

We can all agree on one truth – the proxy war in Syria has broken loose. With the IS momentarily degraded, opposing stakeholders – Russia, Iran, Hezbollah, US, France, UK, Turkey, Saudi Arabia and the Gulf States – are now confronted with one another. Deluding themselves with a sense of control, despite their mounting fears, they strive to preserve national interests that are often in direct conflict with one another.

In a brilliant article which haunts even three years on, Gideon Rachman warned of the last analogy to such a proxy war, the Spanish civil war. Raging in the 1930s, the Spanish civil war was a magnet for outsiders – Nazi Germany backed Franco's nationalists and the Soviet Union backed the Republican opposition. Foreign idealists hungry for glory and action fled to the conflict from around the world. A decade later, the proxy forces found themselves in direct conflict as World War Two unfolded.

The West's memory of proxy wars may be much shorter, however. The last proxy war to capture attention in the US was the proxy Cold War between Russia and the US in Afghanistan. Devastating for the Soviet Union, the blowback for the West and the Afghanistan-Pakistan region is still unfolding. It has led to the unleashing of jihadist ideology globally, claiming hundreds of thousands of lives in the Af-Pak region through direct terrorism and devastating populations to the order of millions in the global war on jihadism. Though as Americans, this blowback we like to remember less, while the downfall of the Soviet Union is a more fond memory that lingers.

Whether the world can find a way to curb the killings remains to be seen, but as the Syrian conflict approaches its seventh year, only one certainty can be counted upon – as the stakeholders are ricocheting ever closer to open war, everybody knows that the good guys lost.
Facebook Conversations
COMMENTS (7)
Comments are moderated and generally will be posted if they are on-topic and not abusive.
For more information, please see our Comments FAQ