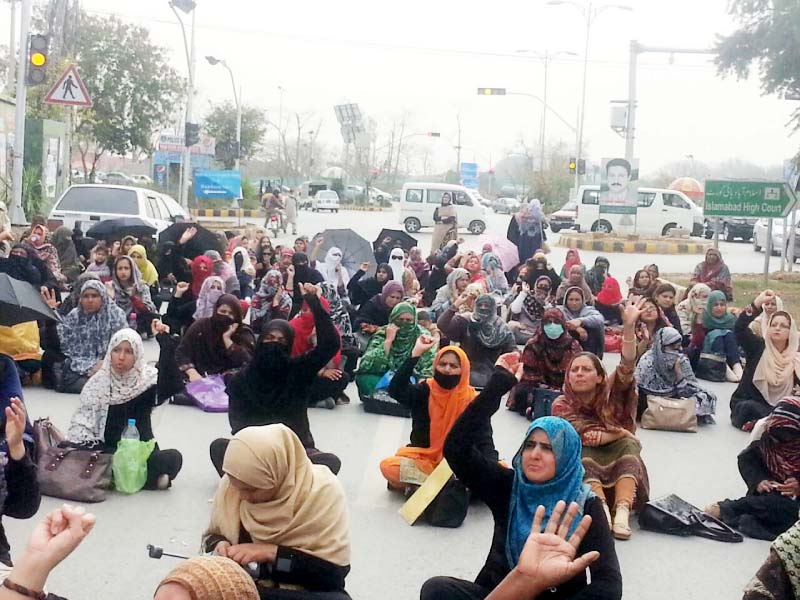 ---
Teachers threatening mass suicide – How did it come to this, Pakistan?
Why are teachers left unpaid in a country where politicians take the next flight to UK for the slightest of ailments?
---
It was a despairing day in the capital, when around 1,800 teachers and staff of public schools and colleges threatened to commit mass suicide outside the Supreme Court. Having not been paid for a shocking period of over 10 months, the protestors said they would kill their children alongside them.

One wonders how this is possible in a country where even low-ranking ministers have imported, luxury cars, and where politicians are on the next flight to England upon a hint of the slightest ailment. There is no doubt the state of public education in Pakistan has continued to dwindle, but at the very least there was the hope that despite crumbling buildings, run-down walls and ceilings serving as class rooms, and even open-air makeshift teaching areas in many cases, the main proponent of education – the teacher – was there.

If even the teachers are left unpaid and are pushed to the point where they want to commit suicide, then education in Pakistan is indeed in dire straits.

As morbid as it sounds, realistically these women have no option but to threaten to end their lives in an attempt to get people to listen, to care. It is a disgrace to our nation that we have reduced people belonging to the noblest profession into a situation where they want to kill not only themselves, but also their children.

Besides not getting their pay on time, these teachers claim that unlike other government employees who have been regularised under the former government's regularisation policy, they have yet to see any such relief. In a society rife with corruption and astronomical price hikes in all walks of life, these already financially crunched women mostly belong to the upper lower class and lower middle class of the population.

There is little doubt the woe of our nation has been to remain without visionary leaders, who not only make policies, but also have the ethics and honesty to implement them with the sole purpose of serving future generations. If we did have such leaders, the first thing they would look into would be the abysmal state of our education system. The main focus would be on how education is imparted, where it is imparted, and who is imparting it. A nation not being properly educated is synonymous to a nation dying a slow death, which is exactly what is happening in Pakistan.

The private educational sector in Pakistan in particular seems to have no use to the country at large, as it serves those who ultimately have no intention to create a future within the country or to help improve the state. Pakistan's hope lies with the teachers of its public schools, who are the lifelines catering to the millions of children who will shape the future of the country. Yet they are treated so disparagingly, and ignored so heartlessly, their plight can be termed nothing less than the shame of the entire nation.

Alongside getting paid on time – which is their basic right – teachers need to have solid jobs, regular trainings, and a respectable educational infrastructure, which will provide the necessary motivation to go to work in the morning so they can groom Pakistan's future. Keeping this in mind, along with the exploding population of the country, the yearly budget for education is embarrassingly low. The betterment of our students starts from their teachers; ergo it makes the most sense to allocate a hefty portion of the budget to education.

To make things worse, even that small share is never truly used for its intended purpose. As a result, even the candidates who graduate with Master's degrees locally are unable to uphold a decent, grammatically correct conversation in English for even 15 minutes. English is a universal language, and it has increasingly become imperative to write and speak it fluently. Yet, thousands upon thousands of our youth pass through colleges and universities while lacking basic skills to survive in a globalised world ablaze with technological advancements and street-savvy youth.

In a country where the teachers have become deprived of hope, what can we expect from our students? Who will help our youth develop and evolve into smart, talented, driven individuals?

An election year is precisely the right time for leaders to take notice of this issue, and to do so quickly. Starting with paying teachers on time at the very least, they can then seriously think about raises, training workshops, and creating a strong curriculum as well.

Ideally, the state of public schooling system in the country needs to be elevated to a level where parents are provided more of a dilemma as they choose between public and private schools. Clearly this utopian scenario is quite far ahead in the future, but if this dream is to be achieved, we have to at the very least start walking in its direction. No matter what, it certainly won't be achieved if hundreds of teachers end up committing suicide on the streets of the capital.