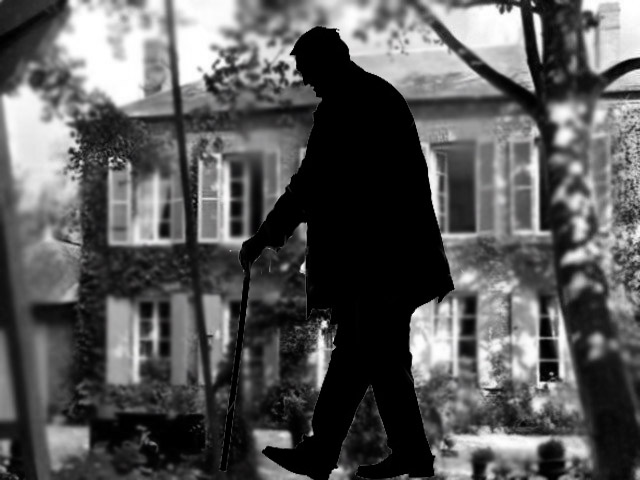 ---
Series 8: The Green Thumb Part 2 'They wanted money, he wanted memories'
"So, you are telling me to leave my house and divide it between all of you. And where do I go? To an old home?"
---
"Where are you going?" Zareen asked Ali as she saw him getting ready to go out.

"I'm going with Fahad," he told her. "Faizan Sahib said I could come with him and sit in the AC since he couldn't sit without it and it isn't fair for Fahad to enjoy it if I can't."

Zareen couldn't believe her ears.

"Are you out of your mind?" she asked incredulously. "You think I can pay for the two of you? I only send him there because he needs help. You are not going, and that's that."

"No Mama, I'm going," Ali was adamant. "If Faizan Sahib says it's okay, why do you have an issue with it? My older brother will be with me. And Abbu always told us to fight for our rights. And that's what I'm doing."

He refused to be deterred and Zareen's tuition children had started arriving. She decided to talk to Faizan Sahib when she went to pick them up. Aiza was listening to this entire conversation.

"Mama! This is not fair," she wailed. "How come they get to do the things girls can't?"

Zareen slapped her forehead.

Ali listened to her complaining and grumbling as he quickly shut the door behind him. He was afraid Zareen was going to yank him right back inside by his collar if he stayed a moment longer. Fahad smiled at his brother. He enjoyed his company, even though he did all the talking.




Nihal arrived at his father's house late evening. Faizan was pleasantly surprised to see his eldest offspring.

"Why didn't you bring Mina and the boys?" Faizan asked over dinner.

"They had their own activities going on, Daddy," he said airily. "I just had something important to discuss with you so I decided to come."

"Really?" Faizan raised his eyebrows. "What was so important that you had to come all the way from Islamabad? Couldn't you have talked on the phone?"

Faizan tried to guess what it could be that had brought Nihal home after seven months to see his father.

"Well, Daddy," Nihal didn't quite know how to start, "it's about the house…"

He paused for moment, trying to find the right words.

"What about the house?" Faizan asked.

Faizan now had an idea of what he was getting at. Obviously, he had been prepped by the other five siblings and was now acting as their representative.

"I… I mean… we… all think that it is too big for you now and that you should sell it," Nihal said. "I think that the inheritance should be decided in your lifetime. We don't want any disputes later."

Faizan was quite for a few minutes.

"So, you are telling me to leave my house and divide it between all of you," he spoke quietly. "And where do you propose I go? To an old home?"

"Of course not, Daddy," Nihal was exasperated. His father was an extremely difficult man to handle. "I mean the house is too big for you. You could move into the apartment that is on rent and sell this house. That is a better size for you."

Faizan noticed that he did not offer to have his father live with him.

"The rent from the apartment and my pension is what keeps my life running, you do know that?" He asked Nihal, who was very keen upon getting his hands on something that he had no part in building. "If I start living in it, where will I get the money for all my expenses?"

"We will give you your expenses, Daddy," Nihal said eagerly. It seemed like his father was relenting. "Why are you worried about it?"

"I have never been dependent on anyone in my life and now at this stage in my life, you expect me to take bailouts from my children? Even when I have the option to be independent?" Faizan was angry now. "This house is mine and you have no right over it except what I allow you. Now go to bed and let me rest." He got up to leave.

The next morning, Nihal wisely did not touch the issue again. His younger brother, Sadiq, was also arriving four days later and Nihal wanted to broach the subject together with him. He left his father's home after breakfast, telling him that he was going to stay at his brother-in-law's house for two or three days and would return after that. He planned to come back when Sadiq arrived. This would allow enough time for Daddy to think things over.


"Faizan Sahib, I am so sorry for Ali's behaviour," Zareen apologised. She looked genuinely embarrassed. "He was so insistent and more so because you had allowed it. If you do not encourage him, I shall also have an easier time stopping him." Faizan looked amused.

"Don't be so embarrassed please," he reassured her. "He was talking logically about the whole issue and I was totally convinced. He is a very intelligent boy. I had a good time talking to him."

"But it really isn't fair…." Zareen insisted.

"Whatever will he do?" Faizan asked in turn. "He will just also sit there and do his homework with Fahad. Actually, I've noticed that Fahad likes to have his brother with him. Don't stop it, Mrs Azam, it is good for both of them and I enjoy it too."

The matter was decided. But Aiza was most aggrieved about it. She was cross with both brothers and refused to be consoled by anything her mother told her. Ali was not insensitive to his sister's displeasure. He was a happy boy and he wanted to see everyone around him happy too. He decided to talk to Faizan.

"Faizan Sahib, there is a problem," he told him solemnly.

In the span of just a couple of days, he was already good friends with the distinguished looking older man who looked much younger than his actual age.

"What is it, Ali?" Faizan Sahib asked him. He saw Fahad nudge his brother as an indication to stop talking but Ali ignored him.

"You see… my sister Aiza is very upset that we both come here and she can't," Ali said seriously. "She thinks this is a case of discrimination against women. She says that women have a lot of rights in Islam and that she is being denied them." Faizan looked at him in amazement.

"She said all those things?" He could hardly believe an 11-year old-could think like that.

"Aiza is very smart," Fahad joined in the conversation with pride in his voice for his sister.

"She reads a lot of books and I often tell her these things myself in order to make her strong," Ali told him. "Our mom is raising us alone now and I want all of us to be very strong people."

Faizan was most touched.

"So… do you have a solution in mind?" Faizan asked Ali. There was a twinkle in his eyes as he watched the serious young face in front of him.

Of course Ali had a solution.

[To be continued…]

The next and final part of the series will be published next Sunday. Stay tuned to see how the story unfolds.