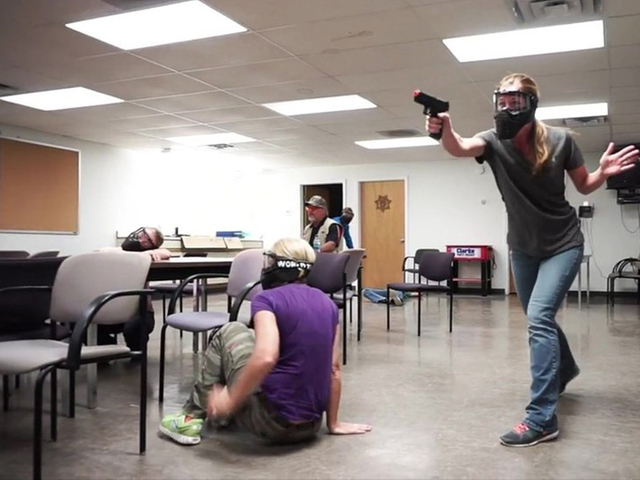 ---
Arming teachers will only create a greater mess, one the US cannot afford
Trump is advocating arming teachers because that would mean greater gun sales and soaring profits for the gun industry
---
It's a strange time in our history. America is making the news for the worst of reasons. I look back and wonder at times as to what happened to my adopted country. I look back at the time when the news headlines were dominated by the likes of Sammy Sosa, Alex Rodriguez, Mark McGwire and Michael Jordan, to name a few. Granted that the social and political buzz and the emotions were still high at that time, but this kind of pressure wasn't felt all over the body politic.

Today, just turn the television on and there's always something crazy happening. Whether it is a weird character like Dana Loesch spreading lies and trying to get her bunch of unfounded statements across, or a drunk Sam Nunberg acting all giddy and making a mockery of human integrity. If nothing else, there's good old Donald Trump now in full campaign mode, going off script and clowning around with his shallow-minded, loony support base.

Beyond the Valentine's Day Parkland massacre, a lot has happened. We had the #NeverAgain movement initiated by the survivors of the school shooting. We had the Parkland kids meeting the president and presenting solid arguments for gun control. We had people coming out in numbers and condemning the politicians for inaction. It seemed like a movement that'd actually force the powers-that-be to do something concrete and come up with plan of action instead of sending out mere messages of thoughts and prayers.

But guess what?

Nothing will happen.

It's because the problem here is not the National Rifle Association (NRA) funded politicians or the NRA brainwashed, delusional people living in the sticks. The problem is the NRA itself that makes the politicians and gun owners defend it until the last drop of blood in their bodies.

The NRA is a cult worse than the Ku Klux Klan (KKK); it's a mafia like no other that won't let people see reason. In fact, the NRA encourages and instigates supposedly the smartest of people on God's green planet, like the president himself, to suggest that teachers in schools all over America should be trained and allowed to carry guns in classrooms.

What purpose will arming teachers serve? This is a polarised country where racial, ethnic, religious tensions run high all across its footprint. Moreover, the first and foremost, and perhaps the only, function of teachers is to teach and not act as security guards. Teachers are human beings and to think that they're immune from the societal and political shenanigans happening around them will be nothing less than stupid.

In this era of Trump when he calls Mexicans rapists, Muslim terrorists and likes to spread bigotry and incite violence, arming more people will be dangerous for the US. It is not inconceivable to imagine a teacher armed with a weapon to gun down an African American, a Hispanic or a brown Muslim kid behaving erratically in a classroom, in the name of "self-defence".

Being only human beings, teachers can't stay away from being influenced by the pressures around them. They'll kill anything moving that doesn't agree with their pre-programmed mindset, without the use of better judgment or a sense of responsibility.

Trump is creating a massive mob of chaos – one that'll pit ordinary folks against each other right from the ground level up. He is leading the country to a point where America will be conveniently compared to failed states like Syria, Yemen and Iraq. Remember, just recently, he said that he likes conflict.

The above scenario is not a creation of my mind. This apprehension was expressed post-Parkland by a teacher, Maggie, who works in my school district, which is relatively more moderate and tolerant towards people of different backgrounds.

Jason, a high school teacher of mixed racial heritage, wants the NRA to be disbanded but believes that even the thought is a shot in the dark.

"No one has the guts to act against NRA ever," according to Jason.

Rubin, an economics professor in a local community college, believes that Trump is advocating arming teachers because that'd mean greater gun sales and soaring profits for the gun industry.

 "It simple economics," he says.

Rubin's contention makes perfect sense to yours truly. Trump and the NRA are in cohorts with each other. They are partners in crime and it suits Trump for things to stay that way.

Maggie, Jason and Rubin are only a few examples of folks frustrated with gun violence. However, as stated earlier, the realities are different when one moves away from the urbanised and high literacy areas. Look at what happened in Florida – a low literacy state with a high percentage of gun ownership. This is where the Parkland carnage happened and, under pressure, the state legislature decided to raise the minimum age of buying certain type of lethal weapons from 18 to 21.

Agitated by the decision, the NRA went ahead and sued the state. In the meantime, the White House school safety proposals didn't even bother to talk about raising the age limit.

Talking to our county teachers' union's secretary general, any doubts that I had about the pay scales of those pursuing the noble profession of teaching were put to rest. I was informed that teachers in most of the US are amongst the lowest paid professionals. That secretary general alluded to the fact that schools at times do not have enough funds to buy stationery for their classrooms. In such circumstances, it is utterly ridiculous to expect teachers to balance their act between teaching, providing material support to students as well as safeguarding the lives of students.

It's not just the teachers like Shanna Peeples and Jim Gard who are condemning Trump's idea. Even the police are against scholastic weaponising. One officer who I stumbled into at a local deli in rural Pennsylvania – a traditional gun hub – told me that liberty and freedom to carry weapons does not mean unleashed and unbridled impulsiveness. Given the pressures of life and money that teachers are faced with, one can't expect them to use the most effective judgment methods when decisions need to be made in micro-seconds.

America must understand that if the Australians, Canadians and Europeans were able to cleanse their societies of guns, so can we, right in the land of the free and the home of the brave. In this hysterical time, where the news cycle is dominated by White House resignations, the Mueller investigation, Stormy Daniels, the Kim Jung-un letter, and everything wicked, we do not need more catastrophes to be added to our list.

Arming teachers will not solve the gun problem. The idea is a bunch of malarkey. It'll only turn this great country into a land of guns, lunatics, bigots and the home of the freaks. All we need is an ounce of honest leadership. We need someone who can start a discussion on better public education, mental health and raise voice against the Second Amendment and the NRA with the objective of minimising the presence of guns in the society. Is there a will to do it? Just like the uncertain times we are finding ourselves in, I'm not sure.