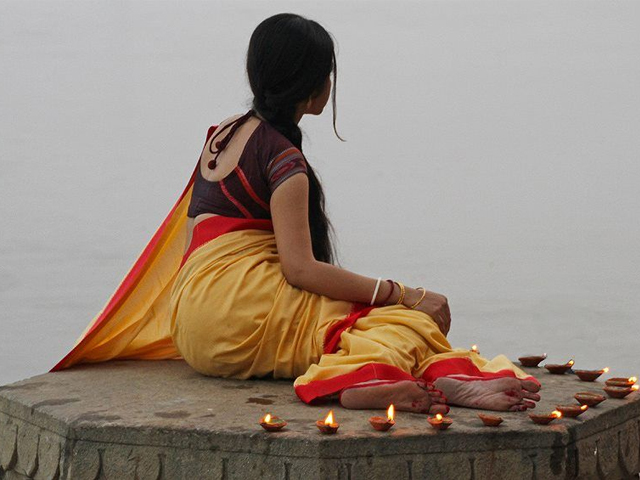 ---
He told her she looked beautiful, but this time, Shreya didn't smile
He was the only one who told Shreya how beautiful she looked in sarees, and he was the only one she cared to please.
---
The cobalt sky stretched far overhead and disappeared into the green mountains of Pir Panjal. These mountains were the most beautiful part of Gondal village.

Shreya looked at the mountains merge into the sky from the veranda of her house. In the evenings, when the birds sang in the trees nearby and the air smelt sweet, Shreya would sit outside in the veranda. Clad in silk sarees, of new colours on new days, she'd wait for Naveed before he returned home from work.

She was draped in a crimson red saree that looked striking against her nut-brown skin, and circled her caramel eyes with black kohl. Her hair was as black as the midnight sea, with not a fleck of grey, and she had it tied up in a tight bun. In a place where people looked at her awkwardly, and sometimes even disdainfully, in a place where there was no place for her and her culture, Naveed alone made Shreya feel wanted and accepted. He was the only one who told her how beautiful she looked in sarees, and he was the only one she cared to please.

Naveed emerged in his jeep from the gate and Shreya felt a soft fluttering in her chest. He came up to her and looked at her all over. She felt nervous under his prolonged gaze but said nothing.

"You look beautiful in this saree," Naveed finally said.

Shreya's eyes glistened with satisfaction at the compliment, and she gave him a shy smile.


---


The morning sun was shining through a haze of clouds, and Naveed felt small beads of sweat trickle down his back. Doubts waggled through his mind, and his steps became increasingly unsteady. When the mosque stood only a few steps away from him, Naveed felt faint and queasy.

He wanted to run away. He didn't want to be here. What was he thinking when he decided to get married again?

But he finally gathered some strength and walked into the mosque. Now was not the time for doubts and hesitation. Now was the time to be beside his new bride.


---


Shreya and Naveed sat together at the table for dinner. She had prepared his favourite curry. He loved it when he had it for the first time at her house in Delhi. He told her he could eat it every day. And every time he showed up at her place, she'd make it for him.

She still made it for him, even after so many years of being married. But tonight he only took a bite, and without another word, retired to his room. The emptiness in his eyes filled hers with tears.

There was something different about Naveed, and Shreya didn't take long to realise it. For some days he had been quieter than he usually was; his silence was bitter and sharp, and cut her deep. Whatever efforts she made to break this silence were swept aside by him.

It felt like he didn't want her anymore.


---


Naveed was head over heels in love with his new wife. When Shreya thought he was off for work, he'd actually be with his new bride. Sometimes he wouldn't return home for days, and Shreya only thought it was for work that he was away. A landlord had to keep all his lands in check – is what he would say to her.

When he first saw Shreya, he realised he hadn't seen any woman half as beautiful as her. He thought about her day and night. He wanted to make her his own, and when he asked for her hand in marriage, her parents didn't hesitate. He was rich, and that was all that mattered.

But now his love for Shreya had worn off. And the sarees he had once been so fond of annoyed him. He wanted her to dress more simply now. The sarees made her look overly dressed and her short blouses were inappropriate, as the villagers were conservative and looked at her in profoundly disdainful ways.


---


The moon was shining, and made the entire village seem washed and pale. Shreya's dark blue saree shimmered in the moonlight. Unbound, her black hair tumbled over her shoulders and down her back, almost to her waist. It was late, and Naveed still hadn't arrived.

She didn't call him to enquire where he was – she already knew. Naveed hid his secrets well, but the world was full of people who didn't.

She went back inside the house, and changed into a shalwar kameez Naveed got her only a few weeks back. It was in the colour red; Naveed's favourite colour. She stood in front of the mirror and wondered if Naveed would like her in his choice of clothes. She felt odd, for she had never known any clothes other than her silk sarees.

Shreya was still taking in the sight of herself wearing her new clothes when Naveed sauntered into the room.

"You look beautiful!" said Naveed.

But this time Shreya didn't smile. Pain singed her heart. And the feeling of betrayal stung.

This time, her honest and innocent eyes filled in with tears.

And she cried.






Facebook Conversations
COMMENTS (1)
Comments are moderated and generally will be posted if they are on-topic and not abusive.
For more information, please see our Comments FAQ