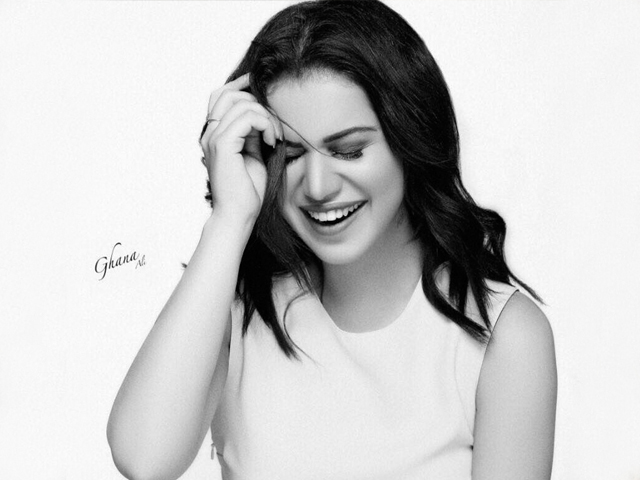 ---
Up close and personal with Ghana Ali, Pakistan's rising star who demands recognition
"It's frustrating when you pick up a newspaper or magazine and read something about yourself completely misquoted"
---
In a matter of only three years, Ghana Ali has established herself as one of Pakistan's most promising leading ladies in films and on television. She is determined to portray diverse characters in the future, and is also working on two television projects at the moment.

Ghana secured a role and got noticed in last year's Rangreza; though not commercially successful, she persevered in the recent comedy, Maan Jao Na. Alongside these developments, the glamorous 24-year-old spoke about her forthcoming film. She hasn't disclosed anything pertinent about it yet, but I will surely dig into it! Till then, let's hear it from Ghana herself.

Tell me a bit about Ghana Ali, and what describes you best?

I was born and brought up in Lahore. I'm the youngest of five siblings, and have been working in the industry for over three years now. Acting is what I am passionate about. Words such as confident, ambitious and assertive fit me well.

You were the star of the comedy film Maan Jao Na. Are you satisfied with the response of the audience and critical reviews?

Yes, I'm completely chuffed. I think I did my character justice. When the audience and critics appreciate your work, you know you have done something you had already anticipated.

What are your thoughts on Pakistan's media?

I think it has come a long way. We have so many options on television, be it news or entertainment, and the competition is getting fierce by the day. PTV is no longer the only medium of news and entertainment. Digital and social media are the next big thing, as they have provided a platform for many young people to start small businesses, and it is great to see them excel in that respect.

I always say, 'nothing is bad'. It is how you choose to use something that makes it good or bad. Yes, it can be frustrating at times when you pick up a newspaper or magazine and read something about yourself completely misquoted, but everything has its pros and cons.

What characters do you seek to portray in the future?

I never imagine myself playing any character. All I look for is a challenge. Any character that gives me the platform to perform will be my ideal role, where I am allowed to showcase my acting skills.

It is really important people recognise me for my acting talent, as the sole purpose of me getting into acting was my passion for it.

Are you working on anything currently? What specifics can you share?

Yes, I am working on a couple of projects. There are two altogether.

I am playing the lead character alongside Faisal Qureshi and Aijaz Aslam in the sequel of Kis Din Mera Viyah Howay Ga. My other series, titled Ustani Jee, is with Yasra Rizvi and Hammad Farooqui. It is being directed by Angeline Malik.

What one question would you want the media to stop asking celebrities? 

I would say asking too many questions about one's personal life. I understand that we are in the public eye and people want to know everything about us, but there is a limit to how much you want to share. If someone chooses to be open about it, that is a different story altogether, but probing and investigating someone's personal life unnecessarily is ridiculous.

If you could spend money on something you love, what would you spend it on? Why?

Shopping, because every woman loves it!

Are you more of a foodie or fitness freak?

I love food, but the nature of my job demands fitness.

I think it is a balancing act. You can still enjoy all your food, as long as you know when to stop.

Do you prefer the seaside or the mountains?

I prefer hill stations.

Are you more social or anti-social?

It depends on my mood. But generally, I feel I'm quite social.

What is your ultimate guilty pleasure?

Chocolate!

What message would you like to share with your fans?

I love you all dearly. I am who I am today because of your constant love and support, and I want you to know I really appreciate it.

Whether it is films or television, Ghana seems to be on the right track. She is already making waves in Pakistan with monumental roles in films, and it surprises many of us that she has accomplished so much in such a short period of time.

Evidently, Ghana enjoys acting as much as she loves talking about it. She exudes confidence, and it rightfully shows in her craft. If that is not enough, she also appears unconventional for a typecast Pakistani actress, and knows how to work the camera well.

Keep at it, Ghana!
Facebook Conversations
COMMENTS
Comments are moderated and generally will be posted if they are on-topic and not abusive.
For more information, please see our Comments FAQ