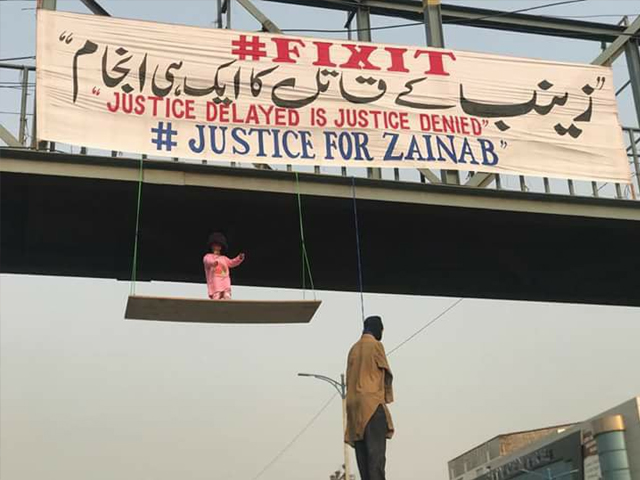 ---
Public execution only kills the rapist, not the problem
The state can't fix the criminal justice system, so the answer seems to be judicial killing or legislated murder.
---
The Senate Standing Committee on Interior has proposed an amendment in the Pakistan Penal Code (PPC) to publicly hang convicts found guilty of kidnapping, murdering or raping children less than 14 years of age. The Criminal Law Amendment Act 2018, if passed, would amend the PPC's Section 364-A (kidnapping or abducting a person under the age of 14), which currently states,

"Whoever kidnaps or abducts any person under the [age of 14] in order that such person may be murdered or subjected to grievous hurt... or to the lust of any person [sic] shall be punished with death."

If amended, the words "by hanging publicly" would be included in the end.

Law feeds ideology, and the beliefs and values of politicians and rulers determine legal frameworks. If the Senate moves toward public executions, it will be showing a cynical preference for violence and terror as a desperate solution to child abuse and murder rather than something more thoughtful and result-based. This display of violence – the spectre of a limp body hanging from a bridge – is created for public consumption, to instil fear, and as the Interior Minister says, to 'send a strong public message'. It is seen as retributive and having a deterrent effect.

Firstly, it is not retributive. Retributive principles uphold equivalent punishment. However heinous the crime, however deeply it shocks our conscience, a public hanging is not an equivalent punishment. It is premeditated, followed by anticipatory period in jail in poor conditions. Moreover, it degrades human dignity, not just that of the person being hanged, but also that of the viewers. People watching such violent spectacles are reduced to the abstract legal subject of neck-breaking state sanction. The simple act of bearing witness to a vicious display of state power stamps viewers irrevocably with scars of brutal violence. It also normalises such violence. Thus, it cannot be an equivalent punishment as it goes beyond the desired aim of justly punishing the offender.

It may also have negative effects on society, especially children. Rather than being retributive, it resembles revenge killing. And if it is revenge killing and mere symbolism the senators want, then they are seeking to unravel the very basis of a democratic, rule-based society with courts that use principles in sentencing. Then there is nothing stopping us from also assaulting the accused first and then tearing up his body later.

Secondly, we do not know that it will lead to deterrence in crimes against children. No study has been cited by any lawmaker regarding the deterrent effect of a public execution. Most studies from other countries conclude that people are deterred by the prospect of being caught rather than facing the death penalty. Laws are based on sound policy and research. The public execution debate in the Senate appears whimsical and aimed at garnering public support when real solutions are not forthcoming.

Child abuse in Pakistan needs serious remedies based on an array of policy changes in education, labour, health and economy, along with copious amounts of healthy public dialogue about sex and sexual violence, about sexual diseases, reproductive health and physical safety.  It needs a real look at the preventative criminal justice system, police practices of tracing missing children, and the politics of a nation where the most vulnerable of society – children – are left unprotected. There has to be categorical consensus on the age of juvenility as under 18 – so that all under this age are free from labour exploitation, sent to school, and protected in the criminal justice system.

There is no shortcut method of exorcising child abuse from our society. Public hanging will cause more damage until institutions for child protection are repaired. Moreover, those who do not trust the criminal justice system as effective should not trust that the actual criminals will be hanged. The mere act of a hanging in public, rather than the premises of a jail, does not magically make the system better or the factually guilty face gallows.

The state and law are ideological instruments in the hands of those in power. This is a state that cannot feed its hungry children. There are growing rates of malnutrition and stunting caused by simple, curable illnesses in childhood. The 'strong message' being sent is that while the state abdicates its responsibility towards citizens, especially the children, to provide universal health care, safe neighbourhoods, nutritious meals in school, quality education, safe drinking water, and ultimately, employment prospects with a living wage, it will use its repressive machinery to publicly hang the errant.

Some progressive lawyers opine that there is no crime in the world that cannot be solved by medication and education. These very aspects are missing in society at large –health and intellect, good public hospitals and education that will build up children, welfare and humanity. A call for public execution is thus analogous to solving hunger with more hunger, settling anger with morbid rage, eliminating rape and murder of children with state-sanctioned murder. It is almost as hollow as solving school shootings in the US with prayers while guns are sold freely.

The fact that we are not a welfare state is not a surprise. It is, however, that we are so easily duped into seeing violence as a solution. We're consenting too easily to the Senate's call for an easy, repugnant and symbolic solution rather than demanding they actually work for real change at the grassroots.

The Senate's effort comes at the heels of the Rao Anwar scandal. It is reported that Anwar was involved in 444 extrajudicial killings, many of these in staged encounters. Secret detentions, harassment of ordinary citizens, torture of political activists are coming to light. With Naqeebullah Mehsud, we are, perhaps, seeing a new dawn where victims are no longer invisible, but named; they had rights, personalities, families and lives. The state seems to have gotten itself into a bind. It can't account for extrajudicial murders of those like Naqeebullah. It doesn't seem to possess the capacity to fix the criminal justice system to ensure people like Zainab's killer are apprehended and prevented from continuing. So, the answer seems to be judicial killing or legislated murder – public, brutal and pornographic display of state power.

Of course, this will isolate us in the world community, deprive us of collateral economic benefits in the globalised economy, and paint us as a rogue nation. We have to accept that we are a liberal nation and have never put ourselves, as lawyers, judges and citizens, behind public executions despite violent ideological messaging and negative portrayals from everywhere. Let's keep up the tradition.
Facebook Conversations
COMMENTS (24)
Comments are moderated and generally will be posted if they are on-topic and not abusive.
For more information, please see our Comments FAQ