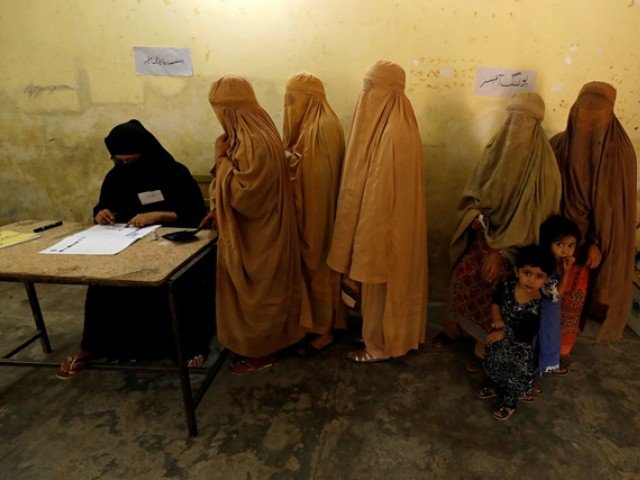 ---
In the midst of all the tabdeeli in K-P, did Imran Khan forget about its women?
Shad Begum says that PTI has done little for women at the grassroots, but they have engaged women at the party level.
---
In June, Imran Khan, leader of Pakistan-Tehreek-e-Insaf (PTI) and now set to be the country's future prime minister, made a few uninformed statements on feminism. He said, 
"I disagree with the western concepts of feminism. It has completely degraded the role of a mother."  

The internet responded to this and set the record straight. The theory and practice of feminism, which is certainly not always western, has led to maternity benefits for working mothers and has elevated motherhood in that regard.

But Imran has previously opined on topics that stray from his area of expertise. His views on feminism do not necessarily determine the nature of PTI's work in Khyber Pakhtunkhwa (K-P) to promote women's rights. However, facts do.

Unfortunately, though, they have not delivered.

K-P has yet to enact a law against domestic violence to protect women. Other provinces have enacted such laws for the protection of women – Sindh in 2013, Balochistan in 2014, and Punjab in 2016 (despite PTI leaders' opposition to it). The momentum for women's rights legislation was strong in the last decade and activists were able to table and push multiple laws to end gender-based violence and discrimination.

In K-P, PTI acquiesced to the religious right-wingers who publicly claim such laws are a sign of western liberalism, which is in-line with Imran's poor view of feminism. In 2016, the Council of Islamic Ideology (CII) rejected a version of the K-P domestic violence bill; its chief publicly condoned light beating of a wife by her husband. In a climate where dialogue around protecting women from violence at home had already dealt a blow, in 2017, law-makers presented a compromised domestic violence bill, but that too failed to pass.

Progress to protect women against sexual harassment at the workplace was slow in K-P. In 2012, Sindh became the first province to appoint a provincial ombudsperson mandated by the Federal statute – the Protection against Harassment of Women at the Workplace 2010. Yet, eight long years since the passage of the act, K-P has yet to appoint one. This is a legally qualified person who decides all appeals in sexual harassment cases and provides judicial-like oversight to potentially diverse and often irregular sexual harassment complaint processes conducted at schools, companies and other organisations.

Under the Federal Act, such person, essential for the Act's implementation, can be anyone qualified to be a High Court judge or with 20 years of experience in civil service, or an eminent educationist. In 2018, K-P amended the 2010 federal law; the change reduces the requirement to 15 years of experience in the civil service to be qualified as ombudsperson. If it was the definition that had stalled the appointment of an ombudsperson, the amended definition is not very different from the original.

Maliha Husain, a prime advocate of the law and behind its implementation success, is hopeful that the new government will be quick to appoint one.

Laws are important to recognise the menace of violence against women and girls. They pave the way for rights to not just be articulated, but also normalised; appointment of personnel and budgeting for the laws to be operational is important for these rights to be developed, mainstreamed and strengthened.

One may critique the work of the Sindh sexual harassment ombudsman, but this critique is only possible because one was appointed – and we now have a substantial data on how the law was interpreted and how the state handled such complaints. With K-P, we start on a blank slate on sexual harassment, lying on the negative axis of domestic violence.

However, a party cannot survive without women – in parliament or in the party echelons.

On the parliamentary front, MPA Meraj Humayun (now with PTI) said,

"PTI-led government made measures to support and promote female parliamentarians but that they failed to create a conducive environment for women in the assembly and the secretariat."

She said the government gave K-P a "solid women's empowerment policy" but she also points out that,

"Seven bills drafted by the Women's Parliamentary Caucus including those covering domestic violence, trafficking, home-based workers were not placed on the agenda despite repeated requests."

A final draft of the empowerment policy does not seem to be available online. Compare this to the Punjab policy which was made readily available online and paved the way for women' rights NGOS to voice and demand the benefits promised under it.

Shad Begum, known for her work of empowering women of K-P towards political participation, says that PTI has done little for women at the grassroots, but they have engaged women at the party level. There was a very low allocation for women in the annual budget. This is unfortunate in a climate where rural (and urban) women are on the brink of poverty and need attention paid to their livelihoods, economic opportunities and resources. Even appointing women police officers has been a slow and stagnant work-in-progress.

While PTI in K-P has had a feeble track record in protecting women against violence at home and the workplace – other laws also have an impact on women's rights. Laws and schemes protecting health (such as the sehat sahulat card), education, child labour and forest rights, also impact women. Policies on crime and terrorism, madrassa reforms and funding also set the stage for promoting or crossing out women's rights.

The province of K-P has a strong tradition of grassroots activists who use systems and push laws, whether to enable labour benefits such as EOBI, push for district level women's commissions, or implement changes in health policy. It is these ordinary people of K-P, one hopes, who will continue to push for real change, rather than accepting technocratic, diluted, or cosmetic changes from above.

In 2013, I became familiar with the Forest Act of 2002 that envisions a role for forest community women in joint forest conservation and management. At the time, members of the forest community in Swat were asking for its implementation – which was weak – including forming committees and giving royalties. They questioned how extant laws can be put in the bin of history and new mechanisms such as the United Nations Programme on Reducing Emissions from Deforestation and Forest Degradation (UN REDD) can be adopted. The billion-street tsunami and its Rs12 billion budget, part of UN REDD, was such a venture. Shiny, exciting, and great for marketing, but indicative of a tendency to start from scratch and undo years worth of work on forest rights (and indirectly women's rights). This makes poor case for governance, but no one will deny extra trees are a bonus.

Building new schemes while relegating past work to oblivion sets us back; not making laws and systems work in key areas of gender-based violence sets us back. In K-P, PTI has to set matters right. Create an environment where anti-domestic violence legislation can be unchallenged by the right-wing and then enact a strong version of the bill. Appoint an ombudsperson to handle sexual harassment cases and put more women in the police force at all positions with powers to file FIRS. Empower all the bodies, commissions and departments needed to do the work of implementation. Allow female politicians to push a vibrant gender mandate, and the party itself will transform. But if it continues to sabotage or micro-manage them, then it will be much of the same K-P – lethargic and tardy on women's rights.