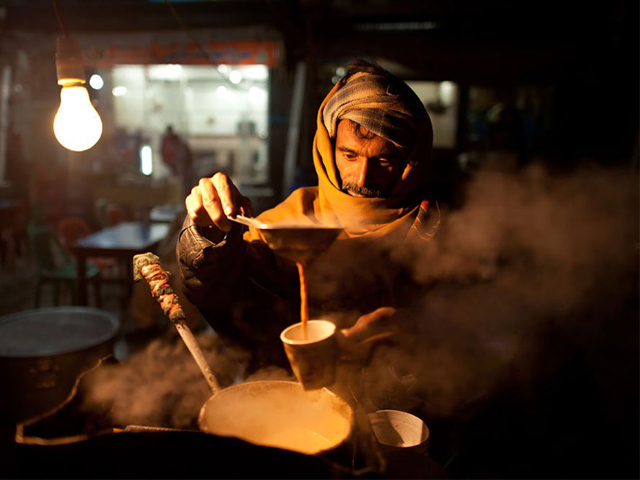 ---
Aslam's home outside of home
He had grown in years; his skin had wrinkled up and loosened on his bones, but his wilfulness to work hadn't dampened.
---
The sun shone brightly in an almost cloudless sky, the wind also inexistent. Sweat soaked him to his skin as Aslam prowled through the noisy, exuberant, bustling crowds in the bazaar. There was a time when Aslam's energy vied with that of the bazaar, but lately, he didn't feel quite so energetic.

Where once he spent hours bargaining with costermongers, now he purchased at the first price they told him. Everything that he once enjoyed, now only wearied him. He didn't know getting older would be so tiresome. Today also, like every other day these days, he felt tired, and a little older than before.

Aslam's legs felt frail and feeble on his journey back home. He couldn't believe he was the same man anymore. There was a time when running errands was something he'd do many times a day, but now doing that even once felt like a huge task. He had grown in years, and his skin had wrinkled up and loosened slightly on his bones, but his wilfulness to work hadn't dampened even slightly. And whatever his Baji and Sahib Ji asked of him, he'd do. Even when he felt like he couldn't, he would.


---


Aslam had been in service of Baji and Sahib Ji as a cook for the past 40 years. He came to them as a boy of only 15. The journey from Lakho Pir to Lahore had been long and tiring, but Aslam's father made him believe that good things waited for him at the end of it. He still remembered his mother's sad brown eyes, all teary, as she bid him farewell. He longed to look in those eyes for many days thereafter, but there was little he could do to help himself. There were times when he wanted to run back into his mother's arms and tell her he didn't want to leave home. He could earn by staying back too. But those days were long gone, and that innocent little boy had grown into a hard-hearted man, who had found home outside of home and decided to never look back.

Baji and Sahib Ji had done a lot for Aslam. He was well-paid and well-fed, and everything only got better over the years. Their children called him "Aslam Chacha" and told him that he made the best fries ever. He thought he was an unfeeling man, but he felt rather good when his cooking expertise was sung praises of. Now when he thought about it, his father was actually quite right. Good things did wait for him at the end of the long journey that he made many years ago. Though probably not as good as his mother's embrace, her caring gaze or her soft voice, but still quite good.


---
"Aslam, you didn't put sugar in my tea. And the chicken was also overcooked today. These mistakes are becoming a routine now," said Baji, indignantly.

"I'm sorry, Baji. I'll be more careful from now onwards," replied Aslam, his voice as frail as his legs had felt.

Later when he was back in his room, he thought to himself if the years were taking away his memory as well. He was never forgetful, but now it was routine. He almost felt sad. But he resolved to break this routine and be more careful in the days to come.

It was night, the sky pitch black and the stars in full glimmer, when Aslam was summoned by his Baji and Sahib Ji. The thought of being called at this hour was utterly unsettling, but Aslam told himself he had nothing to worry about. He had prepared the dinner more carefully than lunch. Did he still mess up the proportions of salt and spices? He didn't know. His thoughts brought some comfort to him and so he directed his thoughts into appreciating the magnificence of the stars and the sky.

Baji and Sahib Ji were engaged in an intense discussion when Aslam arrived, but both of them went quiet at the sight of him. The silence hung between them, huge, sharp and hollow, and was broken only when Sahib Ji ponderously declared that he and Baji had both decided that it was time for Aslam to leave.

Tears filled Aslam's big brown eyes, and when he blinked, the world came back into clarity, Baji and Sahib Ji were both gone. Aslam stood alone in silence and sorrow. It took only a few painful words to obliterate his world. And his home.

The last time he cried, his hair was as brown as his eyes and he was still a boy. But that was 40 years ago. Today, he wasn't a boy but a man, and his brown hair was flecked with grey. Yet he felt the innocence of the same 15-year-old he promised to never be again creep into him, and he longed to be in his mother's arms. Today, once again, he cried for the home he was going to leave behind.


---


The day was cold and overhead clouds engulfed an orange sun. Aslam knew it was going to rain. He stood at the bus stop to head back to Lakho Pir. His belongings were few, but they too felt heavy as he flung them in a small bag on his shoulder. But heavier still was his heart. There was no mother and no father waiting for him now. When he was growing old, they were growing older. He didn't know what he was going back to. He didn't know if good things were waiting for him at the end of this journey also. He didn't know if he was ever going to find a "home" again.

His thoughts were interrupted when suddenly the thunder rumbled, the sky darkened and it started raining. And as Aslam looked at rain pour down from a dark grey sky, he thought of how he knew it was going to rain.