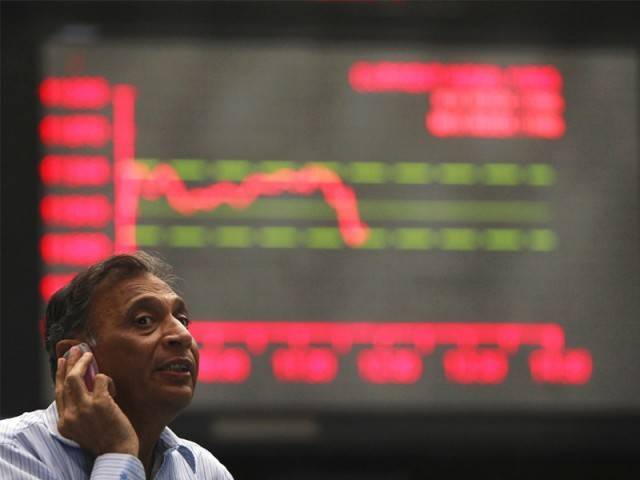 ---
How did Pakistan's stock market go from being Asia's best to Asia's worst?
If PML-N wants to claim victory for the market's spectacular performance, it must also admit faltering it.
---
It is a universally accepted truth that the performance of stock markets, or even individual stocks, is determined by a combination of both fundamentals and animal spirits. What a long-term investor must always investigate is whether current prices are driven by irrational exuberance or by fundamentals.

However, even a seasoned investor would be hard poised to understand the Pakistan Stock Exchange (PSX). From 2012 to 2016, while Pakistan's economy just limped along with a Gross Domestic Product (GDP) growth rate of less than 5%, the stock market reached new highs almost every month, reaching its peak on May 24, 2017, by reaching 52,876.46 points. Since then, however, it has fallen around 28%.

So what led to reaching this new high, and the subsequent new low?

Many analysts point out that Pakistan's improving security situation resulted in greater confidence from international investors, and drastically improved PSX's standing after 2012. After the start of Zarb-e-Azb in June 2014, Pakistan's security situation improved a lot. However, the improvement, especially for the economy, has not been drastic. Terrorist attacks still occur, and Pakistan is still in the list of the most dangerous nations in the world.

Moreover, the PSX was already on a massive upsurge way before June 2014. Thus, if not core economic indicators or even a better political environment, what then propelled the PSX to new heights, and improve its standing from a frontier market to an emerging market on the Morgan Stanley Capital International (MSCI) index?

The stock market's longest bull ride, from 2012 onwards, can be traced to a decision made by then president Asif Ali Zardari. In 2012, the Securities and Exchange Commission of Pakistan (SECP) sought a suspension of Section III of the Income Tax Ordinance, till June 2014. This meant that investors in the PSX did not have to declare their source of income in the two-year window, from April 2012 to June 2014. What followed was a massive windfall in the PSX, as every person with ill-gotten gains was given an opportunity to convert their black money into white money. In short, while the PSX did not reflect the performance of the wider economy, it did leverage the massive amount of wealth in the hidden economy to grow exponentially.

Even back in 2012, local fund managers complained that the suspension of Section III might create a bubble in the short-run, but would not benefit the wider economy in the long-run – and this is exactly what happened.

When the underlying economic indicators are not that great, it only takes a couple of unpredictable events for investors to run away from a market. Right after Pakistan's inclusion in the MSCI's Emerging Markets Index, the market reacted in the most unpredictable way possible. Asia's best performing stock market in 2016, with a return of more than 40%, took a nosedive on the last day of May 2017, with an intra-day fall of over 2,230 points – its most significant decrease in history.

Another event which spurred the fall of the PSX was Nawaz Sharif's disqualification. Markets abhor political uncertainty and instability, and it was not only the disqualification itself which prompted a reaction from the market, but the noise surrounding it, most of which was created by Pakistan Muslim League - Nawaz (PML-N). The ruling party and its supporters gave the impression to the outside world that the country would turn upside down if and when Nawaz was ousted.

However, PML-N's warning of the disqualification as a bad omen turned out to be true. The very day the premier was disqualified, the rupee lost 3.1% of its value against the dollar. Moreover, the noise surrounding our worsening economic situation, such as falling reserves, piling debt and the unsustainable current account deficit, all got worse.

I mentioned animal spirits earlier, which is a Keynesian idea that the variations of human nature mean "positive activities depend on spontaneous optimism, rather than on mathematical expectation". Thus, when a stock market is on a bull run, nothing can deter it because people's confidence in the market begets more confidence and hence the market keeps on going up. On the other hand, when the market is bearish due to one event or another, it results in negative sentiments about the market which lead to a vicious cycle, where people liquidate their holdings because they feel that everyone around them is doing so too.

Nawaz's disqualification led to this vicious cycle, after which investors realised that the economic fundamentals supporting the market were not great in the first place; it was all a "fugazi" (a casual Wolf of Wall Street reference for the fans).

As many experts have been suggesting for a long time, the performance of the PSX will, in time, catch up with the real economic condition of Pakistan. Our increasing trade deficit means that there is always pressure on our foreign reserves. The government has done nothing to address the widening gulf between our imports and exports. In fact, Islamabad simply increased imports by billions of dollars in 2017, letting the trade deficit reach an all-time high of $30 billion.

The rupee also had its worst fall since the 2008 financial crisis. Now obviously, foreign investors would want to liquidate their investments if they foresee the value of the currency going down, because it would mean that their portfolios would be worth much less in the future.

The country's sordid economic fundamentals and low animal spirits meant that the stock market had its largest fall ever in 2017, not considering the 2008 crash obviously whence the market went down by 58%. There has been a net investors' outflow of $490 million to date, probably more by the time this article is published. Since 2000, it is only the fourth time that the market has posted a negative return, of 19.2% to be exact.

If PML-N wants to claim victory for the Pakistan Stock Market's spectacular performance before, it must also admit that in large part, the stock exchange faltered due to its own economic performance, or lack of it. Perhaps, post the 2018 election, things will eventually change for the better because there will hopefully be greater political certainty and stability. Furthermore, history shows that since 2000, whenever there have been negative returns for the year, the next year the market makes amends by itself and shows solid recovery.

Perhaps we can depend on this piece of data and wait for the stock market to rebound by itself. But to be on the safe side, the next government should take adequate measures to address our worsening economic situation, while the SECP should come up with better regulations to instil investors' confidence in the market and the brokers. Only after that is done can we wait with halted breaths for high animal spirits to kick in and once again take the PSX to soaring new heights!
Facebook Conversations
COMMENTS (4)
Comments are moderated and generally will be posted if they are on-topic and not abusive.
For more information, please see our Comments FAQ