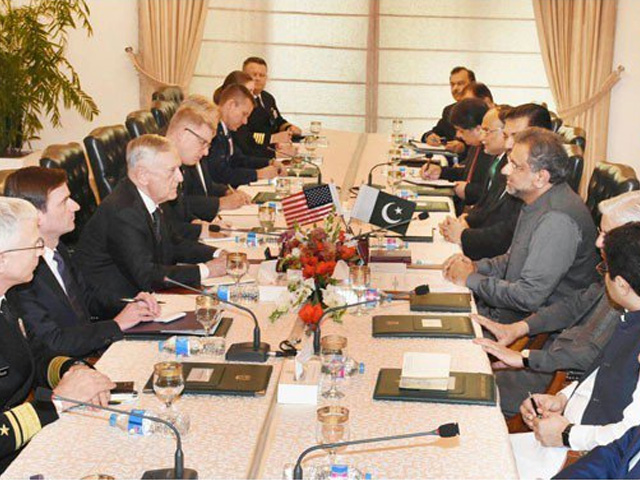 ---
Is the Pak-US marriage of convenience heading towards a bitter divorce?
With new regional players and geo-strategic dynamics, Pakistan can now afford to go on an equal footing with the US.
---
Pentagon's spokesperson recently acknowledged Pakistan's sacrifices stating that the country has lost most number of troops in the global war on terror. However, this acknowledgement contradicted the official position that the White House has maintained over the past few years, asking Islamabad to 'do more', whenever Pakistan came under any security policy discussion in Washington and elsewhere.

Pakistan, during US Secretary Defence James Mattis's recent visit, has already made clear that Islamabad will no longer accept Washington's redundant 'do more' mantra without evidence, and that proof of presence of terrorists in FATA should be shared before any finger pointing.

This change of attitude in Islamabad towards Washington was also evident when Pakistan's Air Chief Marshall Sohail Aman recently threatened to shoot down drones that violated the country's sovereignty. Previous ultimatums on drones by Pakistan, since 2004's first strike, have meant little; however, with Pak-US ties on the verge of hitting rock bottom, it won't come as a surprise if Pakistan finally shoots down a drone in the near future.

Pakistan believes that the US – with glaring failures in Afghanistan – has found in Islamabad a convenient scapegoat; whenever anything happens in Afghanistan, Pakistan is the only country blamed by both Washington and Kabul.

In response to these accusations, in November this year, DG ISPR, in a series of tweets, argued that Pakistan, even after doing its bit in the war on terror, was still a victim of security vacuum in neighbouring Afghanistan after two of its soldiers were killed in a cross border attack.


Two more martyrs today! The price Pak is paying for security vacuum on Afg side of the bdr.
Pak has done its part; cleared all areas, (1/3) pic.twitter.com/1sSCUC21mo

— DG ISPR (@OfficialDGISPR) November 13, 2017


However, things are not as rosy as Pakistan might claim them to be in terms of its domestic security situation. Even with claims of eradication of terror camps and bases from FATA, the country has faced periodic terror attacks.

The recent attacks on the Agricultural Training Institute in Peshawar and IED attacks in North and South Waziristan suggest that a lot still needs to be done. Pakistan maintains that most of these attacks are planned in Afghanistan – orchestrated by Tehreek-e-Taliban Pakisan (TTP) and its head Maulvi Fazlullah. Pakistan also believes that the US and Afghan forces are doing little to hunt and eliminate Fazlullah and his aides.

From what it seems, the Pak-US marriage of convenience is heading towards a bitter divorce, especially with new partners, China and Russia, in town. Even though China solidified its interest in Pakistan with its China-Pakistan Economic Corridor (CPEC), under its flagship One Belt, One Road initiative (OBOR), Russian interests are more strategic in nature.

Moscow fears that a growing threat of the Islamic State (IS) in Afghanistan might end up spilling over to Central Asia, and ultimately present a challenge in its own backyard. Therefore, Russia sees the Taliban as means to counter the IS in Afghanistan.

Russia has also made recent efforts in this regard, especially by organising the Moscow summit in April this year, attended by senior diplomats from Afghanistan, China, India, Iran, Pakistan and ex-Soviet Central Asian. The aim of this summit was to support the Afghan government in finding a long-term peaceful settlement of the Afghan war.

Pakistan's regional policy syncs, in some way, to that of Russia, such that both want inclusion of the Afghan Taliban in the long-term reconciliation process. However, both the US and India are opposed to this idea, leading to a low-key participation from both these countries in Russia and China-led Afghan peace initiatives.

With new regional players and geo-strategic dynamics, Pakistan, for once, can afford to go on an equal footing with the US and confidently respond to allegations that carry little weight or substance. Additionally, with the lure of Coalition Support Fund (CSF) already thrown out of the window, Islamabad's financial reliance on Washington is declining, hence making it easier to fend off unrealistic demands from the White House.

Furthermore, Pakistan is now in a situation – with peace more or less achieved in FATA – to act as a self-respecting nation and not only refuse financial support offered by the US (which results in demands of 'do more'), but also address regional and global security concerns. Only after doing so, would Pakistan ensure its territorial sovereignty, and in response, convey to Washington that it's superfluous narrative of 'do more' has lost its utility.

Finally, Pakistan also needs to learn from its past mistakes committed during its alliance with the US. Islamabad needs to address Russo-Chinese security concerns vis-à-vis Islamabad's past support of 'some' banned groups, or else, the country might end up facing similar demands from its new allies.