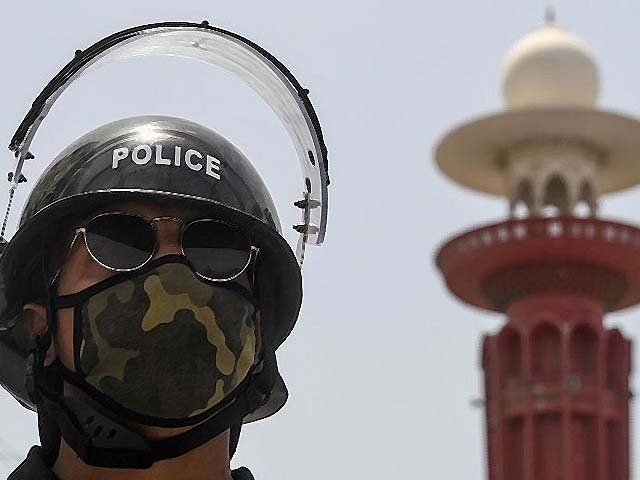 ---
Lessons for a 'smarter' lockdown
Only a clear apolitical policy can pull Pakistan out of this global health catastrophe that has claimed so many lives
---
The coronavirus (Covid-19) pandemic, at the time of writing, has infected over 2.9 million and killed more than 200,000 people around the globe. However, surprisingly, Australia and New Zealand are two countries that have domestically set political differences aside and are effectively working towards "flattening the curve" of daily new cases of Covid-19 infections.

As of April 26, 2020, the total Covid-19 cases in Australia, New Zealand and Pakistan stand at 6,703, 1,121, and 12,723 respectively. Even though the number of cases in both Australia and New Zealand is still on the lower side, when compared to other "western" states, their response has been unified, apolitical, clear, and effective. Therefore, Australia's Covid-19 patient recovery rate stands at roughly 80% (number of infected patients fully recovered), whereas New Zealand's recovery rate stands at roughly 75%. On the other hand, Pakistan's patient recovery rate is less than 25%.




Australia has enforced strict measures for both its citizens and residents as well as international visitors and visa holders. On March 19th , Australian Prime Minister Scott Morrison announced to close the country's borders to all "non-citizens". This meant that other than Australian citizens, permanent residents and those on special status visas, no one was allowed to enter the country after the prime minister's announcement. Hence, at the moment, about 10 per cent of Australians who have caught the virus don't know how they got it, which is a sign of community spread; indicating an extremely low percentage of local transmission. Most of the remaining cases, as reported by the government, have come from "foreigners" or Australians entering the country from overseas.

Similarly, New Zealand has also effectively contained the spread of Covid-19 in recent days and has implemented an "Alert Level 4 – Eliminate" for the pandemic. Level 4 Alert implies that "it is likely that the disease is not contained". According to Michael Baker and Nick Wilson, writing for The Guardian, this "elimination approach" by New Zealand is different from the "mitigation" approach of managing the pandemic influenza. It is due to this aggressive approach that the number of daily new cases in both Australia and New Zealand is steadily falling.

Also, when it comes to mass testing, Australia and New Zealand boast a higher number of "tests per 1000 people" when compared to Pakistan. Where Australia and New Zealand's "tests per 1000 people" number stands at 25.02 and 19.94 respectively, Pakistan, on the other hand, has conducted only 0.69 tests per 1000 people (see below Fig 2).




A major take away from both Australia and New Zealand is the fact that both the countries were able to implement an early lockdown, by not only enforcing social distancing measures but also recommending that all non-essential workers work from home. Moreover, both countries also shut down their borders for international travel; hence cutting down the international supply chain of the virus. Hence, the infections that happened overseas among the citizens and residents of both countries were separated from the local population.

However, even though both these countries have succeeded in controlling the spread of coronavirus, not all countries, especially Pakistan, enjoy the luxury of pursuing such a comprehensive "elimination strategy". An elimination strategy can only work effectively where states can seal their borders and can bear the immense cost of mass testing and financial and healthcare support. A recent study by Yale also argued that a "full lockdown" can only be effective in more stable economies such as the United States (US) and Germany. The study argues:

"Social distancing measures are predicted to save a large number of lives in high-income countries, to the extent that practically any economic cost of distancing is worth bearing. The economic value generated by equally effective social distancing policies is estimated to be 240 times larger for the United States, or 70 times larger for Germany, compared to the value created in Pakistan or Nigeria."

Hence, Pakistan's decision of pursuing a "smart lockdown", as explained by Prime Minsiter Imran Khan, might carry "some" weight. Moreover, Khan's decision of allowing many businesses to remain open shouldn't surprise many as even with such strict measures, most businesses in Australia have remained open; as long as they implement and follow social distancing measures. In Pakistan, though, social distancing is difficult to implement, keeping in view the lower levels of mass awareness and regard for the law.

A major lesson for Pakistan, however, from both Australia and New Zealand's Covid-19 response is following a clear, concise and non-political policy. Both these countries, after the early rise in numbers of infections, were not only clear in their approach and policy actions, but the political parties also avoided confrontations with each other. Even though Pakistan might not enjoy such favourable conditions – such as strong democratic structures, a stable economy and easy to manage borders – it can still ensure that its "mitigation strategy" for containing the coronavirus pandemic is clear and well laid-out. Moreover, Khan needs to take the lead and avoid political conflict, which pits Sindh (and the Pakistan Peoples Party) against the federation. Only a clear apolitical policy and its implementation can, therefore, pull Pakistan out of this global health catastrophe that has claimed thousands of lives.