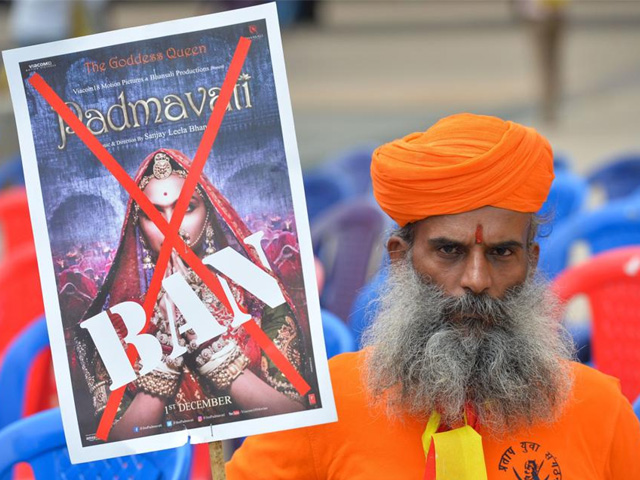 ---
India's ongoing Padmavati controversy is engrained with ulterior motives
If minor appeasement baits to Padmavati protestors swings a small portion of Rajput votes to BJP, then it's worth it.
---
A 21st century movie based on the mythology of the 16thcentury about a 14th century queen has ruffled political feathers in India. The members of Karni Sena, a politico-cultural group of Rajputs, man-handled Padmavati's director, Sanjay Leela Bhansali, vandalised cinema halls, and openly threatened high intensity violence if the movie is released.

The protesters allege that the movie distorts the Rajput history, glorifies a barbaric invader as a lover and a brave warrior. Rumours are galore that the movie shows a love affair between the Queen Padmavati and the invader Alauddin Khilji.

However, the truth is far more complex than what appears on the surface. Eminent journalists like Dr Ved Pratap Vedic and Rajat Sharma have stated that the movie has absolutely nothing that is objectionable and insulting to the pride and culture of Rajputs. The above mentioned journalists are well-reputed and known for their sympathies for the ruling party and its ideology. The fact that they did not find anything objectionable with the movie shows that the on-going agitation is not just about the alleged distortion of history and restoring the Hindu pride.

I am a Bharatiya Janata Party (BJP) supporter myself, and in spite of that I feel that the entire saga smacks of ulterior motives which do not appear to be very clean. So far the main agitators like Karni Sena and their leaders have not shown any gesture that shows their intent for any rational dialogue to sort out the issue in light of the evidence.

The Gujarat government has banned the movie; Yogi Adityanath has condemned the movie; and even the Congress-led Punjab government has banned the movie. It seems there are strong political stakes in the controversy. The Gujarat elections are hardly 11 days away and Gujarat has roughly 6% Rajputs. Traditionally, they have been aligned with Congress. BJP, for obvious political reasons, preferred the Patidar community as they are numerically superior. However, off late, because of the Patidar community's angst with BJP over the reservation issue, BJP has been wading in troubled waters which resulted in a major dent in BJP's traditional Patidar vote bank.

Furthermore, because of demonetisation, the business community is already annoyed with Narendra Modi. After Modi's departure to Delhi, the performance of the state government has been lackluster. Modi's successor, Anandiben Patel, did not enjoy the same popularity among the state BJP cadre as Modi did. Patel's handling of the agitation further alienated the Patidars, and as a result, she had to be dispensed with and replaced by Vijay Rupani. But the succession was not without frictions and controversies.

Since 2002, in the absence of any major communal riot, it has been a bit difficult to cash upon the communal sentiments of Hindus for electoral gains. No one denies the fact that BJP has been losing ground in Gujarat ever since Modi has assumed the prime minister position. But Modi can't afford to lose Gujarat. It is indeed a prestige point for him, being his home state. Furthermore, if BJP wins Gujarat, it will be a big psychological boost confirming the faith of the people in the leadership of PM Modi in his home turf. This psychological boost will be a boon for 2019 national elections.

A prominent journalist from Dainik Bhaskar media group told me that in the Padmavati controversy, BJP sees an opportunity to rake up Hindu nationalism and dormant communal sentiments of Gujaratis. This controversy might put to silence disturbing questions on demonetisation and job creation, driving away people's attention from drab economic worries to volatile and passionate concerns of nationalism, Hindutva and a larger objective of regressive course correction in history. Also, in such difficult times, if minor appeasement baits to Padmavati protestors swings even a small portion of Rajput votes to BJP, then politically, it could be the deal worth going for.

Superficially, the entire drama may look like a display of power by the fanatic fringe of Hindu right-wing. Generally, among the left-of-the-center public intellectuals, the tendency will be to perceive the entire episode as an assertion of fascist Hindu right-wing elements under the allegedly favourable BJP government. However, the truth might actually be far more complex and nuanced. After Indira Gandhi stopped privy purses, and with the strengthening of the grassroots democracy in India, the Rajput community faced a major decline in their socio-political clout. Government's reservation policy, the community's apathy towards education and drinking habits led to their numbers declining fast in the government services. This has led to a feeling of insecurity among them and some shrewd community leaders have been smart enough to cash upon such sentiments to advance their political careers. With these violent protests, they want to show that they have the street power and they can bring the state machinery to its knees.

I feel that this agitation has more to do with caste-based identity politics of Rajputs than with the core ideology of Hindutva. And one can witness a revisionist tendency and a crude form of cultural assertion among the Rajputs in myriad ways. The young Rajput lad, Om Banna, has almost acquired a sacred status because of some supernatural stories surrounding his death and now he has become a strong instrument of political mobilisation.

Recently, over the police encounter of a dreaded criminal Anandpal, a Rajput, the community leaders made a big hue and cry and the matter had turned into a political hot-cake. One can find amateur historians trying to prove Maharana Pratap's victory over Akbar in Haldighati for petty political interests. Hence, at a deeper level, there are very subtle and strong casteist undercurrents, but since the Rajputs are Hindus, it becomes easier in the existing jingoistic socio-political milieu, for the Hindutva fringe and their Twitter brigades to pile on, for socio-political gains.

But the intellectuals have to be honest here. A broad brushing analysis that this is just a fascist Hindutva business is very superficial and suggests their personal hatred for the on-going ruling establishment. Any honest and objective inquiry will explore the caste dynamics and dig into the socio-cultural roots of such developments.

Was Padmini a real character or a fictitious character that has acquired a sacred status?

According to the written sources, Padmavati is not mentioned in any of the historical sources of Rajasthan.  The character finds its first mention in a text named Padmavat written 250 years after Khilji's Chittor invasion, by a Sufi poet Malik Muhammad Jayasi who lived in Faizabad, separated from Mewar by more than 1000 kilometres. And it is basically a Sufi text that cannot be treated as a source of political history of Mewar.

But then it deserves to be mentioned that Padmini might be a fictitious character but the practice of Jauhar by Rajput females is a historical fact. The Rajput females captured in wars were often ill-treated, their dignity violated and they were either sold in the slave markets of Central Asia or confined to Harems of invader kings. In order to escape that humiliation and protect their honour, the females often immolated themselves, which came to be known as Jauhar.

In this entire saga, the main issue that has often been raised is the distortion of historical facts. This issue could have been seen in an objective manner too, but most often such issues immediately acquire a saffron colour and become a question of Hindu identity. This is so because Hindus feel that Marxist historians in India have maligned their heroes like Shivaji and Maharana Pratap and made heroes out of bigots and murderers like Aurangzeb, Tipu Sultan and Khilji.

I have myself studied in the elitist bastions of higher education in India and found them to be left-dominated. During the last five to six decades of Congress rule, they got the patronage from the establishment. The left-liberal cluster that is derisively called as 'pseudo-secular' these days had turned dictatorial and allegedly banished the alternative schools of thoughts from the academia. In fact, this is one of the reasons why the right-wing forces in India got the popular support. They were successful in spreading the message across the wider sections of the majority community that for petty political reasons, minority appeasement has crossed the limits and it would result in wiping out the socio-cultural roots of Hindus.

In this entire controversy, one comes across vandalism by lumpen elements holding state machinery to ransom. Even their baseless arguments and political chicanery get a pass because at deeper levels Hindus feel that their history has been tampered with.

Finally, a democratic and secular state like India cannot allow a group of violent elements to ride roughshod over the constitutional guarantees like freedom of expression.

We are setting a very wrong precedent by allowing such Taliban-styled fringe groups to acquire social legitimacy and a political clout. In a multicultural society like India, such violent extremism has no place if we are to keep our communal harmony intact and sustain ourselves as a vibrant democracy, safeguarding basic human rights.