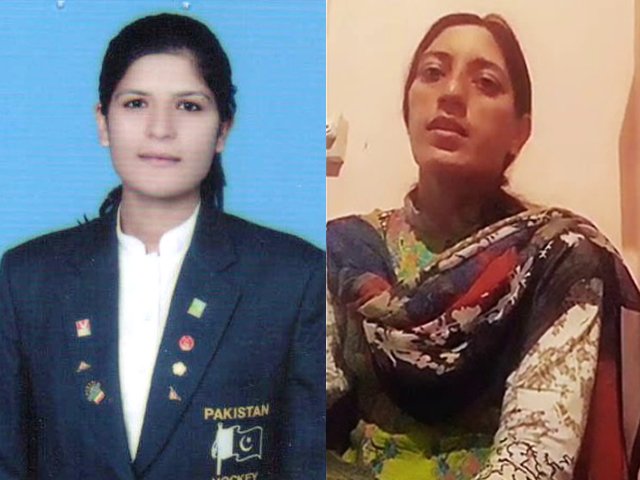 ---
Without any investigation, how can Pakistan Hockey Federation drop Syeda Sadia and Iqra Javed for accusing their coach of sexual harassment?
Without any due proceedings or evidence that Javed is lying to support Sadia, why is she being punished as a player?
---
Sexual harassment is an ugly reality that unfortunately has been known to humanity since times immemorial. Coming from India, the first example that comes to my mind is that of the ancient South Asian epic Mahabharata, acclaimed as a work of literature globally, which also refers to the disrobing of Draupadi by Dushasan, for which the latter has to pay for with his life.

In more recent times, the global #MeToo campaign demonstrated how endemic this problem is, cutting across geographical and cultural boundaries. Indeed, for a misogynist like Donald Trump to become the US president, and for Hollywood to have a scandal of the magnitude of the Harvey Weinstein affair, shows that developed countries too are far from free of this menace.

Patriarchal outlooks often pin the blame on the victims rather than on the perpetrators, and more often than not, women who speak out against injustice have to bear the brunt. This trend has been highly visible in the domain of sport as well, which ironically is the space where females can, by honing their physical strength and endurance, empower themselves the most.

It was thus disappointing, but perhaps unsurprising, to hear that when the former goalkeeper of the Pakistan hockey team, Syeda Sadia, complained that her coach, Saeed Khan, harassed her, she was let go from the team. Khan has outright denied the allegations, saying that he was being wrongly framed by Sadia because she was dropped from the team. Whether Khan is innocent or guilty can only be determined by a fair trial, as there have indeed been cases of women misusing laws to wrongly frame men in Pakistan as well as in India.

However, what adds a twist to this tale is that another member of the team, Iqra Javed, who corroborated Sadia's side of the story, has been dropped as a "disciplinary" measure. This decision had the support of Tanzeela Aamer, the secretary of the women's wing of the Pakistan Hockey Federation (PHF).

If the coach feels that the accusations are false, which he does, then he is free to pursue criminal defamation proceedings under Section 499 of the Pakistan Penal Code against Javed, and if it is proven beyond reasonable doubt that she is lying, then punishment would seem fair. However, at the moment, without any due proceedings or any evidence that she is lying to support Sadia, why is she being punished as a player?

The importance of sport as a legitimate means of exercise for both, the body and the mind, cannot be denied. A friend of mine in India once mentioned that her friend had been sexually harassed and had subsequently withdrawn into a shell. I suggested that the victim pick up a game like football, and play it alongside boys in a gender-congenial environment, which might make her feel more emancipated. I was glad to learn from my friend later that my suggestion actually worked, and helped the girl feel better.

Susan B Anthony, an American women's rights activist and suffragette, rightfully said the following when it came to sport:

"Let me tell you what I think of bicycling. I think it has done more to emancipate women than anything else in the world. It gives women a feeling of freedom and self-reliance. I stand and rejoice every time I see a woman ride by on a wheel…the picture of free, untrammelled womanhood."

Padma Prakash, a Mumbai-based writer, wrote a paper in the early 1990s on women and sports, in which she suggests,

"Nowhere is this myth of (women's) biological inferiority so readily and forcefully demonstrable as in the sports arena. And nowhere can it be more effectively demolished."

However, if the sports field, wherein girls can feel empowered primarily by feeling at par with boys alongside boys, were to instead become just another avenue of sexual harassment – that is indeed very problematic. Unfortunately, in Pakistan, India, and elsewhere, sexual harassment of female sportspersons has emerged as a major issue. As law students Trishna Rao and Ojas Gole emphatically articulated in their report,

"One of the main contributory factors that hinder women's participation in sports, especially in India, is the problem of sexual harassment. The sexual vulnerability is definitely one of the major challenges for women in sports and careers of many young sports women have come to a halt because of this reason. The situation in India is so grim that families don't allow their women to be trained by male coaches or participate in competitions elsewhere than their own hometowns.

A negative mind-set is prevalent and in a majority of cases, male coaches are viewed with suspicion, and women too prefer the idea of being coached by a woman. The reason that many women have discontinued playing sports is in order to protect themselves from constant harassment and abuse."

Harassment is endemic in sports, and the first tragic instance that comes to mind is the case of a 14-year-old Indian tennis player, Ruchika Girhotra, being molested by Shambu Rathore, the head of Haryana Lawn Tennis Association in 1990. The conviction for this case came as late as 2009, 17 years after Ruchika committed suicide.

The harassment faced by women in sports does not have to be overtly sexual, and in many cases, the victims are often reluctant to speak out due to fear of being kicked out, as in the case of Sadia. Often, these players are driven towards extreme measures, such as in the case of four young female athletes in Kerala in India who attempted suicide after allegedly facing harassment from some senior officials and team members. The recurrence of such incidences and the reluctance of many victims to speak out, coupled with the general lack of respect from many male coaches towards their female pupils, necessitates the need of a safer environment for female athletes.

Some time ago, we were celebrating the spirit of the awakening we saw through the #MeToo campaign, as more and more women felt encouraged to speak up. To punish someone for doing the same weeks later, and calling their story false without an investigation, is undoubtedly a shame.

The civil society of Pakistan must stand up for these women, so that women don't have to continue to fear professional consequences for raising their voice against sexual harassment, a stand they should not feel embarrassed or ashamed about. If both Sadia and Javed are subsequently proven wrong, not only must they face legal consequences, but can then be suspended from the team on disciplinary grounds. But how can they be punished right now, when no fair investigation has been carried out, as they may as well be speaking the truth?

As a United Nations document states,

"The relationship between gender equality and sport is not solely about achieving equality in women's participation and treatment within sports, but it is also about promoting 'sport for gender equality', or harnessing the potential of sport for social empowerment of women and girls."
Facebook Conversations
COMMENTS (3)
Comments are moderated and generally will be posted if they are on-topic and not abusive.
For more information, please see our Comments FAQ