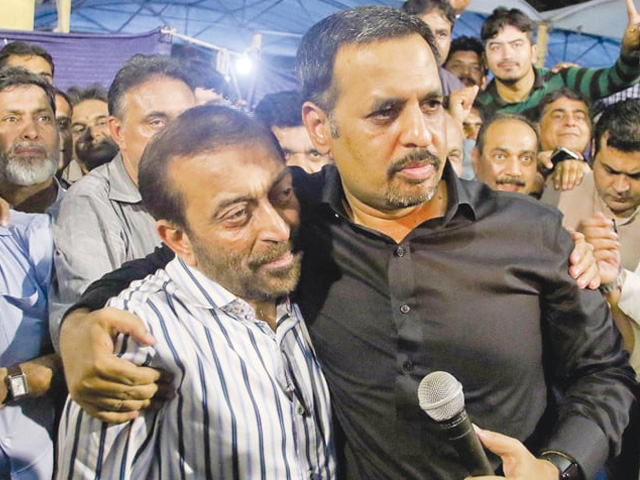 ---
Why it is important for MQM-P and PSP to resolve their differences and form an alliance… again
Without an alliance,PSP's prospects are bleak;PSP supporters may vote for MQM-P due to fear of splitting Muhajir votes
---
Last week, the media was abuzz with the developments regarding an electoral alliance between Mustafa Kamal's Pak Sarzameen Party (PSP) and Muttahida Qaumi Movement's Pakistan faction (MQM-P). Leader of MQM-P, Farooq Sattar, claimed in a press conference that the two parties would fight the coming election under "one name, one party and one manifesto".

However, within 24 hours of the press conference, amid news of serious rifts between MQM-P's top leadership, Sattar announced his resignation from politics. However, in a manner remarkably reminiscent of his former leader, Altaf Hussain, he took back his decision after "insistence" of his party colleagues and "persuasion" of his mother.

Apparently, the alliance could not even last 24 hours. The breakup was made further controversial by Kamal's claims that establishment had brokered the alliance on Sattar's request. He also alleged that MQM-P, despite apparently distancing itself from Hussain, was still his party. Furthermore, Kamal also rebuked the "exploitation" of the word 'Muhajir' by MQM for political gains and derided the party, as a whole, for doing nothing for the community itself.

As these sentences are being written, the future prospects of renegotiations are bleak, though not completely dead.

Was it a good move for both parties to form an electoral alliance?

Irrespective of the fact that this was allegedly an "engineered" attempt to form an alliance, I think that it is electorally rational for both the parties to form an alliance.

No matter what Kamal may claim about his party representing all communities, the fact is that it is rooted in Muhajir ethnicity and he owes his own political capital to the fact that he once served as MQM's mayor in Karachi.

Without an alliance, PSP's prospects are bleak, mainly because people often vote strategically when it comes to voting for ethnic or ideological parties. Strategic voting is different from sincere voting as in the former, people vote for the party which is more likely to win so that a vote split could be avoided. In this case, some of those who are supportive of PSP may end up voting for MQM-P because of fear of splitting the Muhajir votes.

However, this strategic voting is seldom exercised perfectly and therefore PSP can potentially act as a spoiler for MQM-P as it is merely snatching votes from the latter.

For MQM-P also, the alliance makes sense, as the party would end up losing some closely contested seats to Pakistan Tehreek-e-Insaaf (PTI) as well as Pakistan Peoples Party (PPP), if PSP were to take a chunk of its vote bank.

From a normative angle also, it is important that some sort of an alliance materialises and MQM-P retains its importance in the political arena.

Although, our national media is singularly obsessed with MQM's occasional violent tactics, the party is much more than that. Despite its violence, which is by no stretch of imagination just limited to MQM as other parties have also employed similar tactics, the party is an extremely important political player for several reasons.

First, it is the only viable political representative of the Urdu-speaking community, and in the grand scheme of things, is an essential part of ensuring that the aforementioned community does not feel alienated and thus remain committed to Pakistan.

Some people, particularly those belonging to Punjab's urban middle class, often frown on ethnic identities as "detrimental to Pakistan". Their objection is always couched in the phrase "we should be Pakistanis only". However, since they belong to a privileged province, they are hence unable to understand what other ethnicities feel. The reality is that ethnic identity is one of the foremost identities and an ethnic group would only ascribe to the idea of Pakistan if it has a voice and proper representation.

The rise of MQM was due to gradual marginalisation of the Urdu-speaking community which started in the 70s and was concomitant with morphing of a separate Muhajir identity. It should be understood that Pakistan is ethnically diverse and all communities have to feel politically included to remain committed to the nation. MQM provides the political platform to the Urdu-speaking community and makes sure that they have a voice in the legislative process.

Second reason, which is often overlooked by our media, is that MQM is a progressive party which over time managed to wrestle Muhajir votes from conservative and reactionary parties like Jamaat-e-Islami (JI) and Jamaat-e-Ulema Pakistan (JUP). Before the 80s, the Muhajir votes would go to religious parties, however, MQM's emergence changed that. The party has been able to steer its originally orthodox constituency to a less conservative direction and has been a bulwark against rising religious extremism over the years.

I like and admire the fact that MQM is the only party whose leadership has risen from the grass root level to the top. Its ability to mobilise masses is brilliant and above all, it has the ability to engage masses and encourage a culture of populism, which often acts as strong cancelling agent to political aspirations of the conservative religious forces.

Yes, the party has a history of violence but with the ouster of Hussain as party chief and operation against its criminal elements, the party is in the process of a transition towards adopting a non-violent character. It is thus important that it retains its electoral strength.

Due to the above reasons, I think it is important for MQM-P and PSP to enter negotiations again and fight elections together so that they can collectively benefit. Unfortunately, statements by Kamal have not helped and have only made it more difficult. However, I do hope that the differences are resolved and both parties enter into an alliance, as it is important that MQM stays relevant in urban Sindh.