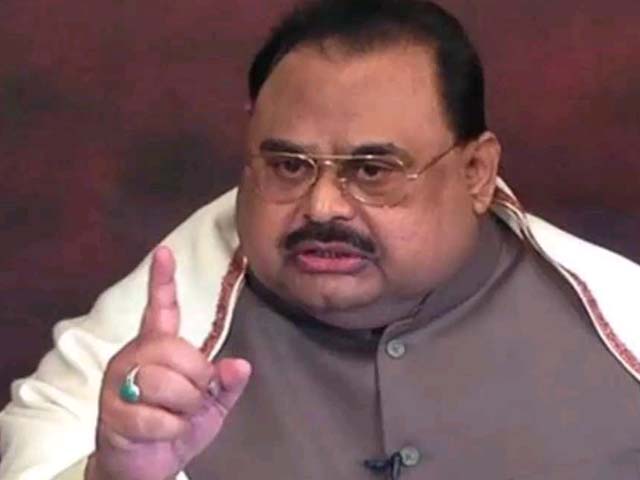 ---
A farewell to MQM
Once upon a time anything that took place in Karachi couldn't be done without the blatant or silent consent of the...
---
Life is a system of cycles. The sun comes up, shines bright, and goes down bringing the night only to be outshone by the sun again. This phenomenon is so natural that normally people do not pay attention to it after they have studied it in the fifth grade.

What's more important is perhaps the knowledge that human life and events are also similar to these cycles. People, movements and ideas rise and become prevalent only to live out their lifespan and ebb away in history while another takes their place. The most popular theory that explained this phenomenon was of course Hegel's dialectics.

Most people who rise to power unfortunately forget that their power no matter how vast shall see its end one day. More problematic perhaps are the attempts that these people make to maintain their power even when it is bound to vane. Almost every dictator in history could be quoted as an example. However, to relate it to our matter at hand, let us connect this to the Muttahid Quami Movement or Muhajir Qaumi Movement (later Muttahida).

Once upon a time, any word, statement or action that took place in the public sphere of Karachi, could not be done without the blatant or silent consent of the MQM. The party was literally everywhere, riding on the back of the public support that made it a household name. Voting for anyone apart from MQM in Karachi was almost unheard of (partly because they never let anyone vote for someone else. Even the dead have voted for MQM in past elections).

As the cycles of life would have it, the same Karachi hardly coughs now if MQM announces a strike. Most traders and businesspersons in the city find it appropriate and safe to retain their business hours rather than to shut down in the face of imminent danger. MQM's clout as a party and as a political force has diminished in recent years, more so at the hands of the Rangers (establishment) than any political force. What could have gone wrong went wrong when the Rangers raided 90 last year and recovered caches of ammunitions from the office along with wanted target killers, who were living nearby.

Altaf  Hussain's rants to keep his party relevant amidst this onslaught have only made matters worse. First, his speeches were banned on national television then his protests started falling on deaf ears. The inclusion of Afaq Ahmed of MQM Haqiqi and then Mustafa Kamal (Pak Sarzameen Party) into local politics, created existential threats for the MQM. They huffed and puffed but these 'rotten eggs' were here to stay.

Altaf's temper also took a turn for the worse, as did his drinking problem. As we have probably witnessed one time or another, Altaf would rant in drunken furore calling everyone vile names and giving indirect threats, only for him to issue an apology the next day when he had a hangover.

Last Monday, he went too far.

Instead of indirectly insinuating action, he directly ordered his fanatical following to attack ARY and Samaa TV for not showing news of MQM's on-going hunger strike. The mayhem that followed was witnessed all over the globe. Altaf wanted the satellite channels to shed light on MQM's plight – unfortunately, he did so by burning himself and his party at the stake. No amount of clarification or apology is working and the political parties have rallied along with mass hysteria, in condemning MQM to an early grave.

What followed was quite interesting. Farooq Sattar and the rest of the Rabita Committee called a press conference as soon as they were released from jail on Tuesday. In unison, they announced that MQM Pakistan was just that and would be taking all its decisions within the country effectively bringing to a halt the dictation that came from Edgware, London. Aamir Liaquat went as far as to announce that the party supremo needs to have his 'mental condition checked' if he has one. This announcement was followed by a press release by MQM London in which Mr Altaf Hussain endorsed the statements made by Dr Farooq Sattar.


For a moment, it seemed that this shocking piece of news had been enough to save the face of MQM. A lot of its sympathisers were wondering how Dr Farooq would be able to run the party without its leader and we are talking about the "Hamain manzil nahi, rehnuma chahiye" (we don't want a destination, we want our guide) party. Dr Farooq made it a point to emphasise that this disconnection from London was done purely as a conscientious decision and not to protect the party from its actions on Monday.

Truth be told, this ploy worked – for a while at least.

It was the minor things, which followed that laid bare the whole trick. When Aamir Liaquat resigned, he tried his best not to say anything against Mr Altaf but ended up giving a vital piece of the information. When Waseem Badami asked him about Altaf Hussain still running the MQM in ARY's political show 11th Hour, Dr Aamir let loose a few words implying that Altaf Hussain was still in charge. He even went on to say that what was said in the Dr Farooq's press conference was a camouflage and that Altaf Hussain still ran his party as he always has.


The next morning when Waseem Akhtar spoke after winning the mayoral elections, his aide and Deputy Mayor Arshad Vohra kept on receiving instructions from someone, who kept directing him not to discuss Monday or Altaf Hussain. Arshad Vohra later clarified that it was a 'friend' but I think we all know who likes to call and issue directives during a live press conferences. Jee Bhai, jee Bhai.

All that said and done, I do wish readers to refer to my blog on Mustafa Kamal written a few months ago.

A few things mentioned in that blog are coming true, hence proving that fortune telling does sometimes demonstrate truth. Mustafa Kamal's Pak SarZameen Party (PSP) has expanded leaps and bounds in Karachi.

A recent visit to Gulistan-e-Johar during Azadi celebrations really surprised me. It would not be incorrect to predict that Johar now belongs to PSP. Afaq Ahmed has also been holding party meetings almost every week in wedding halls, which the media is not openly covering.

MQM will now try to sell its new minus Altaf persona, and open spectacles of affection for the armed forces will be on display. However, any discerning person can see through this facade. As predicted earlier, PSP is in line for succession and the Iron Throne will pass onto Mustafa Kamal but only after Altaf Hussain lives out his days in the public isolation of the London Secretariat. The chaos that is Karachi can only be controlled by a member of the mob itself and currently there is no better candidate in the eyes of the public and the 'powers that be', other than Mustafa Kamal and his PSP.