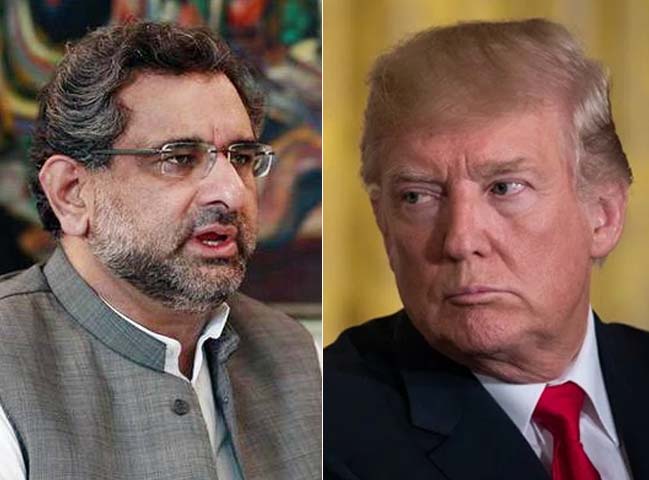 ---
Pakistan's foreign policy, cross-country trade and internal security: For better or for worse?
Is Pakistan's foreign policy in mayhem or is it a work in progress?
---
Is Pakistan's foreign policy in mayhem or is it a work in progress? This is a tough question for any political analyst. On one hand, the dwindling Pakistan-US relationship has drawn a lot of unsolicited criticism, while on the other, the increasing cooperation between China, Russia and Pakistan is claimed to be a stepping stone to country's long-term growth.

Pakistan has recently been under a lot of fire since Shahid Khaqan Abbasi has clearly stated that Pakistan will neither fight the US-Afghan war on its own soil nor will it be used as a scapegoat. Abbasi stated,

"Nor can we endorse any failed strategy that will prolong and intensify the suffering of the people of Afghanistan and Pakistan, and other regional countries."

This explicit statement might have revolted a few officials, but this had been implicitly in place since the time Donald Trump had chosen a stringent and rough route for Pakistan. The implications of this policy can be grim or affirmative for the local economy and internal security, depending on the politicians' long-term vision and negotiation power.

First, we need to analyse why Pakistan has swerved away from a pro-American policy towards regional cooperation. Since 9/11, Pakistan has been playing a pivotal role in the US-Afghan war against terrorism and this has reportedly cost the nation a whooping total of $123 billion and thousands of lives.

After sacrificing a whole lot, the country anticipated sympathy, however, contrary to those expectations, Pakistan is still facing a strong backlash from the global powers. The global community has repeatedly criticised Pakistan for providing 'safe havens' to militant groups and not dealing with internal security issues effectively. In these critical times, China and Russia have been the only global powers which have openly lauded Pakistan's sacrifice and also hinted towards new horizons of a regional cooperation. This digression in foreign policy was given the final push at the recent United Nations (UN) summit where Trump blatantly questioned Pakistan's role in the war against terror.

The official, who requested not to be named given the sensitivity of the issue, told The Express Tribune that Pakistan could not be taken for granted any more. The official said,

"On the one hand, you literally humiliate us and undermine our sacrifices in the fight against terrorism, and at the same time expect us to entertain US delegations that too at the time of their choosing. This will not work anymore."

This was recently communicated at the official level when Acting Assistant Secretary of State for South and Central Asia, Alice Wells's visit to the foreign office was cancelled a few hours before her arrival. Pakistan has now diverted its focus towards building stronger ties with China, Russia and Turkey and this so-called newer axis or alliance can open doors to trade and help the highly 'indebted' country economically.

Around this time, when the country has a twin deficit, Pakistan needs to adopt an outward and open policy that is lucrative and attracts cross-country trade. So far, a bigger chunk of Pakistan's exports is coming from the US, which has not helped in alleviating the debilitating trade deficit. Initiatives such as the China-Pakistan Economic Corridor (CPEC) offer Pakistan a lot more regional cross trade, economic stability and employment opportunities, and hence require a diversion in Pakistan's foreign policy as well. Similarly, the trade with Russia, which is so far limited to arms, can further be extended towards cross-country investments and lead to a diverse trade split in Pakistan's income.

However, will this regional bond threaten already worsening relationships with the US or India? Let's first take a look at the internal security threat in amalgamation with the trade outlook of the country.

When it comes to internal security, Pakistan has been repeatedly criticised for harbouring militant groups such as Lashkar-e-Taiba (LeT), Haqqani network etc. These groups are a source of instability in Afghanistan and have been used as a perennial point of condemnation by the US. On the other hand, Indians have been assuming that the revolts in Kashmir are triggered by 'Pakistan's internally-sponsored terrorist groups', which directly puts Pakistan in the line of fire.

Although the nation's internal security is still highly gullible, there are operations such as Zarb-e-Azb and Radd-ul-Fassad in place to deal with such groups. Also, with a strong military involvement in the political scenario and tightening economic opportunities, Pakistan can't afford to breed or feed these organisations. In these circumstances, Russian and Chinese applause and support is a positive sign for Pakistan and clearly signals towards the future outlook of the political and regional alliances.

Now that we have established how the economic outlook and internal security both point towards a regionally cohesive and open policy towards China and Russia, let's see what the shortcomings within our own vision are.

Pakistani politics have always had an unspoken yet a dominant military role and this has often resulted in apathetic politicians with little or no interest in establishing a long-term goal for Pakistan's economy. The military has been following stringent security policies and effectively dealing with the border insurgencies and disputes, which includes the recent Line of Control (LoC) shootings and Kashmir turmoil. But the perennially inauspicious relationships between the government and the military has always hindered the formation of any conclusive economic policy.

Political leaders haven't yet taken any step towards strategically opening up our economy to develop a sustainable growth plan for the country. Abbasi's statements and notions also depict a lack of clarity in terms of utilising these new regional alliances for the benefit of the country's economy. Except for heavy borrowing and an increasing deficit, he has failed to fully recognise the potential ties between countries such as China, Russia, Malaysia, Singapore etc. Similarly, a long-term vision and plan is needed to diversify Pakistan's credit base and infrastructure.

CPEC is one example of what can be initiated with more economies. It seems that Pakistan is on the right track of diversification of trade and ties, however, a stable and dedicated political environment with sustainable policies can yield better results.