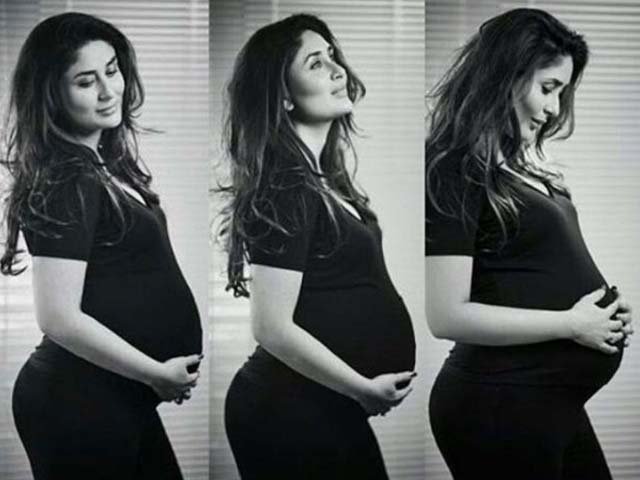 ---
Body-shaming Kareena Kapoor's "fat legs" post pregnancy? Because giving birth to a human being isn't painful enough for women?
Childbirth is not all fun and games. 15% of women experience Postpartum Depression, yet it is not talked about enough
---
To think that after the global backlash against the shamers of Mahira Khan, the world of shamers would take the back seat, is indeed just a hopeful thought.
Khan got slut-shamed over her choice of clothes (the dress, by the way, is really sexy!) and for smoking a cigarette because smoking cigarettes automatically turns women into 'unreputable women'.  Kareena Kapoor was shamed on Instagram shortly after the Khan incident for having 'fat legs'.
The Indian actress, who just gave birth to her son Taimur Ali Khan, has remained an inspiration for new moms as well as moms-to-be. During her pregnancy, she flaunted her baby bump unapologetically when she walked the ramp for Sabyasachi, a famous Indian designer, as the show stopper at Lakme Fashion Week 2016. Soon after, she was seen making a conscious effort on various platforms to talk about embracing pregnancy instead of feeling embarrassed by it.
She also busted some very common South Asian centric myths that encourage women to stay inactive during the time of pregnancy. Kapoor followed a strict fitness regime throughout her pregnancy which included yoga and a healthy diet plan. She gloriously declared that contrary to popular belief, pregnancy is neither an illness nor is the experience of being pregnant synonymous with being handicapped.
If that's not enough, following her delivery, there was a massive hype on social media about Kapoor hitting the gym. In fact, she was back at the gym only after a few weeks of giving birth. Since Bebo has a huge fan following, her workout videos and regime have become a source of inspiration for not just moms-to-be but women everywhere. They absolutely love her dedication to fitness and find the motivation from her. If this wasn't enough, this super woman even continued shooting for her upcoming film until her baby bump started to become obvious.
When her sister Karisma posted a picture of herself with Kapoor on Instagram that is when the body shaming started. Kapoor's super classy dress had a thigh-high slit which revealed her legs. Can you imagine that even something like legs can be a target? Not that I understand the need of people to 
body shame
 other people, but legs? Wow! I can guarantee that numerous new moms will kill to have their legs look like that after less than a year of having a child. Even if they don't, that's 
entirely their choice
, because as radical as this sounds, it's their body.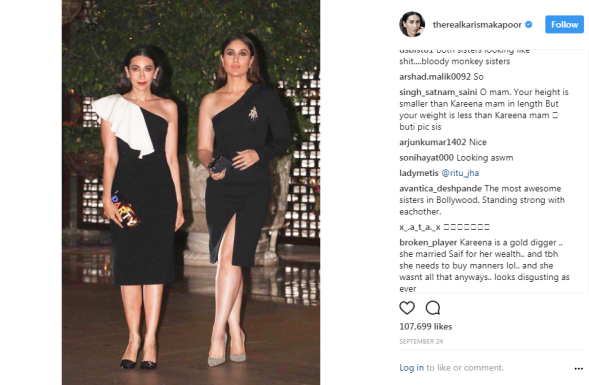 I think it's rather sad and pathetic that there is so much negativity surrounding bodies that aren't necessarily 'skinny'. Yes, as cliché of a statement, the media does have a lot to do with perpetuating certain beauty standards. What is even sadder is the lack of acceptance towards women's bodies post pregnancy. An example that fits here perfectly is that of Aishwarya Rai Bachchan, an Indian actress who is known to be one of the world's most beautiful women. Bachchan struggled immensely with her weight after her first delivery.

She received countless insults; people openly started gossiping about what profound reason she could have to not lose her post-baby fat. They called her a national disgrace for having a double chin. As if bringing a whole human being into the world is not a profound enough reason to take as much time as a woman pleases to get back into a routine that suits her body best. Her weight loss journey was doubtlessly not a smooth one and it's often not for most moms. Yet, women are still subjected to body-shaming.

There are many other serious issues that new moms have to face, which are a natural consequence of giving birth. For instance, statically, at least 70% of new moms suffer from the baby blues – a normal, short-lived period of feeling sad, weepy or otherwise moody which is triggered by hormonal changes after giving birth. In addition, there are factors like unplanned C-section or induction, difficulty in breastfeeding, sleep deprivation, personal/family history depression, social support or lack of, that need to be addressed more openly and with more attention rather than focusing on the physical body.

Furthermore, let's not forget about Postpartum Depression (PPD), also known as postnatal depression. PPD is a mood disorder associated with childbirth which can cause emotional, behavioral and cognitive shortcomings such as extreme sadness, low energy, low self-esteem, anxiety, changes in sleeping or eating patterns and crying. Considering that about 15% of women experience PPD, I wonder why this is something that is not talked about more. Childbirth is not all fun and games. Women can feel alone and isolated as a result of these feelings, especially because of the cultural stigma and guilt attached to these feelings.

New mothers may even unintentionally withdraw from friends and close family members out of fear of being declared 'bad mothers' for not feeling wholly invested in the baby right off the bat. PPD awareness is extremely important in order to encourage mothers with depressive symptoms to receive support from family members, friends and doctors. If there is a collective effort, especially from parents to spread awareness about PPD, these social barriers which prevent women from seeking treatment can be broken and in turn empower mothers who feel insufficient due to PPD symptoms.

Many Hollywood celebrity moms like Brooke Sheilds, Drew Barrymore and Celine Dion, have opened up to the media about their PPD experience. Chrissy Teigen is another recent star parent who experienced similar symptoms. She shared in Glamour's April 2017 issue that after the birth of her first daughter, Luna, most of her days were,

"...spent on the exact same spot on the couch and rarely would I muster up the energy to make it upstairs for bed. John would sleep on the couch with me, sometimes four nights in a row. I started keeping robes and comfy clothes in the pantry so I wouldn't have to go upstairs when John went to work. There was a lot of spontaneous crying."

For someone like me who has always struggled with weight throughout my life and who has been picked on and body-shamed at numerous instances, I cannot imagine to what extent my body will change. When I decide to have children, I really hope that there is enough support from my family and friends when it comes to becoming comfortable in my new mommy body. Considering that losing weight generally can be so difficult, I empathise with new moms because their struggle of post-pregnancy weight loss is definitely several levels higher.

Coming back to Kapoor, there is no denying that she is a fitness queen and has managed to whip herself back into shape within six months or less of having a child.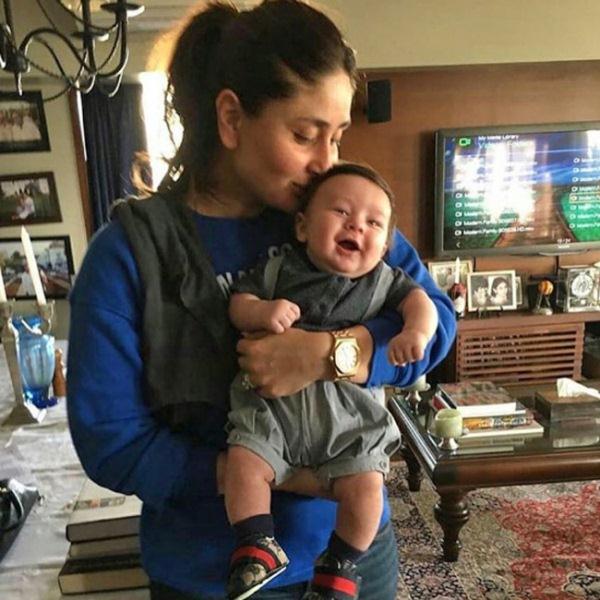 With social media being accessible to all, celebrities are easily reachable by fans and equally by these body-shamers. In the past, many other celebrities such as Deepika Padukone, Priyanka Chopra and Fatima Sana Sheikh have been body and slut-shammed for choosing to wear what they please in public. Many a times, people are picked on for all sorts of reasons such as for being 'too fat', 'too skinny' or 'too sexy'.

Intolerance for confident women is at a rise now that they are claiming the public arena, excelling at their tasks and openly celebrating their bodies and sexuality. However, the good news is that there is way too much of other positive work to be focused on and that is exactly what women are doing, whether they are moms are not.
Facebook Conversations
COMMENTS (6)
Comments are moderated and generally will be posted if they are on-topic and not abusive.
For more information, please see our Comments FAQ