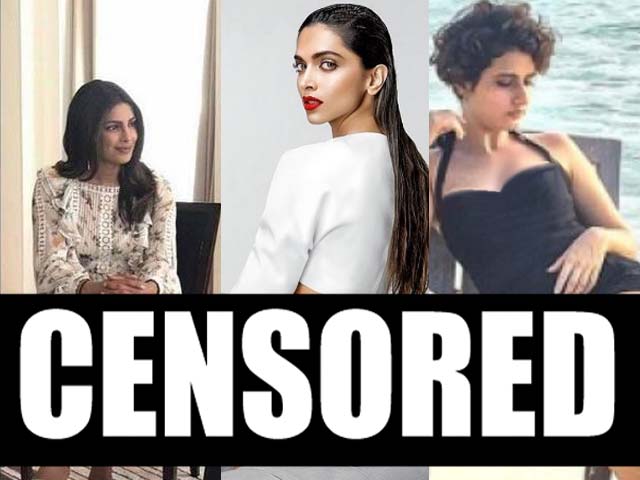 ---
While boys remain boys, girls become immoral and should be slut-shamed
Men are haunted by the achievements of successful women; they not only loathe, but also consider women morally wrong.
---
Apart from trolling, social media also has the power of setting standards for women on the internet. By acting as moral warriors on social media, these stooges of patriarchy continue to perpetuate their misogyny by slut-shaming successful independent women; something that they can't do at their home, workplace and/or any civilised social setting.

With the rise of social media, these blabbermouths, with their prejudices concealed under the mask of culture and mannerism, mock, stigmatise and pass derogatory remarks on women.

...And the worst affected are celebrities, especially Bollywood actresses.

Recently, when Bollywood actress Priyanka Chopra met Prime Minister Narendra Modi in Berlin, she was criticised for dressing indecently and showing her legs. However, the army of trolls couldn't cripple her self-esteem and she responded to those who showed unjust malice towards her in the most subtle yet powerful way.




https://www.instagram.com/p/BUvBx3tAwBP/

While the Quantico star showed her haters the door, they flocked together, ready to troll her contemporary, Deepika Padukone, for her latest photoshoot where she is dressed in a white ensemble.

Not encouraging the unrealistic expectation by the slut-shamers, the xXx: Return of Xander Cage star remained completely unaffected by the sanskar (tradition) as well as the culture comments. Interestingly, instead of responding with words, she decided to hit where it hurts the most. Yes, she posted yet another stunning and bold photo from the same photoshoot – ouch!

https://www.instagram.com/p/BVEpkLihTnp/?hl=en


Don't be a porn star. don't destroy your admiration which India has.
Reaching a level of dislike from an icon, is not a path to be followed!

— Prerna Krishna-Inspiration India-Justice for SSR (@Prerna_Bharat) June 7, 2017
Vulgar look

— Naina (@Dimpy_98) June 7, 2017
, what is all this much of exposure about? You're losing your fan's respect towards you....!!! Get a life!

— Hashmat (@Hashmat50744796) June 7, 2017


Slut-shaming and online trolls

Although slut-shaming is nothing new to our society, thanks to internet trolls, it has somehow become okay and omnipresent. So if you are a woman and you are actively engaging in your own sensuality, apparently you are violating the unspoken rules of our society, culture and tradition.

While boys remain boys, girls become sluts. Whether girls expose themselves or not, they are slut-shamed. Whether they conceal every inch of their skin or walk around semi-naked, they are slut-shamed. Whether they shun physical contact or crave it, they are slut-shamed.

These self-proclaimed custodians of morality, full of hideous sexism and patriarchal mind-sets fancy controlling girls and women. Slanderous words such as "hoe" and "slut" are thrusted upon women in general to keep them in check. These words are nothing but a reminder that, while deep down we are sexual and sexists, our sexuality will never ever be our own.

Moreover, now that the target is mainly educated, successful, liberal, free, gutsy and sensible women, it goes to show how these men are haunted by the achievements of successful women that they not only loathe, but also consider morally wrong.

So it didn't come as a surprise when a few so-called religious messiahs slammed Fatima Shaikh of Dangal for wearing a bikini in the holy month of Ramazan. It seems as if using religion as a weapon for targeting women who are proud of their bodies has now become a desperate attempt by internet trolls to trouble the female fraternity. Even though we call it moral policing, it is nothing less than harassment.






The irony is, wearing a swimsuit in Ramazan might not be prohibited but abusing, passing hateful remarks and attacking people during the holy month surely is. Ramazan, after all, is a month where the believers abstain and introspect.

As a self-custodian of sanskar, trollers get a moral high when they see even an inch of bare skin on a woman's body. What they forget is the fact that by imposing their beliefs on others and not respecting other individual's life choices is morally wrong as well.

However, it is high time that these moral crusaders back off and let us women live the way we wish to. If we create nuisance, break laws, or disrupt peace, please report us to the required authorities, take action and inform the police, yes, be a responsible citizen. However, do not, I repeat do not, exhibit your narrow-mindedness and try to impose your ideas on us nurtured solely by sexism, patriarchy, homophobia, xenophobia, Islamophobia, classism, and/or your definition of culture.

Lastly, my dear online moral trollers – the internet's most worthless people – why don't you do yourself a favour? Get off your computers and get a life.