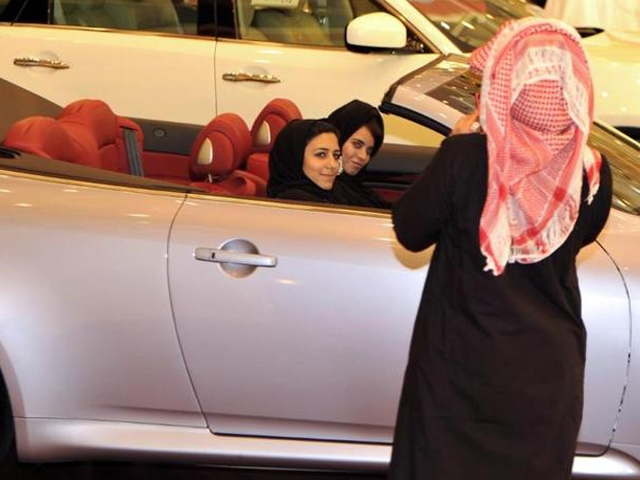 ---
Saudi women are eager to take the wheel, but are they ready to be harassed even more?
Like a moth to a flame, Saudi men would tail someone's car if they saw 'unaccompanied' women.
---
On September 26th, a much-awaited milestone was achieved in Saudi Arabia – a royal decree issued by King Salman that allows Saudi women to drive.

The Kingdom, which received much backlash for being the only country in the world that doesn't already allow women to drive, has finally been relieved of this tarnish. Saudi women will no longer need their guardians' permission to obtain a driving license nor need a man present with them in the car.

After decades of struggle to get the ban uplifted, people took to social media to welcome the landmark decision, which is part of new reforms in the conservative Kingdom. Some women couldn't wait and were already behind the wheel the next day, although licenses won't be issued for another nine months.

It's hard to describe just how liberating it feels to have the driving ban lifted. Growing up in Saudi Arabia, I remember how difficult it was to go anywhere. Even if I wanted ice cream late at night, I couldn't satisfy my craving by driving up to the nearest bakala (convenience store). This may sound insignificant, but even the most simple pleasures in life weren't always easy to attain if you were born a girl. One has to depend entirely on a man – be it a mehram or a private driver – to leave the house.

When I would try to make plans with my friends, our main concern always was how we would get to our meeting point. Most of the time, our plans would get cancelled for the simple reason that one of our fathers was too tired after work to take us anywhere. Even going to the mall required several days of planning because we had to work around the busy schedules of the men in our lives.

Before the arrival of Uber and Careem, public taxis were not an option because there was no proper service and one would most likely be subjected to reckless driving, since generally people did not feel safe with Saudi drivers.

I remember an incident when my friend was leaving the mall and had no choice but to take a taxi that day. The driver was wearing shalwar kameez, which made her more comfortable. During the ride, he revealed that he was Saudi but chose to wear this attire as he was aware of how women felt more comfortable with this apparel and hence preferred Pakistani drivers over local ones.

The only time I would have the liberty of driving was within the confines of my compound, which is a gated residential community designed specifically for foreigners. The laws of wearing an abaya, driving and gender segregation didn't apply within our safe haven, which is perhaps why Saudis weren't allowed to live in the compound and had to face many hurdles to even come inside. A Saudi friend had to spend a long time at the security checkpoint outside the compound and would only be allowed after several calls were made, despite the fact that she was my guest. It is ironic that there needs to be an actual 'no-go zone' for Saudis within their own country just to allow a world with basic rights to exist.

However, the frustrations associated with travelling as a woman do not end here. If I went out with a driver, it would often be an uncomfortable ride. Like a moth to a flame, Saudi men would begin to tail someone's car if they saw 'unaccompanied' women.

Some men would attempt to throw their numbers written on a small piece of paper, while several would yell out their digits. Others were either more tech-savvy or perhaps trying to promote sustainability while showing their number on a screen from their car window. Some even went to the extent of printing out their numbers and taping them to their cars.

What does a woman feel like when she is chased, hollered at or harassed on the streets? Does she feel like a person, with a mind, a heart and a soul? Or does she feel like an object, only existing for the attention and entertainment of the men around her?

Feeling this way was uncommonly prevalent on the streets of Riyadh. Young men would pass by in their cars and "check out" women from head to toe. Sometimes, they would holler out their numbers and keep driving in circles to constantly come back to us, or even ask us to get into the backseat of their car. This made the simple act of walking across the street an incredibly daunting task. If I was ever dropped further away from the mall or restaurant I was going to due to traffic, I always felt uneasy.

Furthermore, Saudi men are also some of the most reckless drivers. They are notorious for excessive speeding and for not following any laws of traffic. According to the data from the Friends of the Red Crescent Committee, Saudi Arabia is ranked as 23rd on the list of countries with the highest accident rates. There are approximately 526,000 accidents annually, resulting in 17 road deaths daily.

There were countless times when I would be witness to rash driving and road accidents, and although I wasn't in the driver's seat, I was still afraid of encountering 'joy riders' on the busy streets of Riyadh.

What is worse is that the few times I was involved in an accident made me realise that not only the general public but the authorities were also lax when it came to laws. Saudi drivers could manage to break several laws and not be held accountable, with the authorities shrugging violations off as an everyday occurrence, which in fact it was.

Given these concerns, I can't imagine what the roads will be like when women start driving. Although I am extremely happy for Saudi women who have finally been granted their right, I am wary that it will be difficult to adjust to this change, whether it is in the minds of people or on the streets of Riyadh.

There is still a long road ahead for Saudis to adjust to their wives or daughters taking the car out for a spin. They have nine months to accustom themselves to the fact that women driving will be a reality. The adjustment process will not end there – this shall only be the beginning.

Ultimately, Saudi Arabia finally lifting the ban is a good thing. This move will increase jobs for women and eventually improve the economy as Saudi Arabia's Vision 2030. But more importantly, just like giving women the vote, this is another small step to bring the women of Saudi Arabia on par with the basic human rights afforded to women all over the rest of the world.