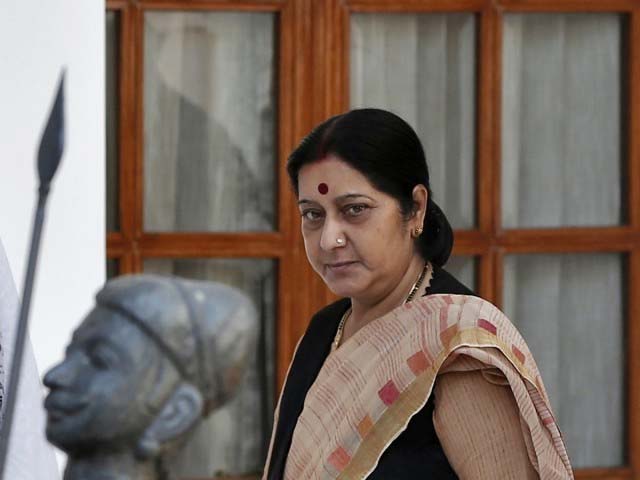 ---
Before pointing the terrorism finger at Pakistan, it'll be wise for India to take a look in their violent backyard first
While we are eliminating terrorism and executing terrorists, Sushma Swaraj, you are letting your terrorists go free.
---
While in Singapore, I met an Indian Hindu from Indian Gujarat, the state where I was born, in the hotel lobby. After exchanging pleasantries, he asked me,
"And in which city do you live now?"

When I said Karachi, he was shocked.

"But that's in Pakistan!"

And then, when the truth dawned on him, he said,

"You're a Pakistani as well as a Muslim?!"

He started edging away from me and I had to assure him that I wasn't about to blow him up. Like most Indian Hindus, he had always believed that most Pakistanis cannot speak English, that they are too poor to afford vacations abroad, and that most Pakistanis are involved in terrorism.

And if you read Indian newspapers, you will notice that majority of the Indian narrative is of the same opinion. You frequently find words such as "terroristan" to describe Pakistan.

Recently, our ambassador to the United Nations (UN), Maleeha Lodhi, mistakenly displayed the picture of a Palestinian girl to point out India's atrocities in Kashmir. It was a simple human error, not a major blunder, since there are plenty of photographs of wounded Kashmiri Muslims available on the net to prove to the world of India's barbarisms.

But the Indian media pounced upon the incident, forgetting that not too long ago their own foreign minister SM Krishna had committed a much bigger blunder. It happened in 2011, when he read out the Portuguese foreign minister's speech instead of his own.


But then, India's media is notorious for pointing fingers at Pakistan, ignoring the 836 million Indians who struggle to exist on less than half a dollar a day.

As for the lack of toilets in India, that is a minor matter for them. They love it when their government spends billions on sending a spacecraft to Mars instead of providing food and toilets to its citizens. Of course, with 80% of Indians living below the poverty line, most Indians have not had the education to know anything about Mars (or even that it exists).

After all, they have a prime minister who says that Indians had mastered the science of plastic surgery 10,000 years ago, grafting the head of an elephant on a human.

Instead of criticising its government for the indiscriminate murder of countless Kashmiri Muslims, the Indian media ignores what their army is doing in the illegally-occupied state. In fact, they seem to believe that most people of Indian-occupied Jammu and Kashmir actually love India. According to them, those who protest against the rapes and killings by the Indian army in Kashmir are terrorists trained and positioned by Pakistan. Show them pictures of wounded Kashmiri Muslims or a Kashmiri Muslim tied to a moving vehicle, and it has no effect on them. In fact, they welcomed the decision to actually reward the officer who tied the poor Kashmiri Muslim to the jeep (so that he, and not they, would be hurt by protesters throwing stones).

Even pictures and videos of their army beating up Muslims during Ashura processions are ignored by them.

In fact, if more proof of Hindutva hatred for Muslims is needed, just look at what they are doing to prevent Rohingya Muslims from entering India. In addition to expelling the 40,000 Rohingyas already present in India, they are using pepper spray and sten guns to keep new Rohingya Muslims out of the so-called largest democratic (by default) nation.

It would have been another matter, of course, if the Rohingya had been Hindus. While Bangladeshi Hindus are welcomed with open arms and allowed to settle in India, Bangladeshi Muslims who have lived for decades in India are under threat of deportation. This, then, is the true face of Indian secularism. Muslims and other minorities are pariahs, while Hindus are their lords and masters.

So naturally, we were not surprised when the Indian Foreign Minister, Sushma Swaraj, a virulent Bharatiya Janata Party (BJP) member, said to the Pakistan delegation at the UN,

"We produced scholars, doctors, engineers. What have you (Pakistan) produced? You have produced terrorists."

Fortunately, she was promptly corrected by an unofficial Kangana Ranaut Twitter account, who tweeted the following:

https://twitter.com/QueenKangana/status/913033628795461638

When your own people are correcting you, Mrs Swaraj, your own people who are well aware of facts, there's not much left for us to say; your people are doing the talking for us.

Instead of calling Pakistan a terrorist state, the Indian media should remember that their own prime minister belongs to the militant Rashtriya Swayamsevak Sangh (RSS), the terrorist organisation that has had the 'honour' of having Mahatma Gandhi's killer, Nathuram Godse, as a member.

By the way, isn't the open worship of Godse by Yogi Adityanath and the unveiling of his statue sufficient to prove that India's ruling BJP party is itself a terrorist organisation?

By the way, Mrs Swaraj, while we are doing our best to deal with terrorism and executing terrorists, you are letting your own terrorists go free. In fact, even a self-confessed one such as Swami Aseemanand has been acquitted by your so-called independent courts and is now free to arrange the killing of even more Indian Muslims.

And yet you have the gall to say that Pakistan is the hub of terrorism? Look in your own backyard first, madam.