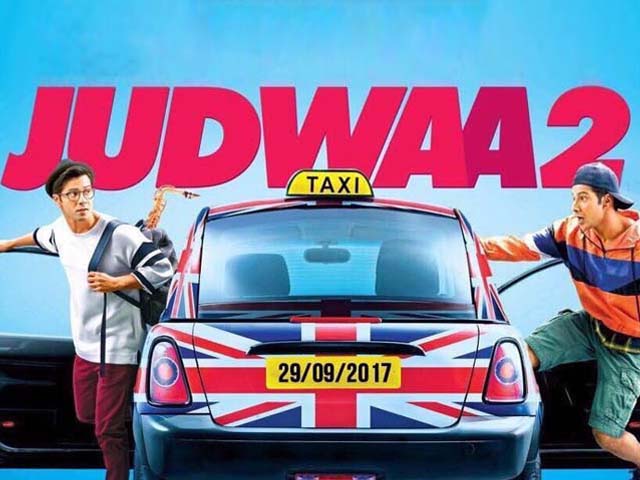 ---
Old vs new: Will Varun Dhawan's 'Judwaa 2' fare better than Salman Khan's 'Judwaa'?
The nostalgia is so real that at one point you feel Salman Khan and Karisma Kapoor will pop onto the screen any moment
---
I recently watched Judwaa 2 and to be honest, I was thrilled during the entire movie. It is a David Dhawan directorial, who directed the original Judwaa as well.

Luckily for us, Judwaa 2 has all the David masala his other movies entail. It is packed with a 90s Bollywood formula script, comic escapades, hilarious situations and scenes that lack logic, yet you watch it and feel thoroughly entertained.


With a David movie, one expects loads of drama, an action-packed comedy, slapstick jokes and tapori (rowdy) lyrics. And this is precisely what you'll see in Judwaa 2.

I don't need to delve too much into the story line, since it's exactly similar to the original.

A couple is blessed with conjoined twins (boys) who are separated at birth by a villain. Varun Dhawan plays the double role of the twins, Prem and Raja. One of the twins is physically weak while the other is physically strong, however, they share the same reflexes.

Over the course of time, these reflexes confuse both the boys and one day their paths collide. This creates a lot of confusion because of their identical features. Events such as these are what make a David film and this movie is oozing with such incidents.




Though the million dollar question is, was Varun better than Salman Khan in the reboot of the original Judwaa?

No!

But was he entertaining in the movie? Yes. Varun has impeccable comical timing and has the audience in fits. Varun as Raja is a much more dominant character as compared to Varun as Prem, and can feel Varun's acting as a combination of Khan and Govinda's acting, which is a great combination.

However, Judwaa 2 is exactly like the 1997 Judwaa which starred Khan. It bears resemblance to the original in terms of the story, characters and even the songs, so much so that when Khan makes his cameo appearance, one can't help but feel nostalgic.

The nostalgia is so real that at one point, you hope that Khan and Karisma Kapoor (the original cast of Judwaa) will pop onto the screen and entertain you just like they did in the original movie. The music score was sung by Anu Malik and you cannot miss the familiar beat to the songs such as 'Chalti Hai Kya 9 Se 12' and the epic 'Oonchi Hai Building'.






The new songs, even though they are a spin on the remakes, are catchy and have beautiful dance choreography. Jacqueline Fernandez and Taapsee Pannu star as the leading ladies in the movie, however, there is not much depth given to their characters. Jacqueline is usually seen in these types of roles, where she plays a peppy, attractive looking girl who is only used as eye-candy in the movie.




Taapsee, on the other hand, came across as trying too hard to fit into her role. Unfortunately, she failed miserably. One couldn't help but think how she needs better roles as she's got serious acting prowess. After starring as the lead actor in Pink, we expected her to pull a Bhumi Pednekar, who shot to fame after her recent movie Toilet: Ek Prem Katha.




However, since it is a David film, one should be used to the female leads being cast just as eye-candy. David's focus is mostly directed towards humour and songs, as seen in his previous movies.

So go ahead and watch Judwaa 2, laugh out loud and hum along to the songs, but do not search for a meaningful plot or any lessons learnt at the end. It is a one-time watch and will definitely revive your memories from the 90s.

I can only suggest one goes home, sleeps it off and waits for another Varun entertainer.