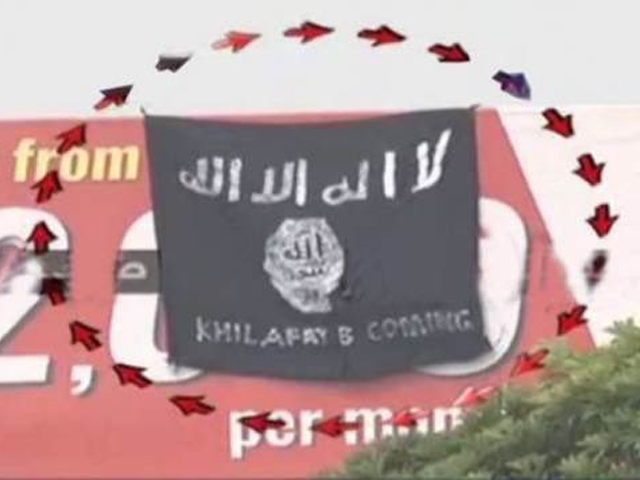 ---
Will the Islamic State flag in Islamabad hinder Pakistan's progress?
Flag or no flag, IS has already made inroads into Pakistan, and dealing with it comes down to the state apparatus.
---
There is the lush screen scenery. There are the picturesque Margalla Hills. There are the curve-friendly roads on these hills that remind one of Vital Signs and Junaid Jamshed. There is the crisp and cool weather. There is a particular calm never found in other major cities of the country.

Then there is the Lal Masjid – the antithesis of everything in Islamabad – loud, angry and not at all pretty. It was only a matter of time before this happened then, an Islamic State (IS) flag dangling in Islamabad, even though it may or may not have anything to do with Lal Masjid.

Things in Pakistan have generally looked better off late. The military crackdown, Radd-ul-Fassad, is proving to be effective, and the country's democratic function is still crawling through somehow. International cricket is taking one small step at bringing life to the country's barren stadiums.

So does the IS flag in Pakistan change any of that?

No, it doesn't.

The fact is that flag or no flag, IS has already made inroads into Pakistan. Naueen Leghari's confession from earlier this year serves as a prime example. The Safoora Goth massacre from 2015 is another such instance. The entry of IS into Pakistan can be traced back to 2014 when pro-IS pamphlets were being distributed for the first time in the city of Peshawar and in the tribal areas.

Soon afterwards, suspects were arrested for putting up IS posters in Lahore, and the police took down some IS flags near Wah Cantt, only 50 odd kilometers from Islamabad. Estimates on the number of IS recruits in Pakistan are towards the low end of 2,000-3,000, which is significantly small compared to other terrorist organisations operating in the country. However, what this does mean is that their number is on the rise.

The IS has claimed responsibility for several attacks in Pakistan since, either directly or through allies that share its reactionary ideology. Their recruitment takes place online, not only enabling them to recruit people from the militant heavy tribal areas, but also students from some of Pakistan's best and otherwise progressive universities.  The murder of Sabeen Mahmud comes to mind instantly, masterminded by a graduate of the prestigious Institute of Business Administration (IBA).

Dealing with the IS threat in Pakistan comes down to the state apparatus more than anything else. Curbing hate speech is among the first steps, and whereas developments towards the right direction have been made in that regard, there is a lot more that needs to be done.

Political organisations expressing sympathetic views towards IS and its affiliates also need to be kept in check. The Lal Masjid in Islamabad comes to mind again, which has admitted being in favour of the IS mission, but has not openly welcomed them in Pakistan.

An IS flag in the country's federal capital may alarm some, however, it should not come as a surprise. A country that is the center of global terrorism in more than one way was always going to attract the IS. The challenge is to curtail its growing influence, no matter how small it may be currently. Otherwise we are just moving from one monster to another one.