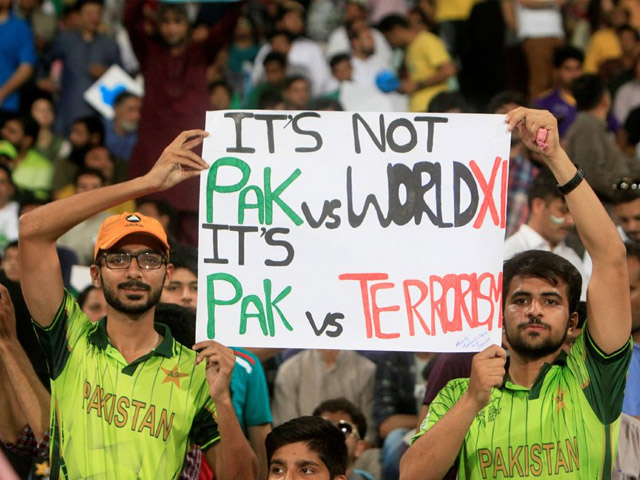 ---
World XI: Siyasat, junoon aur Lahore
For Imran Tahir, the World XI tour had a deeper emotion attached to it. He was returning to a place where it all began
---
In a few hours' time, Pakistan's most cosmopolitan city will brace itself for a tussle between two political heavyweights, Kulsoom Nawaz and Yasmin Rashid. This democratic NA-120 is a by-product of the decision to disqualify a democratically-elected prime minister. Furthermore, it promises monumental changes to the country's ever-turbulent political climate. The streets are indeed decked with scores of signs and banners, hinting at the nearing of something colossal. These banners have faces and a few badly thought-out catchphrases printed on them.

It all sounds familiar, but feels rather different. These faces do not evoke feelings of annoyance in the people nor are these catchphrases meant to lure the politically challenged. Lahoris exit their houses, once again, to populate empty stands and signal that no potentially monumental changes or obstructions are monumental enough to hamper their love for cricket, or food for that matter. Lahoris exit their houses, only to elatedly welcome players from eight different countries into theirs.

A World XI squad touring Pakistan, specifically Lahore, meant more than the average game of cricket, primarily because of the homecoming sentiment and the storyline involved. In terms of game quality, the three-match series was not the shabbiest, but the touring squad did seem undercooked more often than not. While players like Darren Sammy, Paul Collingwood and Grant Elliott are obviously accomplished names loved by crowds all over the globe, their distance from the international scene was visible through their rustiness. Hashim Amla and Tamim Iqbal ensured competitiveness and set an aggressive tone in all three matches. They seemed to be playing another game altogether as compared to some of their teammates who seemed clueless and clumsy on a high-scoring strip.




For Imran Tahir, the World XI tour had a deeper emotion attached to it. He was returning to the place where it had all begun. The last time he played at the Gaddafi Stadium, his home ground, he was donned in mandarin orange for the Lahore Lions in the inaugural edition of the ABN Amro Cup, Pakistan's first T20 tournament. Prior to the series, Imran had stated that agreeing to the tour was a no-brainer for him. Furthermore, he stated how badly he wished his parents were alive to witness this joyous occasion. After the third and final match of the series, Imran was seen indulging in light conversation with Pakistan's latest spin prodigy, Shadab Khan, and providing tips to improve his wrist position. The fact that Imran, the second best T20 international bowler in the world, is mentoring Shadab is only one of the many feel good stories to have emerged from this tour.

During the series, Faf du Plessis and Andy Flower tried to make optimum use of available resources. Pakistan, too, experimented with their combination by bringing back Mohammad Nawaz, Sohail Khan and Usman Shinwari for two games each. Mohammad, on a flat pitch against quality batting, fared reasonably well. While he may not have a lavish wickets collection, Mohammad proved himself to be a smart bowler who is both able and willing to step up. Sohail made his comeback, distancing himself from any fitness vows, and performed better in the first match than he did in the second. Sohail's skill set has never been questioned, rather it his consistency to deliver and sometimes his cricketing acumen that makes one wonder whether or not he deserves a place.




Usman tried to shake off awkward memories of his debut against Sri Lanka in 2013 and emerged as a hungrier, sharper weapon for Sarfraz Ahmed to terrorise the opposition with. Usman was easily the quickest of the lot, probably the quickest out of both teams. Sarfraz used him to perfection in the final match by making full use of his extraordinary ability to bowl dead-accurate yorkers at the death. Usman has done enough to consolidate his position in the squad, maybe even in the playing XI.




World XI had in their ranks a rather hot-and-cold player who emerged as a shock contender for the Man of the Series. Thisara Perera, who has been in and out of the Sri Lankan team in recent years, showed glimpses of his utility as a T20 star performer. Following Morne Morkel, who was easily the best bowler for World XI, Thisara bowled during intervals that required great mental toughness and naturally, skills. In the second T20, Thisara single-handedly muscled his team to victory by playing a blinder. In the finale, Thisara was both the highest wicket-taker and run-scorer for the touring team. If we are to choose one player who raised a few eyebrows and gained plenty from this series, it has to be Thisara.




Babar Azam, who was playing in front of his home crowd for the first time in his career, was the brightest star for Pakistan. Prior to this series, Babar's ability as a T20 batsman had been questioned and rightfully so. When one scrutinises Babar, he may not come across as the model T20 batsman. He cannot hit sixes at will using brute force like Darren Sammy, nor can he bring out the paddle sweeps like AB de Villiers. He does not have to. In the most elegant manner, Babar proved that he could play at a proper T20 strike-rate without deviating from the textbook material. Babar's ability to find gaps is similar to, dare I say, Virat Kohli's and he keeps himself busy by knocking the ball around for singles or doubles, if nothing else seems to be working.




Not that it needs further reassurances, cricket is the bond that unites a fractious nation. An important act, perhaps the most important in recent times, of coming together is to be followed by one that has a history of dividing people. While the irony is truly unmistakable, we can only expect the euphoria to last long enough to undo the dark clouds of conflict and turmoil. Pakistan wins the Independence Cup!