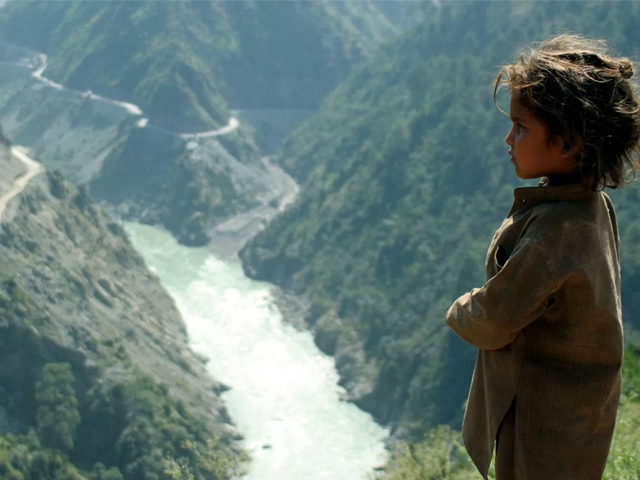 ---
Why an independent Kashmir is not good news for both Pakistan and India
If Kashmir were to become independent, the entire water area of Indus, Jhelum and Chenab would lie outside of Pakistan
---
In a previous blog that discussed the implications of President Donald Trump's new Afghanistan strategy, I suggested that Pakistan requires a re-think of its policies towards the US and Afghanistan.

It further stated that Pakistan should try to normalise relations with India, since the key to peace on the western border may lie on the eastern border. For this to happen, it is necessary for Pakistan to carry out an analysis of the continued validity of its Kashmir policy. This is not required as a concession that needs to be given to India to achieve peace, but it is necessary due to the ground realities.

However, before we enter the domain of a rational and fact-based analysis, we need to check in our emotions at the entrance. As mentioned in my earlier blog, foreign policy is based on a cold calculus of national interests and not emotional attachments.

As an example of this fact, please note that over the course of the Afghan War, both the US and Afghanistan have changed allies. During the Soviet occupation of Afghanistan, the US was fighting the Tajiks, Uzbeks and the Hazaras, who were aligned with the Soviet Union and mobilised the Pakhtuns and religious elements with Pakistan's help in throwing them out.

Now, they are aligned with the same Tajiks, Uzbeks and Hazaras against the very same Pakhtuns and religious elements who were their allies earlier. Furthermore, they have done this under the same slogan of helping the Afghan people achieve freedom.

Pakistan is currently pushing to improve its diplomatic position and thus enforce United Nations (UN) resolutions to enable the inhabitants of Jammu and Kashmir to exercise their rights of self-determination. Inherent in this policy is the assumption that given a choice, the people of Jammu and Kashmir would want to either join Pakistan or establish themselves as a separate country that would have friendly relations with Pakistan.

However, too much has happened since our Kashmir policy was first formulated and it may be time to test the underlying assumptions of this policy. In an earlier blog on this subject, I had noted,

"Two major opinion surveys conducted on both sides of the border in Kashmir over the period 2007-2010 have shown that less than 10% of the Muslim population of Indian Kashmir would like to join Pakistan. Likewise, Pakistani Kashmiris do not want to join India.

Therefore, it seems time has moved on and the situation on the ground has changed since 1947. The Kashmiris in occupied Kashmir are not as keen to join Pakistan as the Azad Kashmiris are for them to do so."

Pakistan also needs to note that if an independent Kashmir were created, it would base its foreign policy on its own interests – interests that may not be congruent with those of Pakistan's.

Furthermore, there is one more variable to take into account and that is of the principal waterways that flow through Kashmir – Pakistan's critical lifeline.




The Indus Water Treaty between India and Pakistan, brokered by the World Bank in the early 60s, allotted the three eastern rivers – Sutlej, Bias and Ravi – to India and the three western rivers to Pakistan. Additionally, India has the right to use up to 20% of the western rivers for "non-consumptive use".

If we look at the trajectories of the three rivers allocated to Pakistan, we can observe that the Indus River starts in Tibet, flows through a section of Indian-held Kashmir, just below the Aksai Chin area, and then enters Pakistan's Gilgit-Baltistan (G-B).

Here, it is fed by the glaciers of the K2 and then flows down through Azad Kashmir into Pakistan. The river Jhelum originates in Indian-occupied Kashmir and enters Jammu and Kashmir. Chenab starts in Indian-held Kashmir and then enters Pakistan. 

Recently, the Indus Water Treaty has come under some strain, as reported by the Express Tribune. Pakistan has objected to India building the following projects, the Kishanganga and Ratle hydroelectric plants, on the tributaries of the Jhelum and Chenab rivers. Secretary level talks held on September 14th and 15th were inconclusive and Pakistan has now requested the World Bank to fulfil its duties under the treaty by impanelling the Court of Arbitration.

I remain optimistic that a resolution will be possible since the treaty has withstood similar strains in the past. Nevertheless, this issue does bring out the fact that the more reliable water source for Pakistan is the Indus River since it is less susceptible to diversions.

Still, if Azad Kashmir were to become a part of an independent Kashmir, then the entire water shed area of the Indus (including the part that is in G-B) and those of the Jhelum and Chenab would lie outside of Pakistan. At present, major parts of these areas are within Azad Kashmir and G-B. Pakistan is building key projects such as the Bhasha dam and the Bunji dam with the help of the Chinese in G-B. Thus, losing control of all rivers to a third country would be even riskier than the partial control of the waterways that Pakistan currently has.

We see, therefore, it is no longer in the interest of Pakistan to press for a UN plebiscite or an independent Kashmir. India has always been unwilling to consider an independent Kashmir as an option. Hopefully, after three wars, both India and Pakistan have realised that they cannot gain entire control on Kashmir.

A survey reported in April 2005 stated the following:

"Overwhelming opinion both within Indian-occupied Kashmir and outside in Indian metropolitan areas that it's better to live with ground reality instead of seeking to redraw borders. A staggering 77% of those polled in five metros – Delhi, Mumbai, Kolkata, Bangalore and Hyderabad – and 55% of respondents in Srinagar and Rajouri think the de facto position of the LoC as the effective border should be made de jure as well. Considering that the poll in Jammu and Kashmir was restricted to Kashmiri Muslims, that's a revealing reflection of the popular mood."

Therefore, a division along the Line of Control (LoC), that is, a formalisation of the status quo is in the best interest of both India and Pakistan. This should be the primary thrust of Pakistan's policy, not because it is the best deal that it can get, but since the alternative is not in its interest.

Now, Muslim Kashmiris do want independence essentially to get rid of the Indian suppression. The Indian government says that their military actions in Kashmir are a consequence of alleged Pakistani cross-border incursions.

Therefore, if a settlement is reached between India and Pakistan, it would also drastically reduce the support extremist groups receive in Pakistan. This, in turn, should lead to a reduction of their activities, which would go a long way in ending the repression in Indian-occupied Kashmir.

Furthermore, normalised relations with India would quell Pakistan's urgency to have a pro-Pakistani government in Kabul. Consequently, it would reduce tensions between Islamabad and Kabul and maybe even contribute to peace in Afghanistan.

In light of the possible outcome of defusing the Indo-Pak tensions, it is imperative that political leaders of both countries (with encouragement from the international community) spend the necessary political capital to come to an agreement.
Facebook Conversations
COMMENTS (64)
Comments are moderated and generally will be posted if they are on-topic and not abusive.
For more information, please see our Comments FAQ