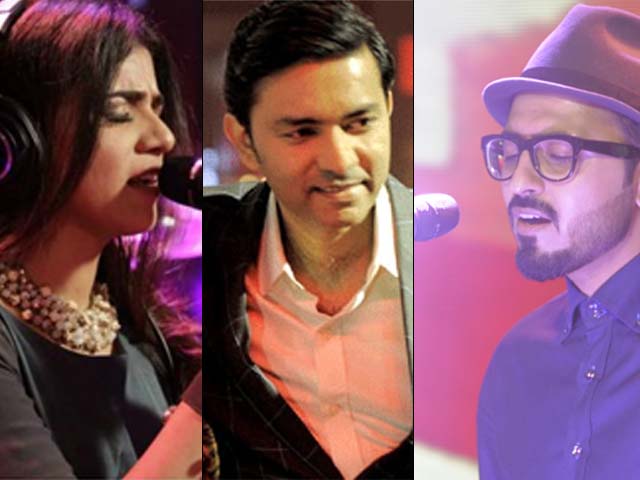 ---
Coke Studio season 10 may have had a rocky start, but it has managed to silence its critics with its latest episodes
The song that stands out so far is 'Sab Maya Hay', while 'Laal Meri Pat' has been a disastrous rendition.
---
They say aging makes the wine taste better. That certainly is not the case with subsequent Coke Studio seasons lately. The awful rendition of the national anthem was a terrible lapse of judgment on the director's part. Things did not quite improve with 'Sayonee' either, which was taken as nothing less than an affront on the honour of Ali Azmat as a singer.

However, if each episode is viewed song wise, the season has not been half-bad. Yes, I know I may have poked a hornet's nest here. I myself quite enjoyed episode three, four and five and I shall explain here why.

Episode three starts with the impactful words of Faiz Ahmed Faiz that transport us back to the time when Madam Noor Jehan regaled the world with her phenomenal voice. Humera Channa and Nabeel Shaukat remained steadfast in delivering a decent performance. Before you write it off, give it a listen while keeping in mind that these two had extremely big shoes to fill here.

From that viewpoint, it is a pretty good version of the classic song that has always tickled both our hearts and minds. Mekaal Hasan's debut in direction is quite prominently audible through the entire length of the song with well-timed use of guitar and flute sounds.


The next song marks the debut of the young and quite talented, Aima Baig in Coke Studio. Her powerful sultry vocals with the bold Siraiki accent held up quite well throughout the song.


It is not the best song of this episode though, but that is not because it lacked anything, but because of the magic that Sajjad Ali and Zaw Ali have created in the next song, 'Ronay na diya'.

Stealing focus from all the other songs in the episode, this song has become my personal favourite. Zaw proves herself to be the singing prodigy that people would have expected her to be. Her lustrous vocals with an earthy mix of classical and western pitches turn the song into a beautiful experience for the listeners. Sajjad's voice needs no recognition as he drives the duet home with exceptional skill, worthy of his fame in the field of music.


To me, 'Ronay na Diya' was what carried episode three and also shifted the focus from the last song, which was a disastrous rendition of Bu Ali Qalandar's ghazal, 'Laal meri pat'. Quratulain Balouch (QB) is an asset, but even she should have just tried to stick to the original style of the song. Some things deserve to be preserved in their age-old glory and this song was one of them.


Ruining one classic but nailing the other is what QB has done in episode four. 'Latthay Di Chadar' was beautifully combined with the 80s pop song 'Dekh Tera Kiya'. Farhan Saeed's soothing vocals combined with QB's gripping voice have been beautifully juxtaposed by Shani Arshad, which in my opinion makes this the best song of episode four.


The other song that pushes musical boundaries and showcases Ali Zafar's infinite talent for all the world to see is 'Julie'. This song I rate as my second favourite in this episode, but definitely not the best song by Ali since he has several classics credited to his name. Danyal Zafar's guitar solo was a good effort but the brothers could have sung together for a more impactful and diverse performance.


Other tracks such as 'Jindjani' and 'Naina Moray' are fine efforts too but it is Amir Zaki's guitar solo in the latter which leaves one melancholic and bereft of words. His prolific sound shall echo in years to come. His loss truly is a great one and kudos to Coke Studio for providing this last performance as an ode to his name and craft.



The latest episode contains two powerful solos. One is a soulful and revolutionary remake of the poem by Faiz, sung by Shafqat Amanat Ali who delivered the song quite adequately. While beautifully sung and powered by the evergreen words of Faiz, 'Bol' is a heavy song that captivates the listeners but multiple rounds of listening to it can be a bit too much.


The other solo is that of the maestro, Rahat Fateh Ali Khan, who had to work hard to wash off the 'Sayonee' stain. He does so with flying colours in 'Rangrez'.


However, the song that stands out in all the three episodes is 'Sab Maya Hay'. Sanwal Esakhelvi is a sensation in his own element, sometimes detaching and sometimes returning to Attaullah Esakhelvi (father) as his home base. His youthful but adept grasp on music as a craft is what transforms the song into crests and troughs of pleasure filling our ears. Attaullah, with his folksy uniqueness, does not disappoint while he lends his son a hand in delivering a memorable number.


Thus overall in my opinion, the latest episodes have fared well as compared to the previous ones. It has started to pick up some pace but as people's expectations from it have risen with time, the criticism for the subdued start of this season has also skyrocketed.

What the creators need to do is look back on the magic created in the initial seasons that earned the Coke Studio its claim to fame. They might find inspiration to do better next time. All hope is not lost as yet, but they will have to remember that the higher you climb, the steeper the fall.