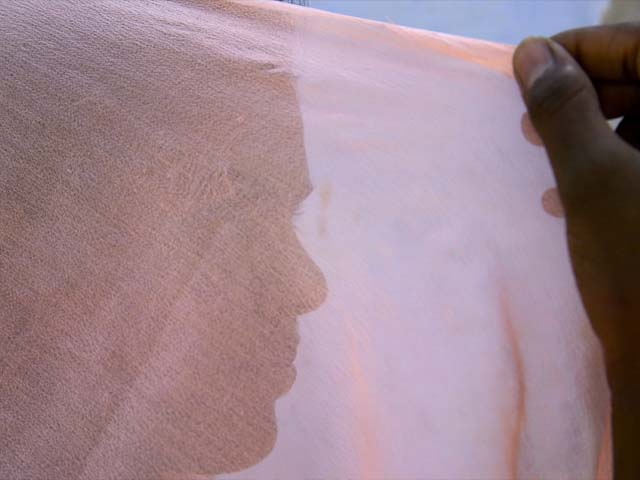 ---
The dream that could never be - part 3: A wolf at every turn
She tried to hide the brooch as if it were a treasure worth stealing, not realising something else needed guarding.
---
She had woken up sweating heavily, vividly remembering his foul ragged breath on her neck and the abnormally large splinter just a step behind her.

The next day, her baji had sent her to clean her late father-in-law's old study in the formerly off-limits part of the house. The place was covered under ages of dirt and was teemed with insects. Samreena had been extremely scared to even step foot there until she found that golden brooch.

"Samreena! Kiya halaat hain uper? Neechay aa kay batao jaldi. So gayi ho kiya?"

(Samreena! What is the situation up there? Quickly come downstairs and update me. Have you gone to sleep?)

Asma baji's loud inquiry alerted her and she ran downstairs.

 "Baji ye uper se mila hay. Apka hay na? Sonay ka hay na? Bohat khubsoorat hay!"

(Baji, I found this upstairs. It's yours, right? Is it made of gold? It is very beautiful!)

She showed the brooch to her baji who took one look at it and said,

"Tu rakh le. Pata nai kiska koora kabaar hay!"

(You keep it. Don't know whose litter it is!)

Ecstatic, Samreena thanked her profusely and ran off to clean the place. That night, she couldn't sleep and kept finding places to hide the brooch as if it were a treasure worth stealing. Not realising that the treasure worth guarding was not the brooch, but something else.

It was the first time since her arrival in the house that Asma baji was going away for a week. Samreena was sad to see Salik go with her.

"Kaam hotay rehne chahyen. Koi laparwahi bardasht nahi karungi. Khabardar raat mein ghar mein nahi phirna. Uper bilkul nahi jana, sahab kay kaam kay liye bohat log hain uper. Agar koi aisi wesi harkat hui na Samreena, tou wo Rahim kay hawaalay kardungi wapis. Wo aata hay paisay lenay wesay bhi teri maa kay liye," Asma baji warned her.

(Chores should continue as usual. I won't accept any carelessness. Dare you wander around in the house at night. Don't go upstairs at any cost, there are enough people upstairs to tend to sahab. If you do anything wrong Samreena, I'll hand you back to Rahim. He comes to collect money for your mother as it is.)

"Nahi, nahi baji, mujhay uskay sath tou kahin nahi jana," Samreena said hastily, her dream swirling before her eyes.

(No, no baji, I don't want to go anywhere with him.)

It was almost midnight. Samreena sat in her room, playing with the brooch when somebody gently knocked on her door. Hiding the brooch behind her back, she stood up and peered through the window. All she could see was a shadow. The knocking continued.

"Samreena! Samreena!"

Recognising Ammar bhai's voice, Samreena heaved a sigh of relief. She opened the door and found Ammar bhai standing in the doorway. Although she was not scared of him, his presence at her door was quite unexpected. He had never come to her quarters before.

"Koi aur hay nahi ghar pe aur tumhara kamra itni door rakhwaya Asma ne. Awazein de de kay thak gaya. Mujhay ek cup chai bana do aur uper meray kamray mein laa dena," he said to her, looking at her dispassionately, turned around and walked away.

(There's no one at home right now and Asma has given you a room so far away. I am tired of calling out your name. Make me a cup of tea and bring it up to my room.)

Samreena pinned the brooch to her dupatta and went to make tea for him. As she watched the brewing pot, she felt the hair on the back of her neck slightly rise. She checked around. Nobody was to be found. As she climbed up the stairs bringing Ammar bhai's tea, she felt watched and followed. Spooked, she increased her pace and reached the bedroom door.

As she knocked and entered, she found herself in a dark room and seemed empty. She set the tray on a side table and turned to leave when she saw his silhouette in the mirror in front of her. She tried to make a run for it but he grabbed her. The door seemed eons away. She screamed on the top of her lungs to alert the guards she knew always patrolled the gates.

 "Aaj sab chutti pe hain. Sirf tumhari duty hay!" he chuckled in her ear.

(Everybody is off today. Only you are on duty.)

After a struggle of what seemed like hours, little Samreena finally slumped under his vice-like grip. He tore the shiny golden brooch off of her, forcing himself on her.

Just when she thought all hope was lost, the bedroom door flew open and someone rushed through, screaming and attacking Ammar. Samreena wriggled free and crouched against the wall, her legs too meek to run away.

She recognised the man as Rahim chacha. She felt frozen to the spot. In the room's dim lighting, she couldn't figure out who was winning. Suddenly, a vase broke and someone screamed. Rahim chacha scrambled to get up and Ammar's unconscious body slid down onto the carpet.

"Chal pagal! Kharri kiya hay?" he shouted at her. "Neechay bhaag pichle gate pe. Main aaraha hun."

(Come on stupid! Why are you standing there? Rush to the back gate. I am coming there.)

Samreena did as she was told. Hours later, she was sitting in a small house outside the city. Sitting on a charpoy, she was sipping water brought to her by a little girl about her own age who called Rahim chacha, Abba (father). Two ducks squawked nearby. But Rahim chacha was nowhere to be seen. The little girl was now sitting on the edge of the charpoy, staring at Samreena. She hadn't uttered a single word since they had arrived. She just did as she was told.

'Lagta hay gungi hay (seems she cannot speak.),' Samreena thought to herself.

After a while, she was taken to a room to rest. The quiet little girl had laid out some clothes for Samrena and told her in sign language to take a bath.

Refreshed and relieved after the bath, Samreena waited for Rahim chacha to ask him what she was to do next but he didn't come back all day.

'Main tou aisay hi darti thi chacha se. Wo tou amma kay kehne pe ye le jata tha mujhay. Khud tou mujhay bachaya hi hay chacha ne hamesha. Aaj minnat karungi mujhay beti bana kay rakh lay yahi,' she kept thinking.

(I was afraid of chacha for no reason. He would take me on Amma's insistence. Chacha has always saved me. Today I'll request him to keep me here as his daughter.)

As dusk, he returned not alone but with three men. He signaled to his daughter to go inside and take Samreena with her. They could hear them talking outside for some time.

Then the door opened and Rahim chacha came inside. He looked at his daughter meaningfully, and she got up and left. Samreena sat up straighter, waiting for him to speak. He looked at her for a while and then reached into his pocket and presented the brooch.

"Ye tha na teray hath mein? Dekh maine utha liye udher se teray liye. Le na! Pakar! Tera hi hay," he held out the brooch to her.

(This was in your hand, right? See, I picked it up for you. Here, take it. It's yours.)

Reluctantly, she took it. He sat down near her.

"Dekh, dunya mein insan nahi, bhaairye rehte hain. Main teri maa ko samjhata tha par wo khud theek aurat nahi tou tujhay kiya sikhaati. Meinay bhi ghalat kiya tujhse bheek mangwai, kaam karwaya, lekin ab bohat hogaya. Tu kahin bhi mehfooz nahi hay. Ab tu idher meray aur Salma kay paas hi rahegi. Theek hay na?"  He said to her softly.

(Look, this world is not inhabited by human beings, but by wolves. I would try to make your mother understand but since she herself isn't a good woman, what will she teach you. I was also at fault for making you beg, made you work, but not anymore. You are not safe anywhere. Now you will stay here with Salma and I. Is that okay?)

In that moment, she finally felt her fear fade away. She was finally able to look him in the eye. Happy at her reaction, he said smilingly,

"Shabash! Chal sar dhaanp le."

(Very good! Now cover your head.)

She wrapped the dupatta around her head and smiled at him. He got up, walked to the door, opened it, and said to the men outside,

"O Maulvi sahab! Aajao ander. Larki razi hay!"

(Oh cleric! Come inside. The girl said yes.)