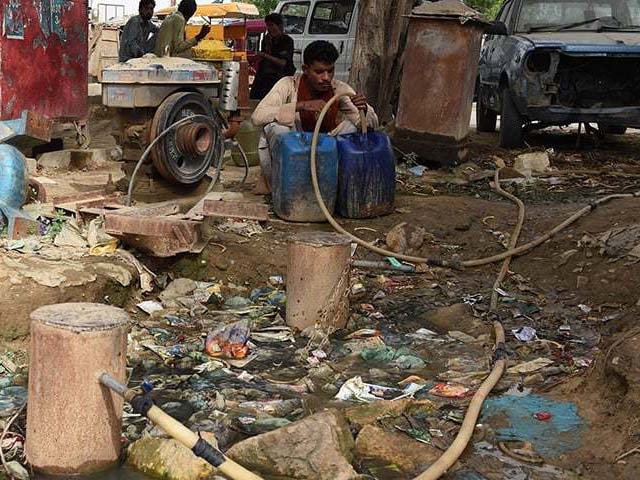 ---
The rich and elite of Karachi can afford reverse osmosis plants and tankers every week, but we, the majority, cannot
For a person with a low income, paying 10-15,000 for one tanker which lasts for less than a week is next to impossible
---
It seems as if Karachi's water woes won't be improving anytime soon. Be it the supply and distribution or filtration, the entire system is in a mess and concerned authorities have turned a blind eye to this crucial issue.

An effected citizen of Karachi filed a constitutional petition in the Supreme Court (SC) against several government offices in the hopes of gaining judicial attention over the provision of clean water, sanitation and a hygienic atmosphere for Karachites.

The formation of commissions and task forces ensued, samples were collected and the honourable courts expressed their displeasure. But nobody was held accountable and no one was asked to resign.

Why am I not surprised?

The Karachi Water and Sewerage Board (KWSB) has failed to provide clean potable water to the residents of Karachi who have had to rely on bottled water to protect themselves and their families from various water borne diseases.

In various areas of Karachi alone, the contamination in line water has reached dangerous levels, putting human lives at risk. But concerned authorities have found a convenient way out, which is putting the blame on the individuals and groups involved in water theft that are apparently the sole cause for 'water contamination'. It is unfortunate that such authorities don't own up to their faults and fail to fulfil their designated responsibilities.

Karachi has six water treatment plants and yet the citizens continue to receive contaminated water, which highlights the flawed management and structural system. While corruption and inefficiency within the KWSB have led to improper water treatment, the nexus between board officials and the water tanker mafia has resulted in artificial water shortages in most Karachi neighbourhoods.

This in turn has created a huge demand for water (pumped, supplied and sold) which was rightfully meant for providing a steady water supply to Karachites. This agreement has the support of the provincial government which is why Chaudhry Abid Sher Ali, the minister of water and power, has never shown any resolve in addressing the issue.

According to the recent inspections carried out on the order of the SC, almost 91% of the line water supplied to the residents of Karachi has been declared unfit for human consumption. This alarming situation has provided an opportunity for certain businesses to establish their own private filtration plants (mostly reverse osmosis units housed in private residences).

Most of the bottled water brands circulating in the market do not provide water that has been treated at optimal levels, which again is tantamount to exploiting the customers. Such monopolisation should be stopped. But that would be asking for too much since the actual concerned parties' actions are what led to this situation to begin with.

Taking advantage of the situation, a major consumer brand has initiated a 'filtered and purified' water tanker service. This is the first of its kind but it is meant exclusively for the rich and elite due to the exorbitant prices they charge for their services.

My monthly utility bill has skyrocketed after the installation of a filtration unit that is meant to purify line water for my entire house. This, added to the cost of purchasing water tankers throughout the month, is a cost that we as consumers are forced to incur due to the absence of subsidies.

Some residents in my neighbourhood installed reverse osmosis plants after digging wells in their backyards. Little did they know that the plants' maintenance would prove to be so expensive. One tanker costs up to Rs10,000 to 15,000 and lasts for less than a week. For a person with a low income, paying for this commodity four times a month becomes next to impossible.

This is indeed an alarming situation which also highlights the disparity in our society. Affluent neighbourhoods, such as Defence, Clifton and KDA can afford the luxury of a bottled water supply at their doorstep, while the remaining majority population residing in impoverished neighbourhoods have to rely entirely on a contaminated water supply.

This is a litmus test for those legislators who conveniently enjoy the perks and privileges of being in the Sindh Assembly, while their voters continue to live in miserable and inhumane conditions.

It's not as if there are no steps the government can take to help resolve or even improve this issue. The problem lies with the government not taking any steps at all. They enjoy their clean drinking water, while we, the majority of Karachi's population, suffer endlessly.

What exactly can the government do to improve the situation?



The entire Karachi water distribution and filtration system requires a complete overhaul. From plugging leakages in the lines to the replacement of rusted and dilapidated pipes, a sizable budget must be allocated for such projects.


The water distribution and filtration system must be outsourced to a private competent company if any improvement is to be seen.


Political appointments within water utility departments must be banned and pure merit should be the order of the day.


The system of 'linemen' and 'valve operators' must be abolished and replaced with a centralised management system.



As consumers, there are a few steps we can take to ensure that our health stays intact and I urge everyone to follow them, which are:



Chlorine tablets are available at most of the major pharmacies in the city. Residents must use these to purify their underground tanks.


Some well-known brands are providing water filtration systems of all sizes. Instead of relying on the government and related agencies, residents must either install such systems or use water after boiling to eliminate the bacteria that is usually found in our line water.


Use filtered or purified water when cooking or washing fruits and vegetables.


If affordability is an issue, then water purified through boiling can be consumed.



I know we live in a country where it is hard to rely on the government, but that does not mean that we should sit by idly. We too can take a stand and begin the chain of improvement.