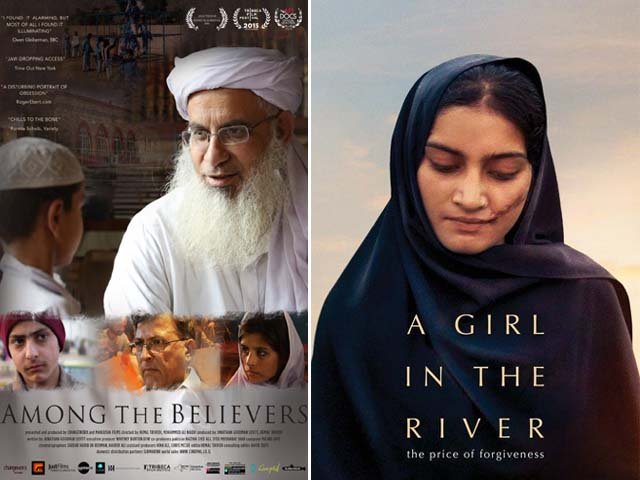 ---
Pakistani documentary makers are getting nominated for Emmys, but their own country does not give them any recognition
When you add a genre like documentary along with a female filmmaker, the chances of success in Pakistan grow slimmer.
---
In Pakistan, documentary films are to cinema what hockey is to sports. We don't see a lot of hockey on TV, just like we don't get to see any documentaries screened across the country.

Even if our documentaries or hockey make it big, they don't get as much recognition as popular genres of entertainment or sports do. To me, this phenomenon seems like the proverbial case of the child who cries the most and gets the most toys.

If the Oscars are anything to go by, Pakistan has a couple of them, and that too in documentary filmmaking and by the same filmmaker. Deep down, we know that we would have celebrated our Oscars victory a little more vehemently if we had won them for a mainstream movie or a 'commercial film' as we are so fond of calling it, even though most 'commercial' films tank at the box office. Perhaps we would have celebrated our victories with more machismo if they had been won by a male filmmaker.

Despite our relative indifference, documentary filmmaking continues to thrive in the country. Of late, two Pakistani documentaries have been nominated for top honours at the Emmy Awards.

Last Saturday, Express Tribune reported that,

"A Girl in the River: The Price of Forgiveness and Among the Believers have been nominated for the much-celebrated Emmy Awards."

Now, instead of calling our documentary filmmakers agents of change, we suspect them to be the agents of... America. What worries me is the fact that these suspicions are voiced by some of the 'most educated' members of our film fraternity. Most of these gossip mongers may not have watched the trailers let alone the entire documentaries.

Furthermore, they may not have the slightest idea of what it took to make those real-life movies, or worse, what Sharmeen Obaid Chinoy or Mohammed Ali Naqvi stand for in life.

I remember attending a pre-Oscar presentation given by Chinoy at the Karachi Literature Festival about two weeks before she received the Academy Award for Saving Face in 2012.

Chinoy confessed that she was merely a journalist busy picking stories from society. She admitted that her camera skills were below average but even then, she was not deterred from telling the stories that needed to be told.

I was particularly moved by the excerpts of the documentaries that she had shot in different countries under dangerous circumstances. Chinoy informed an eager audience how she had risked her life numerous times in order to get a particular shot or interview.

As I write, images flash across my mind of her accounts of near-death experiences. Some images that stand out are the arrest of her all-female crew in Saudi Arabia, the mortar attack on a school building in the Swat valley where she had been interviewing a juvenile, and the filming of the illegal border crossing in chilled waters somewhere in Africa.

Towards the end of the presentation, Chinoy urged the youth in the audience to pick a story, grab a camera and make meaningful documentaries.

Chinoy did get the nod of the global community of filmmakers but her work remained mostly unseen or rather unscreened in her own country.

When one hears of the revival of the film industry, one hardly hears of documentaries, even though this genre has already fetched golden statuettes across the globe.

Furthermore, when you add a genre like documentary making along with a female filmmaker, the chances of success in Pakistan grow slimmer. We already live in a country where women are side-lined thus, when a woman achieves something of greatness, we should celebrate her even more.

The decline in female filmmakers is not just Pakistan centric, it is global. Women like Patty Jenkins (the director of Wonder Woman) are working towards female empowerment in the film industry, though her effort alone won't be able to pull up the dismal figures of female representation in the industry.

What's unfortunate though is how Pakistani filmmakers find more resources and freedom abroad, as compared to Pakistan, in order to go forth with their ventures. Nausheen Dadabhoy is a cinematographer in America and her views aptly reflect the situation for female filmmakers in Pakistan. She said,

"In Pakistan, there is no market. There's just a bunch of heavy hitters that are all male."

Even Iram Parveen Bilal, another Pakistani filmmaker thinks the domestic market in Pakistan is picky and mainly receives movies with a well-known cast.

The aforementioned female filmmaker's comments highlight the requirement for much needed resources for the film industry, especially for women. Female filmmakers should rightfully be provided with a platform in Pakistan, rather than losing them to other countries.

Among the Believers is another example of how female filmmakers can break barriers through poignant documentaries. Its producer and co-director, Hemal Trivedi, an Indian woman, reached out to Pakistan's Naqvi, and eventually they decided to 'separate the wheat from the chaff'.

Together, the director duo filmed exclusive interviews inside the otherwise fenced Lal Masjid in Islamabad. The documentary takes viewers inside the Machiavellian mind of the mosque's chief cleric, Abdul Aziz Ghazi, who quite audaciously, vows to wage a holy war against the Pakistani state.

Undeniably, it is this "jaw-dropping access" and "chills-to-the-bone" storytelling that makes these real-life movies worthy of laurels and accolades.

Instead of having a fresh line-up of female filmmakers following in the footsteps of Chinoy, Trivedi, Dadabhoy and Bilal, the ratio of movies directed by women has declined significantly in Pakistan since 2013.

In a recent article published on the Huffington Post, film journalist Adnan Murad writes,

"The percentage of releases by women filmmakers had dropped by 7% over the course of four years. Two out of eight films were directed by women in 2013. However, there were only four films, out of 26, directed by women in 2016."

In fact, it got worse in 2017. Out of the seven films released so far in 2017, all films have been directed by men. This is a worrying trend."

This surely is an upsetting trend and we must adopt an inclusive approach that gets more female videographers and journalists involved in documentary filmmaking. Or else, original feminist torchbearers may eventually sink into oblivion.