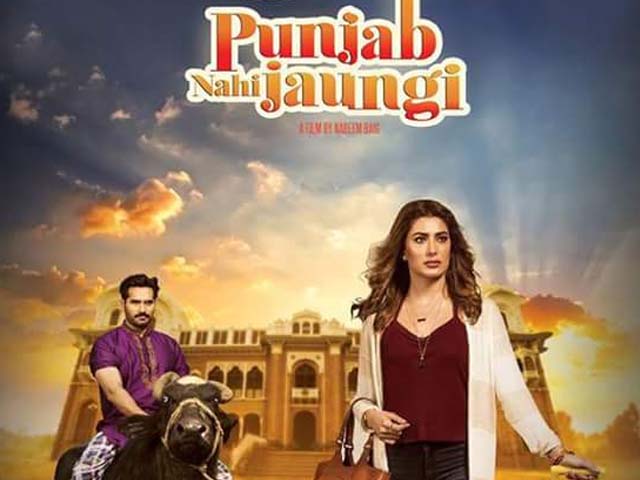 ---
Punjab Nahi Jaungi will make you feel the pangs of a love story and the pleasures of a romantic comedy
Nadeem Beyg has delivered on his promise once again as his second film is smoother and purer. But there's one flaw...
---
News of the recently released Punjab Nahi Jaungi instantly caused an equal and opposite reaction in my mind – I will not go to watch it.

Why, you ask? Well, here are four formidable reasons answering your question:

1.The first reason was perhaps due to the very actor-producer Humayun Saeed who, in my personal opinion, did not qualify to be the silver screen 'hero'.

2. The second reason being that Punjab Nahi Jaungi's early poster was unveiled about two months prior to the movie's release. It was not only in bad taste but also smelled of rotten romantic comedies.

https://www.instagram.com/p/BWIwZJ2A3XW/

3.The third reason was the movie's release date, that is Eidul Azha. Although lucrative for producers, catching a show on Eid is almost impossible given the limited number of movie theatres in the country. I got a ticket for the third day of Eid after a number of failed attempts. The fact that getting tickets is such a struggle causes higher expectations from the audience and thus, makes the director liable to deliver a good product.

4.Khalilur Rehman Qamar definitely makes the cut for this list. Although he is a master storyteller who is critically acclaimed for his dialogue and realistic love stories, hails from Punjab, and half of his stories and characters are set in the rural areas of the country, this movie just did not appeal to me. By default, it seemed to reinforce, if not repeat, his earlier motifs and story threads. So I had decided, mein Punjab dekhne nahi jaunga! (I will not go to watch Punjab).

By and by, all my preconceived notions turned out to be ill-conceived notions.

The film started to attract serious attention with the release of its first trailer.


Now, there is a general rule of thumb that guides cynical critics like myself – 'do not judge a movie by its poster', and 'always judge a movie by its trailer'. Frankly speaking, it was the trailer of Punjab Nahi Jaungi that got me and many other disbelievers hooked. That single movie commercial even made the press change its mind.

Without spoiling the story for you, I will only hint at the controlling idea. It involves a pure-hearted feudal husband and a foreign-qualified wife who walks out on him and vows never to return to Punjab for some very strong emotional reasons.

Punjab Nahi Jaugi is a borderline love story and romantic comedy; it makes you feel the pangs of a love story and the pleasures of a romantic comedy.




Nadeem Beyg, the director of Pakistan's highest grossing film Jawani Phir Nahi Ani, has delivered on his promise once again. His second film is even smoother, cleaner and purer in the form of family entertainment. His work informs us of his unpretentious storytelling style as well as an understanding of his intended audience.

There's no denying the fact that Beyg is the real auteur of Punjab Nahi Jaungi, but this essentially is a Khalilur Rehman Qamar film. What sets this screenwriter apart from most of Pakistan's storytellers is the fact that he does not indulge in moralising, hence, there is no forced message to this movie. There are, however, some fundamental themes that this movie touches upon gently – love, temptation, worship, infidelity, penance, sacrifice and surrender.




The story is essentially matriarchal in structure. Beebo, the grandmother, is powerfully played by Naveed Shahzad and she is the ultimate authority. Amal, the female lead, is beautifully played by Mehwish Hayat. She is the second most authoritative character in the story who ultimately weakens the leading men's position in the pecking order, and pitches in a large chunk of the comedy.




Amal is a strong-willed woman who wants the whole world to kneel before her. She lives for testing the limits of those who confess their love for her, but she never thinks of proving her own love for others. Amal is fundamentally flawed, finicky and two-dimensional, if not evenly flat. Her character does not undergo much transformation and her arc remains almost linear up until the end. This, however, does not lessen the on-screen presence of Hayat, and on the contrary, she lightens up every scene that she appears in. In fact, Hayat is one of the few actors who has rightfully earned herself the title of a movie star.

Amal's lover is effortlessly played by Humayun Saeed who not only looks the part but also strikes all the right chords at the right time. What comes off as a pleasant surprise is the fact that the actor's Punjabi accent is neither phony nor forced. As a result, the audience can relate to Saeed's character, Fawad Khagga.




Technically speaking, the film's production design is superlative. Shani Arshad's melodies are at par with Bollywood, Anika Shah's foley is realistic and Aravind Vijayakumar's sound design is rock solid.

Suleman Razzaq's rich cinematography makes most of the picture look spectacular, especially the exterior shots of the lush green Punjab, the Khaggas's magnificent Haveli and the party pool sides. Some interior shots, however, seem to lack depth as the characters appear too crammed inside the living rooms.




Editorially speaking, is branding a boon or bane for films? Undoubtedly, a bane for both the brand and the bandmaster. There are at least four audio-visual references to a leading bank and a multinational burger chain that were not only forced but in bad taste. Product placement, if not subtle, tends to break the 'fourth wall' and the 'suspension of disbelief'.

It is for this same reason that the movie falls short of being great.

This movie would be unthinkable without the perspective of Qamar and unimaginable without Saeed and Hayat in the lead roles. Naveen Shahzad, Sohail Ahmed, Urwa Hocane and Ahmed Butt are just as impressive as the major support. If someone asked me if I'd watch Punjab Nahi Jaungi the second time, I would say, definitely.