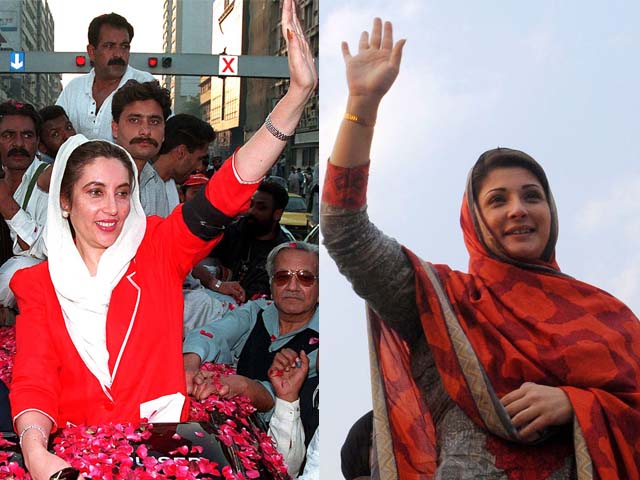 ---
No, Maryam Nawaz can never emulate Benazir Bhutto or her political legacy
Maryam was handed governance on a gold platter whereas Benazir fought tooth and nail with Zia to restore democracy.
---
Amidst the uproar of the joint investigation team (JIT) findings over the Panama Leaks case, some people began comparing Maryam Nawaz Sharif to Benazir Bhutto. Personally, I was taken aback by such a comparison because Maryam may be the rising star of Pakistani politics but it is too early to compare her to a political icon like Benazir.

Efforts made by Fatima Jinnah and Benazir for establishing democracy in Pakistan are unmatched in the annals of Pakistani politics. Fatima, due to her deteriorating health, was unable to fight the vultures that conspired against democracy. However, Benazir was able to fight the dictators of her time and was able to restore democracy in Pakistan, which is an admirable feat.

Maryam is fortunate enough to have gotten the opportunity to partake in the country's governance on a gold platter. Many do not receive such chances. On the other hand, Benazir fought tooth and nail with General Ziaul Haq for the restoration of democracy in Pakistan.

Zulfikar Ali Bhutto had two sons and two daughters, but amongst his four children, he was able to see that Benazir stood out and could gain a strong foothold in Pakistani politics. It is for this reason that he started her political grooming and also took her to India for the signing of the Simla Agreement.

The Bhutto family sacrificed a lot for the sake of democracy. Bhutto was hanged, Benazir and her mother were beaten at numerous protests during the martial law period in the 70s and Murtaza Bhutto was killed mysteriously. Theirs is a family that suffered but they endured their suffering as well. Benazir handled everything gracefully and never used a word of foul language against the perpetrators of these incidents.

Benazir started her political career when she was barely 25-years-old. At that age, Maryam could not have even imagined putting herself through the uncertain politics of Pakistan.

Nawaz Sharif left the country along with his family after he was exiled for 10 years, but Maryam did not call her father out on his poor decisions. Even today, she does not have the courage to apologise to the nation for the wrongdoings of her and her father.

People argue that Benazir entered into a sorry excuse of an agreement called the National Reconciliation Ordinance (NRO) with former president Pervez Musharraf, which also raised questions about her credibility. But this was done in order to favour all the political parties of Pakistan. Furthermore, the main purpose of the NRO agreement was to make a comeback in active Pakistani politics. It was Benazir who allowed Nawaz and his family to return to Pakistan before their exile's tenure was completed.

Although Zia was still ruling the country in 1986, Benazir took one of the bravest steps of her political career by returning to the country during his tenure. The reception she received in Karachi and Lahore upon her return from exile definitely sent a powerful message across to the people sitting in the corridors of power. Those were the days when we had only one TV channel and a handful of newspapers that were also under strict censorship of the government. It was through word of mouth that people got to know about Benazir's arrival.

I was also a witness to her memorable arrival in Karachi, and the excitement we saw in the eyes of the common man was something that is hard to find even today. People were so mesmerised and charmed by Benazir that they used to watch her welcome video on their VCR repeatedly.

Political analysts of that era believe that allowing Benazir to return to Pakistan was the first nail in the long-standing dictatorial rule of Zia. Benazir, through her solitary efforts, became the first female prime minister of a Muslim country and also the youngest prime minister of an Asian country.

Benazir's martyrdom was and still is a great loss for Pakistan's politics. She is irreplaceable and the void left behind due to her shocking death is nearly impossible to fill. Even after an approximate period of 10 years, cronies of the Pakistan Peoples Party (PPP) are running the party under her name while supporters continue to support the party, which just goes to show the strength of Benazir.

Sometimes I do admire Maryam for trying to follow in Benazir's footsteps, but in actuality, she needs to step out from under her father's shadow. She needs to show the masses that she is someone who is capable of replacing Benazir. Maryam and her supporters declared her summon to the JIT panel as an insult to women and some even went to the extent of saying,

"JIT ne chadar aur char deewari ka taqudus pamal kiya hai."

(The JIT has marred the piety of women.)

These very same people do not realise that Benazir was summoned to Pakistani courts on various occasions during the Pakistan Muslim League-Nawaz (PML-N)'s tenure in the 90s.

In my view, up until a few years ago, even the Sharif family did not consider Maryam as a capable politician. This is the reason why she was not elected in the national or provincial assembly. However, Maryam does deserve some credit for the amount of effort she puts in towards improving the PML-N's image. By doing so, she provides the Sharif family with another alternate, who up till now had considered Hamza Shahbaz as the sole torch bearer of the family's political throne.

Maryam covers her head and waves to the public in a style akin to that of Benazir. It is a fitting tribute to Benazir that the daughter of her fiercest political rival is following in her footsteps to reign in the public's acceptance.

Maryam is slowly and surely climbing the various ladders of political success. But in my view, she has a long road ahead in perfecting and emulating the political legacy left behind by Benazir.