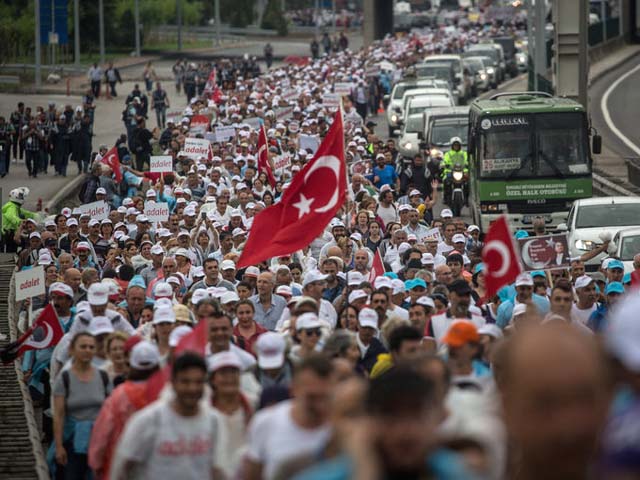 ---
Is Kemal Kilicdaroglu's Justice March a tacit reminder and refractory reaction to last year's attempted coup?
Turks are asking themselves whether averting the coup was a good idea. After all, who picks their poison so easily?
---
The streets of Ankara still reek of punctured patriotism and vehemence. Today, Turkey finds itself stumbling upon an all too vivid memory of the July 15th coup attempt that marks a momentous yet troubled first anniversary.

Observing the aftermath of last year's events, it is still not safe to say whether the new chapter opened up by the coup will be as promising as it was perceived to be from atop a vanquished military tank.

And now, with wounds barely healed, Turkey finds itself hurled into yet another political endeavour. Thousands of restless citizens are taking to the streets behind the opposition leader, Kemal Kilicdaroglu, to embark on a Justice March from Ankara to Istanbul.

The dynamic opposition leader may only be doing his job, namely amassing ranks against President Recep Tayyip Erdogan, so no stirring as such there. However, upon scrutiny, one might see something vaguely familiar in the large host trooping behind him. They happen to be the very same Turks who threw themselves under tanks and vanquished an overnight military fashioned mutiny that kept a scrambling Erdogan from vacating his authority.

While the world gawked incredulously at the triumph of democracy over near military dictatorship, little did they know that it was not the people's fidelity to Erdogan and a desire to keep him in power that had driven them to the streets. In fact, it was a hurried pick between two poisons, of which Erdogan happened to be the lesser.

Now with the coup out of the way, Kilicdaroglu deemed the scenario auspicious enough to brace himself for a 450-kilometre demonstration, which coincidentally happens to be reaching its climax amidst a volatile atmosphere. The leader of Turkey's main secular party said,

"We walk for Turkey in which beliefs, ethnicity and lifestyle do not become a reason for discrimination and punishment."

As the Justice March progresses, many reverberations become discernible. We have established that the Justice March is serving as a tacit reminder and refractory reaction to the attempted coup.

On one hand, Kilicdaroglu seems to have hit the nail on the head by surrounding Erdogan with a set of unsavoury choices. He can either continue to allow the people to flood the streets, marring the remaining repute he has managed to cling on to, or he can resort to force, a preference he has made multiple times before. Either way, he will be playing to his opponent's strengths.

Then again, Turkey's increasingly authoritarian and powerful state head can't have been wallowing around in indecision all this time. Quite possibly, his taciturnity could not be implying concession but an identification of opportunity among the turbulence.

With half the world harping on about his undemocratic and rigid stranglehold on the country, Erdogan can easily sit back and allow the demonstrators to protest just as they would in the ideal democratic state, fueling the illusion that Turkey is functioning along egalitarian principles. So to keep the pretence going, he may just have to grit his teeth and keep himself from incarcerating Kilicdaroglu, a difficult enough task for him.

Unsurprisingly, democracy in its unsullied and transparent manifestation has become a waning ideology.

With internet censorship on the rise, raids on newspaper offices, harassment and the imprisonment of 146 journalists in 2016 alone, Erdogan is seen launching an offensive against branches of the Turkish media. Tensions in the region, exacerbated by unrest in Syria and the Kurdish populace were further heightened after the coup. Journalists had to suffer the brunt of allegations of backing the Fethullah Terrorist Organisation and intentionally covering the Kurdish separatist cause.

Many Turks may now be asking themselves whether averting the coup was even a good idea. The way they probably see it is that military dictatorship would have shared innumerable similarities to the leader they preferred over it. What a shame, but then again, it could be guilt that drove Kilicdaroglu and the masses to Istanbul, guilt coupled with the decision to make the most of an opportunity. This interesting blend would definitely not have endured if not for past events.

The people of Turkey truly are a unique lot. After all, who picks their poison so easily? It is still not safe to say whether they are marching towards long sought relief from political pandemonium or just to Istanbul and back.