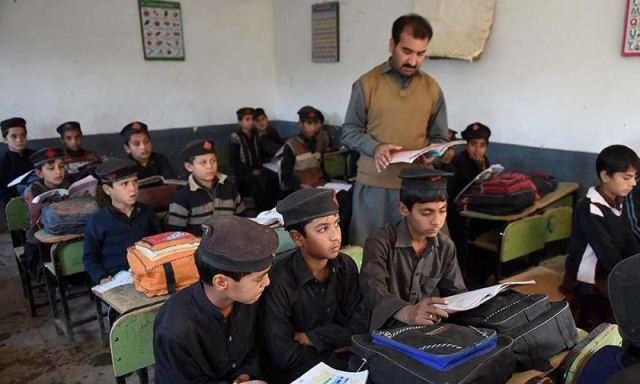 ---
The fault in K-P's education system cannot be attributed only to PTI
How can people blame the PTI government for faults that existed before their tenure? Aren't they doing enough already?
---
The Pakistan Tehreek-e-Insaf (PTI) has been witnessing a successful stint in Khyber Pakhtunkhwa (K-P) and it went on to claim that the education sector in K-P has improved greatly under their tenure as well.

I concur with the previous statement since it is evident that people in K-P have begun to trust public sector schools more, so much so that the K-P Minister also admitted his child into one of these government-run public schools.

Education remains the top most priority of all governments, specifically since 9/11. This is because the Pakistani government and international forces realised that the root cause of militancy in this particular region could be due to the lack of basic education. Numerous international organisations had started funding educational sectors and improvements are evident.

During the Muttahida Majlis-e-Amal's (MMA) tenure, more than 78 colleges were established under the public education sector for both males and females. Books were made available free of cost and scholarships were awarded to female students in order to motivate and encourage them to go to school.

Furthermore, during the Awami National Party's (ANP) tenure, more than eight universities, medical and engineering colleges were established in the public education sector. But the improvements and additions didn't stop there.

The present PTI government has managed to reconstruct all the educational institutions that had been damaged due to militancy campaigns. Moreover, they have also tried to overcome the man power deficiency issue by employing thousands of teachers.

The PTI government went on to rectify more issues and established computer and science labs, which aided students greatly. Due to the on-going load shedding issue, the PTI government also decided to run these schools on solar energy – a smart move indeed.

Teachers' constant absences was a matter that plagued the smooth functioning of schools, therefore, in order to keep a check on the teachers' attendance and other necessary requirements, they introduced independent monitoring units in public sector schools. Thus, when one says that today's schools are better off than the previous ones, it is clearly justified.

Recently, the secondary school results were announced by all eight educational boards of K-P and despite the great performances, some public sector schools did not manage to gain top positions in the board results. Due to this, many people started questioning the PTI government's competency.

Everyone seems to be criticising the PTI government. But criticism should only be offered if one has a solution in mind, which in this case, they do not. These detractors claim that PTI has failed to deliver quality education, and education has always been one of PTI's main aspects in terms of improvement.

Personally, I have issues with such baseless allegations.

How can we judge the entire system through one single result, especially when people are well aware of the faulty examination system in our country. Unfortunately, an intelligent and hardworking student is usually overshadowed by a dull student who may have had an opportunity to cheat.

Our exam paper preparation, conduction of examinations and checking of papers does not match the modern day examination systems. A student obtaining higher marks in our current system signifies their brightness, and those who fail are simply not capable.

The incompetency of this system is exposed in the K-P Educational Testing and Evaluation Agency (ETEA) and National Testing Service (NTS) that are conducted for the admission process for professional colleges. Most of the time, candidates who score higher marks in the initial tests end up failing later onward, and the ones with lower marks gain admission on the basis of their potential. How then, can people blame the PTI government for faults that existed way before their tenure? Are they not doing enough already?

Nowadays, our education system can be seen heading towards privatisation. The top K-P government office holders, from both PTI and Jamat-e-Islami (JI), have opened their own educational institutes. Present results illustrate that students from these educational institutes have gained top positions in board results, which is proof that these office holders are clearly more interested in the functioning of their own schools, rather than that of the government schools. Not only are they interested in promoting their own schools, they are backing private school associations against adopting government regulations, which is quite a pity.

Even though the PTI government has adopted wonderful initiatives to improve the educational system, unfortunately, factors such as the one mentioned before, prove to be an impediment towards holistic progress.

Having said that, we can't place the entire onus on just the PTI government, we have to delve deeper into the issues at hand.

Here, I would like to point out the difference between students and the administration of public and private schools in urban and rural areas.

It is a fact that public sector schools have a teaching staff that is more qualified than the staff in private schools. The teaching faculty in private schools has no other responsibility other than teaching, while government school teachers are supposed to be the jack of all trades.

They have to vaccinate children during polio campaigns, collect census data, perform election duties during local government and general elections, and carry out all examination duties from lower to middle school levels. Apart from these duties, they are on call from district administrations for any kind of duty in case of an emergency. How is this fair to these teachers?

Lastly, one of the starkest contrasts is the differences in class and income. Students receiving an education in public sector schools usually hail from impoverished backgrounds, whereas those attending private schools hail from middle and upper-class backgrounds. The more unfortunate ones lack even the basic funds to buy stationary, while most have no funds to use public transport in order to travel to school, especially in rural areas.

I have personally interviewed various public sector school students who are also employed as daily workers during or after school, as they are the sole bread winners of their families. Due to this, many leave their education during middle school because the pressure at home becomes too intense.

There are numerous parents who advice their children not to attend school by telling them that children from poverty-stricken backgrounds have no future in education or a fair chance in the job market since employment is not based on merit – a fact which we all know to be true.

Therefore, the fault in K-P's education system cannot just be attributed to the PTI; it is a flaw which has existed from time immemorial. We cannot expect the PTI government to perform miracles in their five-year tenure; there has to be a consistent effort on behalf of whichever government is in power. Only then will we be able to get rid of these evils that plague our education system.