 ---
Same Shaan and same Waar-like plot, so what's new, Yalghaar?
While both movies do have a similar storyline, Yalghaar, unfortunately, remains a step behind.
---
The much awaited 
Yalghaar
 is based on the true story of Pakistan Army's Swat Operation in the Piochar region, and is, in a way, dedicated to the bravery and sacrifices of Pakistani soldiers. Hassan Rana, the director, explores what happens in the lives of those involved in the operation
. 
The Lolly production has quite a star-studded cast, such as Shaan Shahid, Humayun Saeed, Bilal Ashraf, Ayesha Omar and Armeena Rana Khan. The list does not end there, as Adnan Siddiqui, Gohar Rasheed, Umair Jaswal, Sikander Rizvi, Ayub Khoso and Sana Bucha also make appearances. It seems as if the director did not want to leave anyone out while directing 
Yalghaar.
The storyline is based around a Special Services Group (SSG) unit which comprises of Colonel Asad (Shaan), Colonel Imran (Adnan Siddiqui), Captain Bilal (Bilal Ashraf) and Captain Umair (Umair Jaswal). This SSG unit sets out on a mission to free their colleague, Colonel Jogezai (Ayub Khoso), who is being held captive by a terrorist, Tor Jan (Humayun Saeed).
The movie does relay a message of patriotism, valour, courage and loyalty, but the irregular storyline progression leaves a bad taste in the audiences' mouth by the end of the movie.
In terms of characterisation and acting, Humayun Saeed's character of Tor Jan could have been more villainous. His physique, hair, and accent did not go well with the depraved character he was trying to portray. Hassan Rana did not bother delving into motives behind Tor Jan's past, which leaves the audience questioning his evil motives throughout the movie. In my opinion, he fell quite short of hitting the mark.
Shaan's performance as Colonel Asad was somewhat similar to his role in Waar. His robust performance was perhaps the only brilliant aspect about the movie. Other actors whose acting is worth mentioning are Sana Bucha, Gohar Rasheed and Ayub Khoso, who delivered their dialogues and scenes with great precision. Their on-screen presence was remarkable.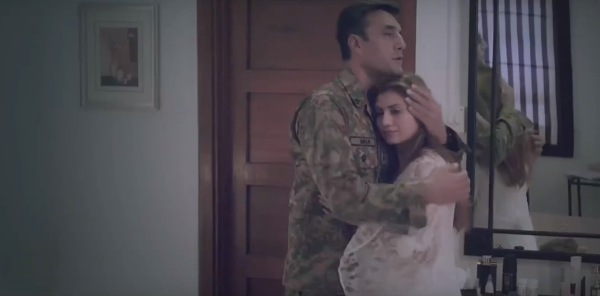 The movie's narrative could have been vastly improved had the director taken into consideration the importance of creating unique camera angles or emphasising on the lead or supporting character's inner journeys. Unfortunately, subplots were not in unison with the main plot, which ended up in quite a confusing mess.
Moreover, the voice overs and the audio-video merger were not up to par, the lighting during the night conflict scenes was terrible; I felt I was watching a plain black screen. It came off as a low budget film since the editing was quite shabby.
Personally, I was looking forward to the action scenes since they looked pretty great in the trailer and fortunately, those lived up to my expectations. The stunts and action scenes were a redeeming factor for the movie. They were exciting, and kept the audience on the edge of their seats.
However, the in-your-face product placement really diverted attention away from the movie, which is a pity, since it was quite difficult focusing on it already. The appearance of a credit card of a renowned bank in Pakistan and the use of its brand name and logo blatantly signifies who the investor of the movie was.
Quite a few people predicted that 
Yalghaar
and 
Waar
 might end up being similar; I thought the same as well. While both movies do have a similar storyline, 

Yalghaar,

 unfortunately, remains a step behind.


Giving credit where credit is due though, the crew did work extremely hard in order to complete this movie. Yalghaar wasn't an easy movie to direct and act in, so hats off to the team for such a great effort.

Yes, there are shortcomings in the movie, but Hassan Rana can learn from this experience as he has the required skills to overcome his inadequacies to direct a more riveting movie next time around.

I'd suggest watching Yalghaar at home, rather than at the cinema.