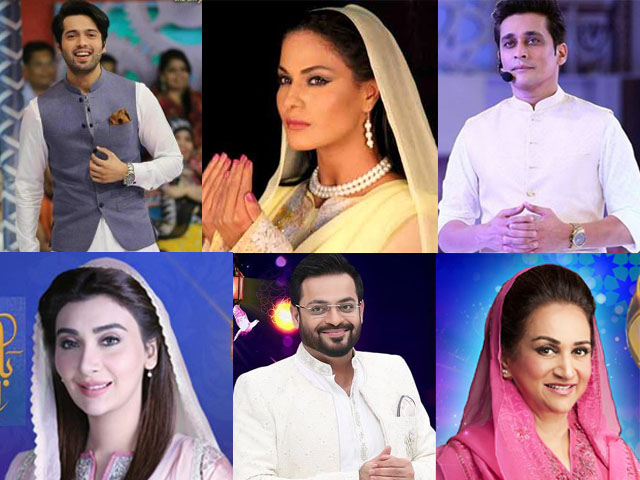 ---
In Ramazan, the piety curtain falls and the ratings go up, but not for Mansha Pasha
Ramazan shows have turned into a marketing ploy which earn millions at the cost of peoples self-respect and identities
---
Aah,
Ramazan.
Shaan-e-Ramazan. Ehtram-e-Ramazan. Naimat-e-Ramazan.
Sounds nice, doesn't it?
Hold your horses. Because in few minutes it will be,
"Moti moti auntiyaan kidhar hain?" 





(Where are all the fat aunties?)





"Aam khaye ga aam?" 





(Do you want to eat mango?)


And my personal most favourite,

"Who are you to question Jinnah?"


Pakistani television shows during Ramazan are complete madness. And anyone who has had the displeasure of watching these shows would agree that each year they try to outdo their own madness and each year they succeed.



From giving away children to planes, Aamir Liaquat is on some kind of unreal dare to prove that shock value generates money. Forget ethics or standards of entertainment, he can use religion and patriotism to pull off any gimmick and his target audience would lap it up. You can't blame the audience. His market is the struggling 9-5 working, 'would gladly jump through an ocean of vermicelli' to get a motorcycle, class.

I don't blame them for doing whatever they can to win a bar of gold. Do you even know what a bar of gold could do for them? It could let them breathe easier for another few months. Do you know what a motorcycle could do for them? It could finally ease their lives because they won't have to take those crowded buses to work every morning, hanging by the rails, running to catch it as it speeds off bus stops. I don't blame this audience at all.

Who is completely to be blamed for this madness are the channels and the networks and the producers and the 'creative' managers who decide what competition is ludicrous enough to create a carnivalesque scene on television. What would drive the audiences into hysterics? A person calmly discussing their deeds in Ramazan, or the sight of two people struggling to get out of a pool of Rooh Afza while tied to each other – just to get that scooter? Hilarious!



The next big bizarre Jekyll-Hyde transformations that happen on television are the celebrities that take up a garb of piety. We all remember how Veena Malik wanted to do astaghfar with us. Now I don't have a problem with anyone taking their deen (religion) along with dunya (world) because both of these things can and should exist in a continuum, but some of these people just overdo the whole piety angle. Especially since this 'piety' has nothing to do with actually doing good to or for people, rather it's, like everything else, about selling their products. It's about raking in the numbers. Who cares if they're almost entirely built upon fooling people into thinking this is actual 'entertainment'?


What's great is that there are people from this industry who are vocal about their disdain for this madness. Mansha Pasha, who starred in Chalay Thay Saath and gained critical acclaim for her performance, talked about this recently in an interview where she states that many artists exploit the month of Ramazan just for the sake of garnering ratings, but she does not agree with this practise.

"I have gotten a lot of offers to be part of Ramazan shows and make guest appearances but I didn't do them because I don't agree with this ideology. There are so many question marks in this entire thing. Honestly, it seems as though Ramazan has nothing to do with religion anymore."

I couldn't help agreeing with her stance.

Pasha goes on to make another important point about how the weak woman is considered the heroine in Pakistani dramas. There is a consistent lack of strong female protagonists in Pakistani dramas which has often been lamented by many commentators such as myself.

However, mainstream actresses rarely come out to condemn this practice. Considering that this industry isn't kind to outspoken, individualistic opinions, even less so when it comes from a woman, it is quite brave of Pasha to talk about these hypocrisies of our mainstream actors, actresses and other celebrities. Perhaps if more influential people spoke out against these silly practices, someone would start taking notice. The audiences would start getting the idea that hey, we're better than this. We're all better than this.


Ramazan is not just a month for gluttony and TV shows, it is a month where we're all supposed to be a little more tolerant than the rest of the year. Fasting is supposed to teach us restraint, compassion for those who are less fortunate than us, and help us appreciate the things we already have in our lives. What these shows do is completely in the opposite direction of what the actual spirit of Ramazan is.

What these shows do instead is turn Ramazan into a gaming opportunity and a marketing ploy. The shows and the media houses earn millions at the cost of the self-respect and identities of so many Pakistanis. This is also lazy and uncreative. Surely, production and media houses can find ways to entertain people without resorting to these tactics. Surely, there is a way to attract numbers and make commercial sense without selling someone's self-respect.


It is my hope, like Pasha's, that in the future, someone somewhere can rethink this whole structure of creating circuses in the name of piety and goodwill. I hope we can do more charity in Ramazan shows (it's better to flaunt about helping people rather than shoving them in a tub of colourful water anyway). We need more ways to become tolerant and peaceful (the need of the hour, really) and teach each other compassion and empathy for those who are less fortunate than us, instead of using them to make more money for the already rich celebrities.
Facebook Conversations
COMMENTS (1)
Comments are moderated and generally will be posted if they are on-topic and not abusive.
For more information, please see our Comments FAQ