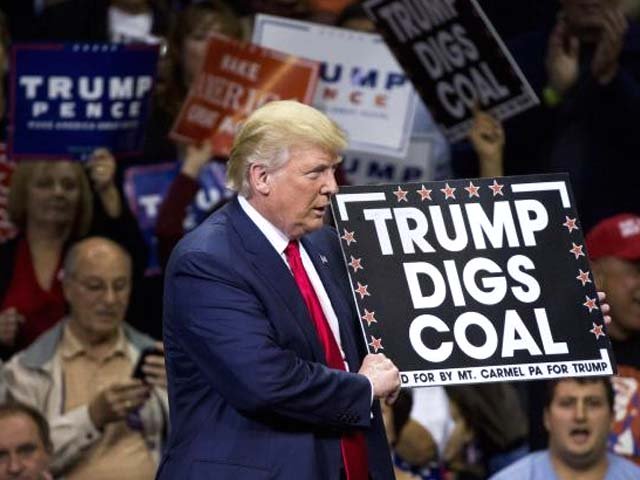 ---
Pulling out of the Paris climate agreement may be Donald Trump's only success story
Trump's absence may turn out to be a blessing in disguise for not only the US but for the world community as well.
---
In the cold and grey Washington, the news cycle has been eternally hot lately. The fire refuses to simmer down. The breathtaking pace at which events occur makes it tough to keep up with the war of words from the movers and shakers in a town where,
post November 9, 2016,
things have been constantly on the edge.
While it is safe to say that all politicians are born actors and blatant liars, Donald Trump's White House has legitimised the art of lying and given an official seal of approval to "alternative facts" – a term that essentially masks any untrue statement of facts and spins arguments in the narrator's favour without a definitive basis or a reasonable backing of rationality.
Trump's tweets and misstatements were an effective tool during the ghastly election campaign he ran last year. This holds true even today as his unbridled outbursts – regarded as "official statements" by his surrogates – continue to dominate the political atmosphere, keeping the public guessing about the direction this country is headed to.
Trump-bashing aside, much to the dismay and anger of the US allies, the president recently decided to abandon the landmark 2015 global agreement to fight climate change, otherwise known as the Paris climate agreement. The decision has sparked criticism both at home and abroad.
Trump is a climate change denier. He believes that the climate change phenomenon is a "hoax", a Chinese myth meant to take away US jobs.
Trump's cronies say that he decided to pull out of the Paris accord because he wanted to fulfill the promise he made to the American people during the election campaign. Some say he just got convinced when he read a bunch of weather reports that made no sense to him in terms of an overwhelming climate change. But then what does make sense to his arrogant mind? Close associates say Trump is his own advisor-in-chief as well as his biggest enemy.
With that said, we may, therefore, never get to know or may simply keep speculating to no end to the reasons why Trump pulled us out of the Paris accord. However, one thing is for sure – by quitting the agreement, the US has joined the inauspicious company of Nicaragua and Syria as countries that are not part of the global pact.
Trump is a disruptor; a media influencer who likes to maintain a colourful persona. Many believe (including yours truly) that Trump pulled out of the climate agreement only because he is hell bent upon destroying all and every trace of Barack Obama's presidency. There was no other ostensible or plausible reason whatsoever for doing what he ended up doing. As an added bonus though, his decision proved to his followers that he's not afraid of defying global elites and that he's passionate about putting America first.
With the US being the second largest emitter of greenhouse gases in the world, its walking away from the Paris agreement signals the first step towards compromising the country's status as a world leader. It doesn't bother Trump though. His hyperactive emotionalism knows no limits.
Trump made a bunch of promises to his poorly educated followers during the campaign, and whenever and wherever he gets an opportunity, he tries to ensure that those crazy ideals are fulfilled. Besides, he may never have any luck pushing the repeal of Obamacare or imposing the Muslim travel ban. Pulling out of the Paris agreement may turn out to be the only success story of his initial presidency days.
While Trump may be marching to the beat of his own drum, there's still some hope and sanity left. Recognising in no certain terms that climate change is indeed not a made in China hoax but an authentic phenomenon, a good number of US businesses and governments have pledged their allegiance to the Paris agreement. These entities have committed to mould their policies (a) in accordance with the spirit of the accord; (b) to continue to make efforts in restricting greenhouse gas emissions, and (c) to come up with innovative ideas that would, in the long run, mitigate if not eliminate the threats posed by climate change.
There have been high profile reservations and protests within the government as well. For instance, Trump's top adviser, his daughter Ivanka Trump kept trying to convince him to stay on. By the same token, the US ambassador to Beijing decided enough is enough and resigned to register his loud and clear protest against Trump's decision. Trump even ignored the holy advice that came from no less than Pope Francis himself.
As is the case with almost every Trump trick, those in the know tell us that pulling out of the climate agreement is itself a mere political statement, a "political message" to be precise. There's no need to lose sleep over the US supposedly not being a part of the climate change regimen anymore. In reality, the US is tied to the treaty until November 5, 2019 and hence Trump's June 1st announcement has no legal basis. Once again, Trump pulled a fast one to appease his gun-toting, ignorant political base.
Political message or not, one of the major effects of the US pulling out of the Paris accord could be opening doors for countries like India and China to take the leadership role. China, despite being the biggest polluter on the world stage, is already making efforts to clean up its mess by investing millions of dollars into renewable energy. Beijing has committed to work with the climate change advocates to help out in a big way.
India, on the other hand, has been quite vociferous in its support to work on the climate change effort ever since Trump accused them of grabbing foreign aid in exchange for being a part of the Paris accord. This only proves that Trump's absence may eventually turn out to be a blessing in disguise for not only the US but for the world community as well in ways never thought of before. His absence will orchestrate different groups and interests working for the betterment of humanity to unify and come together.
Already the French president has urged all concerned to "make our planet great again" – which retorts to Trump's ill-conceived "make America great again". Post recent NATO summit, the German Chancellor, Angela Merkel, declared emphatically that the world must now learn to live without US support – a scathing response to Trump's most undiplomatic behaviour during the course of the summit. The world is all set to rise above Trump's influence.
I hate to say this, but the US disregard for environment, climate change or greenhouse emissions at the governmental level means very little at this point. There is enough awareness in the US as well as the world over about the detrimental impact of climate change. Advocacy groups, NGOs, governments, businesses and even a tiny, poor country like Bhutan are committed to making this world a better place for our future generations. Who cares if a 70-year-old, hate-mongering, racist bigot occupying the White House is ranting, especially when his "decision" really wouldn't change anything? He's just desperate for his popularity ratings.
The only point though is that by behaving the way he is in the international arena, Trump is depriving the US of an opportunity to network and build relationships that are truly beneficial for the overall well-being of nations. Countries mingle and work together to build solid partnerships. In these days of rampant chaos, there's nothing better than joining hands and forging alliances for socio-economic and political improvement.
With all due respect, Trump can learn a thing or two from his European counterparts including Mayor Sadiq Khan who has shown impeccable leadership skills in handling crisis after crisis in his beleaguered city. Talk of hope, patience and perseverance will work. Hatred is the last refuge of the weak-minded.
If America has to survive, just survive and not thrive in the comity of nations, Trump will have to overcome his menopausal tendencies, curb his enthusiasm, run his mouth appreciably less, listen more, and stop acting like someone who has lost his marbles. His ranting and reckless decision-making is rupturing the very fabric of America and we can ill-afford this luxury at this critical time of our history. The world is going through a rough patch. We need belief in humanity to unite us.
Someone somewhere must whisper in Trump's ear that he should try to be a part of the solution rather than an add-on to a long list of problems. Perhaps then he'll stop denying the obvious and realise that the concept of climate change is not a witch-hunt against America.
At least one can hope!