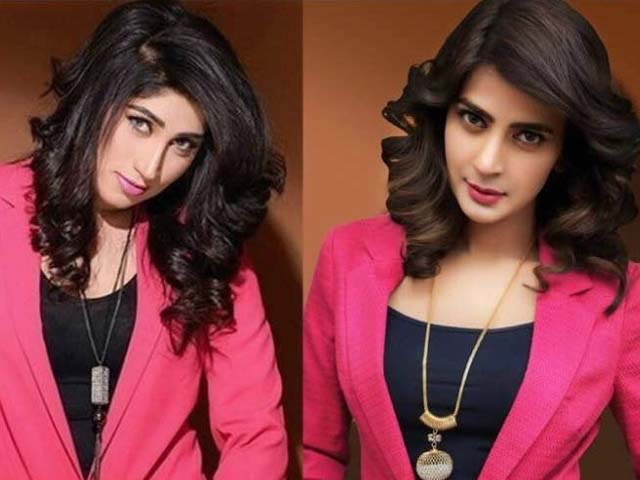 ---
Why Qandeel Baloch's biopic is important for today's Pakistan
Her murder brought to light the discussion we were too ashamed to have and raised questions which we were avoiding.
---
Qandeel Baloch's biopic has once again brought her right back into our lives. The uneasiness and discomfort has started unsettling us once again. Even her story has the power to keep us on edge and make us start talking again. The debate is rife, whether the story should be told or not and you don't need to guess where the most votes lie. The anticipation around this project is brimming with many questions.

Yesterday, I happened to watch a chunk of the show Popcorn on Express TV. The discussion was the routine banter, and questioned whether the biopic is an attempt to capitalise on Qandeel's death and mint money on an Eid transmission. More questions arose – how would the story be treated? Would she be celebrated, presented as a victim or a lesson to learn? Only time will tell, but the basic question remains the same as it was during her life – does she deserve this attention? Should her story be told?

There's criticism that there are many honour killings every year in our country but none of them get the media space and attention that Qandeel did. Honour killing, like war crime, climate change and many other issues, has become an abstract idea for us. Our sensibilities have become immune to the idea honour killing. It is just one of those evils which we condemn as a passing reference but even our words have become trite. We know very little about most of the honour killing victims and whatever we know comes from matter of the fact sources like the news, crime shows and some documentaries. The identity of the victims is kept secret due to the well-being of the families and other legal constraints. But this time, the victim had a name and a face and that too an extremely famous one.

The murder brought to light the discussion we were too ashamed to have and raised disturbing questions which we were averting our eyes from. Does honour give the license to kill someone?

In order to feel the pain and suffering of the victims, we must know their stories. We have to see them as real and tangible human beings with flaws and strengths like us; they are not just abstract ideas. We have to experience their lives, no matter how unnerving it is. And that is the precise reason why this biopic is important.

Biopics have far more artistic freedom than documentaries. Thus, they can tell the stories that we have tried so hard to shove under the carpet. Since the making of biopics is a popular art form, the message will be received on a larger scale, thus the story will be experienced and discussed by the viewers. It will also give the viewers a chance to see a more human side of Qandeel; the side that the mainstream media bulldozed into another stereotype.

Another great thing about the project is Saba Qamar. It takes herculean courage to take up a controversial character to perform in our society. It might even invite unpleasant attention and criticism towards her and that too at the time when her Bollywood movie is about to be released. Kudos to her for this brave choice and for bringing strength and credibility to Qandeel's story. Her Instagram post also praised Qandeel in the following words:

"She had the courage to expose how two-faced people could be."

https://www.instagram.com/p/BTv91_WB5Fy/



The promo picture of the biopic shared by her has been carefully titled "We don't want to glorify her nor do we want her to look pitiful. She was a victim of honour killing".  The careful choice of words is quite understandable considering the controversial views about Qandeel's career. The focus should rightfully be on basic human rights violations rather than controversies.




Apparently, Umera Ahmed is supervising the project and if this is true, it will be a great advantage for the project. For Ahmed, it will be a break away from her usual subjects and as far as I can see, it will definitely be interesting to watch.




We hope the biopic will give a human face to the evils of honour killings.