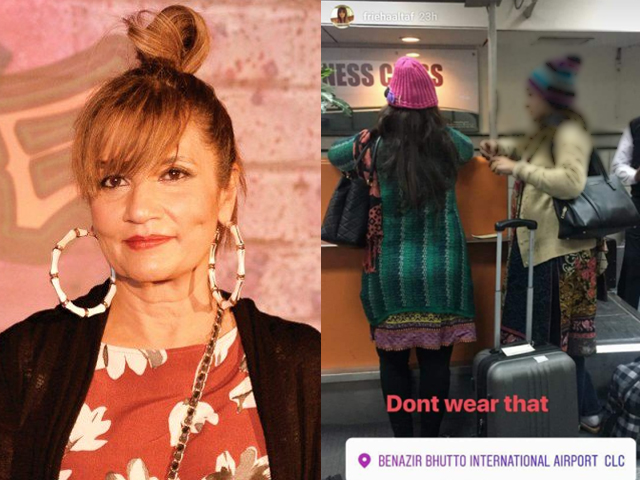 ---
Frieha Altaf may be a celebrity but that does not mean she has the right to shame and share other people's choices
Who gave her the right to criticise what people wear at the airport? This is Pakistan, not Beverly Hills.
---
Sitting in a packed waiting room of a prominent doctor's clinic, I could not help noticing a middle-aged man fiddling with his phone. In a room clouded with uneasy murmurs of a long wait, he seemed at ease. The disturbing thought that he might be filming something – one of us perhaps – made me anxious. Only after I managed to sneak a peek at his cell phone screen could l let out a sigh of relief, after finding him entertaining himself with music videos.
The realisation is powerful – the power of having a camera in your hand at all times, along with the ability to share its content immediately, has radically transformed the society we are living in. The subtle lines of consent and basic decency have long been trampled upon, as there have more than a few instances of late where unsettling behaviour has been shared with the public, usually via Snapchat. In most cases, the person filming, with the intention of embarrassing other people, usually ends up exposing their own mindset and embarrassing themselves.
For instance, the model turned marketing guru, Frieha Altaf, recently came under fire for posting some distasteful pictures of passengers at the airport, questioning and mocking their sense of style and fashion. Needless to say, taking someone's pictures without their consent and knowledge, and then sharing it with innumerable people online with the intention to embarrass them, is definitely not okay.
Moreover, who died and made Altaf the fashion police? Who gave her the right to criticise what people are wearing at the airport, as they put comfort over aesthetics, bracing themselves for hours of travel? This is Pakistan, not Beverly Hills, and just because someone is from the "fashion industry", doesn't justify passing judgment and then sharing it with their thousands of followers.
So a mom with a kid was walking to board her flight when Miss @FriehaAltaf decided to shoot her with a comment "Its been a longtime since we saw someone with a waistcoat except a qawwal" and posted it as her Insta story. Who the hell are you miss? Fashion ki paighamber? ..cont pic.twitter.com/t18t6iVUIj

— Quarantina Kaif (@sanarites) February 5, 2018
How about some basic decency code miss @FriehaAltaf ? That's waaayyy more important than dress code. https://t.co/kmyXcNOE7o

— Hassan Cheema (@Gotoxytop1) February 5, 2018


Even though Altaf later apologised for hurting people's sentiments after receiving much backlash, it is more disappointing to see this sort of shameful behaviour from an educated celebrity, someone who is supposedly well versed in basic ethics.


Hello everyone. Im sorry if i have inadvertently hurt anyones https://t.co/BdCwfA1tjq was not my https://t.co/dWUskrniwP fashion we comment on clothes all the time and ive never had such an adverse reaction.Ppl take pics of me all the time put on social media n commented on them.

— Frieha Altaf (@FriehaAltaf) February 6, 2018
I did not mean to hurt anyone's feelings i apologise. I met the person we took a selfie together so i wasnt invading anyones privacy. Hope this clarifies my position. Love to all of you. Frieha

— Frieha Altaf (@FriehaAltaf) February 6, 2018


This, however, does not read like an apology, but rather, a justification of her behaviour. Altaf's statement seems more like an attempt to pacify a media storm, since this is the first time she's received such an "adverse reaction", but makes no comment on the shameful nature of the behaviour itself. And just because everyone in the fashion industry follows this practice and she is the only one who has done so publicly, two wrongs do not make a right. If everyone is doing something wrong, doesn't mean one joins in as well. Given Altaf's advocacy of various social causes, one expects her to be more sincere in her apology and show a more meaningful realisation of how deeply disturbing and problematic her actions were.

Unfortunately, such cases are not new. A similar case occurred some time ago, when Pakistani actress Hania Aamir posted a 'Snap story' from the plane, filming and mocking a man trying to avoid her camera. She did not stop to consider the vulnerable position she could put someone in by sharing their image on social media, an uncontrollable platform from which things do not tend to disappear.

Celebrities, in particular, should be extremely careful, as their immense fan following makes this non-consensual sharing even more unethical. This incident reminded me of Dani Mathers, a Playboy model who shared a selfie from the gym changing room, which included a naked woman changing in the background. She shared a picture without even blurring the woman's face, and made fun of her body by suggesting she couldn't "unsee" it. This post received immense backlash for the blatant body shaming and invasion of privacy, and the model was officially charged with a misdemeanour.

Apart from such blatant shaming, there is also a new breed of social media warriors filming or photographing people without their consent, coupled with an ignorant sense of self-righteousness. Before waging any war behind your computer screen, you must realise that you are only showing your version of the story to the world. Not only are you violating the basic rules of consent by taking someone's footage, you are also accusing them of a crime in front of the world, without being fully aware of the situation.

For instance, many people nowadays have taken to sharing videos of children with their servants, especially if the child is left alone with a servant in the car. Filming a child and presenting it in the context of your choice is not something one can easily justify. It is important to remember that if one's intention is to help, that can always be done privately and in a much more mature manner than a media stunt.

However, filming people without their consent and sharing it on social media is unfortunately a norm now; just something that people simply do without thinking of the consequences. A while ago, some kids from Lahore went on a field trip to a small town, and ended up sharing pictures of naked children on Snapchat. After all, in a country where our celebrities behave in this manner, what else can we expect from our children, who learn from them?

Nevertheless, checking our behaviour on social media is absolutely necessary, especially in light of the situation and mentality of the citizens of our country. There is now a dangerous trend of inciting a mob over a particular issue and then filming it. A disturbing video surfaced recently, where a police officer was allegedly taking a bribe from a vendor, leading to a mob gathering around him as a young man yelled obscenities at the officer. The mob looked angry, and at any moment could have lost control, all while being filmed.

Have we forgotten that Mashal Khan was also filmed as he was being lynched by a mob? All this makes one question – where do the ethical boundaries of social media begin and end, and who will enforce these boundaries to ensure we can enjoy the benefits of such powerful platforms, while also using it in an ethical and responsible manner?

If Altaf's behaviour should teach us anything, it is that no one should have the authority to judge and shame people publicly, and that it is high time we make it a part of the culture to use our phones and social media in a more responsible manner. As a rule of thumb, before taking someone's picture, ask them for their permission to do so, or at least think twice and consider how you might feel if someone snapped a picture of you, judging your appearance or act and sharing it publically.

Given where humanity stands today, a little consideration will go a long way. So treat others how you want to be treated or seen.

This incident does nothing but shame Frieha Altaf and her mindset.
Facebook Conversations
COMMENTS (7)
Comments are moderated and generally will be posted if they are on-topic and not abusive.
For more information, please see our Comments FAQ