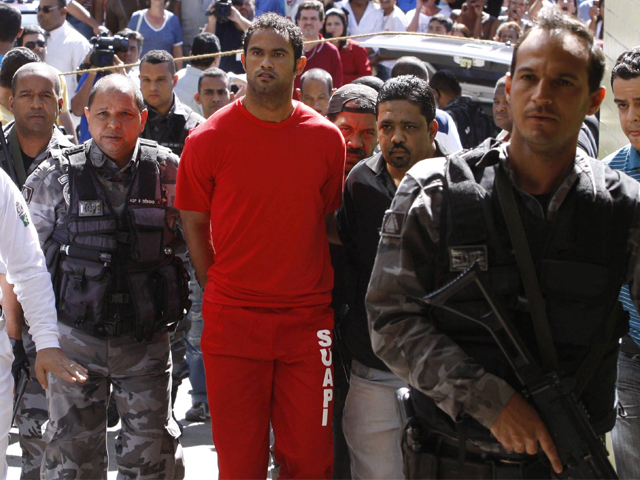 ---
Bruno Fernandes committed murder, why is he being allowed to play football?
The power of club owners is such that to save face they can at times pull institutional strings to reduce sentences.
---
South America thrives on football; it is played on every street and corner, and is watched religiously by the general populace. Similar to European footballers, Brazilian players also have a certain celebrity status and everything they say or do gets publicly scrutinised. From every step they take to every appearance they make, all aspects of their lives are documented by the media.

Having said that, when a professional footballer commits a crime, the blame does not only fall on his shoulders but also the shoulders of his agent, the club he plays for, his publicist and everyone who has in anyway supported or facilitated his career.

As one would expect, a criminal act, no matter how small, can end a public figure's career. Eric Cantona of Manchester United drop-kicked and repeatedly punched a Crystal Palace fan in the middle of a match, for which he was suspended from the team for a while and was subjected to 120 hours of community service. Patrick Kluivert, who is now a Dutch legend, killed a theatre director in a car crash at the age of 19, was charged with manslaughter and was sentenced to 240 hours of community service. Both Kluivert and Cantona were allowed to make up for their wrong doings and went on to gain legendary statuses in the game.


On the other end of the spectrum, we have examples like Nizar Trabelsi. The Tunisian played for Fortuna Dusseldorf in Germany until 2003 when it was proven that he was an al Qaeda collaborator and was plotting to blow himself up at the Kleine Brogel base in Belgium which housed US soldiers. He was imprisoned in Belgium until his extradition to the US where he is being held for conspiring to kill US citizens.

Another example is Adam Johnson of Sunderland. Johnson was on his way to landing a career in the most competitive league in the world, the English Premier League. However, on February 10, 2016, at the start of his trial, Johnson pleaded guilty to "one count of sexual activity with a child and one count of grooming a 15-year-old girl", and was sentenced to six years in prison in a shameful fall from grace.

Bruno Fernandes de Souza is a Brazilian goalkeeper who plied his trade at the top teams that play in the Brazilian first division; goalkeepers tend to have longer careers than players in other positions because of a different requirement of physical fitness for their position. Bruno made great strides early in his career, which earned him interest from one of the best clubs in the world, FC Barcelona. However, in 2010, the already married Bruno faced public confrontation from his mistress, Eliza Samudio who revealed that she was in fact pregnant with his son. The complications of this confrontation came at a time when the prestigious AC Milan inquired about Bruno's services and talent, an inquiry that could have put his name next to football's greatest players to play the game. Determined to not let anything stand in his way, Bruno abducted Samudio, tortured and killed her, and fed parts of her body to a dog.

Pleading guilty to the charges, Bruno was sentenced to 22 years in jail in 2010. However, last month, a judge ordered for his release on a technicality. The goalie had served only six years and seven months, which is less than a third of his original sentence. And within a month of his release, the Brazilian club Boa Esporte has now rewarded Bruno with a contract to bring him back into the game. Understandably infuriated, the people of Brazil, the victim's family and the entire football world in general called for putting the footballer turned murderer back into jail. To which Boa Esporte's president responded by saying,

"He was found guilty, he served his time and he was released by the courts. He deserves another opportunity."

"What happened, happened. I made a mistake, a serious one, but mistakes happen in life. I'm not a bad guy. People tried to bury my dream because of one mistake, but I asked God for forgiveness, so I'm carrying on with my career," said 32-year-old Bruno.

Upon charting out various examples of football players and their crimes, a pattern emerges. Kluivert, Cantona, Nizar, Johnson and now Bruno, have all been excruciatingly under-sentenced. The power of club owners is such that to save face they can at times pull institutional strings to reduce sentences. Although not entirely proven, it goes to show that just because these are prominent football players, who could mean added value to any club they signed for, they have been dealt with more leniency than say a man who isn't a footballer. According to a study in 2015, the murder rate in Brazil stood at 32.4 per 100,000 with 64,357 homicides. So if each case is pardonable at one-third of the sentence, then Brazil has a huge loophole to fill in terms of their laws and statutes.

'My game is fair play' is a FIFA-run program that focuses on principles and morals of not only playing fairly but also to be an upstanding example to everyone who watches the game. Our advice to FIFA: practice what you preach and make an example out of those tarnishing the reputation of the beautiful game. Do the right thing and let justice be served by banishing the cold-blooded murderer from football.
Facebook Conversations
COMMENTS
Comments are moderated and generally will be posted if they are on-topic and not abusive.
For more information, please see our Comments FAQ