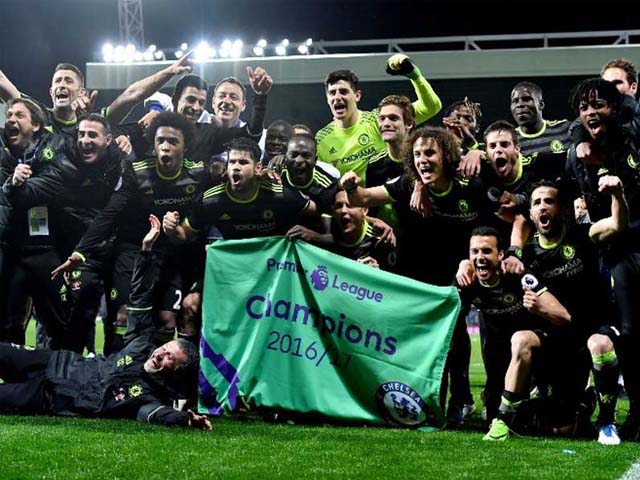 ---
Did Chelsea win the title with little or no fight from their competitors?
If I were a Chelsea fan, which I'm not, this win wouldn't feel right for a number of reasons.
---
On Friday, May 12, 2017, upon beating West Bromwich Albion at the Hawthorns, Chelsea confirmed mathematically that Tottenham Hotspur will not be able to catch up with them, thus confirming their second Premier League title in three years. If I were a Chelsea fan, which I'm not, this win wouldn't feel right for a number of reasons.


This season built a lot of promise; it began with confirmation that six of the best managers in the world would all be plying their trade in the same league for the first time, leaving football fans all over the world salivating over the prospect of fireworks and drama every week for 10 months.

Alas, neither did we witness fireworks, nor was there a lot of drama.

Don't get me wrong, there were a handful of absolute humdingers this season but nothing we haven't seen before. José Mourinho took over at Manchester United and broke the record for the biggest transfer in the history of football by acquiring the services of Paul Pogba, Eric Bailly, superstar cum demi-god Zlatan Ibrahimovic, and the most creative player in Europe the season before, Henrikh Mkhitaryan. In return, we got another campy season by United. Despite winning the English Football League (EFL) Cup and making it to the Europa League final, they are on course to finish at an uninspiring sixth place, watching their season peter out to a myriad of draws to bottom table opposition.




Barcelona legend Pep Guardiola took over at Manchester City, adding the likes of Nolito, Leroy Sané, John Stones, İlkay Gündoğan and Claudio Bravo. Having had an excellent track record of winning the league at both Barcelona and Bayern Munich, Guardiola is on course to finish third, his lowest league position ever, also going without any silverware for the first time in his career, admitting that had he performed this way while managing his previous clubs, he would have been sacked.




Tottenham Hotspur had a brilliant season by their standards, with Mauricio Pochettino continuing his good work with the club, having made calculated signings in Vincent Jansen and Victor Wanyama. This is the last season they play at their legendary, century-old stadium, The White Hart Lane. Tottenham went the entire season unbeaten at home, and for the first time in almost 30 years, they are about to finish the season above their arch-rivals, Arsenal.




Until three weeks ago, they could have realistically won the Premier League title, however, they are on course to end the season without a trophy, a season that has arguably been their best for some time.

Liverpool started the season having given their new manager Jürgen Klopp an entire summer to prepare for the season. Having bought Sadio Mané from Southampton, they started out with a lot of promise, flattering to deceive in the end. They are on their way to finishing the campaign without a trophy, but more or less cementing their place as one of the stronger teams in the top six after being in pole-position to make fourth place.




Arsenal stood out this season for having their worst ever campaign under their manager of 20 years, Arsene Wenger. The Emirates stadium had been a battle ground for the last six months with fans fighting amongst each other over whether Wenger should stay or leave. Having spent roughly £90 million on three big signings, Arsenal were touted to finally win their first Premier League title for over 13 years. As it stands, Arsenal will finish the season at fifth place, leaving the top four for the first time in Wenger's reign. Fans would not care much about the fact that they've made it to the Football Association (FA) Cup final, a third time in four years as most are looking forward to life after Wenger.




The main talking point from this season would be the lack of assistance given to Premier League teams who play in Europe, in either the Champions League or the Europa League. This season, Manchester City, Arsenal, Tottenham Hotspur, Leicester City and United had added fixtures because of their inclusion in European competitions, and it goes without saying that neither of these teams could perform in the league because of the English FA's hesitance in easing the fixture list for them.

Mourinho's United has made it to the Europa league final. They have had to throw games against teams like Arsenal, which is something Mourinho would never have done. He goes on to say,

"I normally have a lot of matches, but like this I never have, I never have ... This is crazy."

Wenger acknowledges the meddling role played by Champions league fixtures during a league campaign and challenges Chelsea by saying,

"There are two kinds. The last two seasons, teams who have not had big possession won the league and, as well, the teams who were not involved in Europe at all won the league. We will see how Chelsea respond next season."

The last time an English club maintained a good run in the Champions League alongside the Premier League was seven years ago when United won the League and finished as runner up in the Champions league. Since then, Spanish and German teams have dominated the Champions League while English teams mull over whether playing on the biggest club stage is even worth the effort.

In a year's time, where we expected to see the most competition, we saw Chelsea take the title with little or no fight from their competitors. English clubs need assistance when it comes to fixture lists and dates, and if their calls are not heeded, we can look forward to one under-whelming season after another, in what used to be the most exciting sporting league in the world.

[poll id="752"]
Facebook Conversations
COMMENTS (1)
Comments are moderated and generally will be posted if they are on-topic and not abusive.
For more information, please see our Comments FAQ