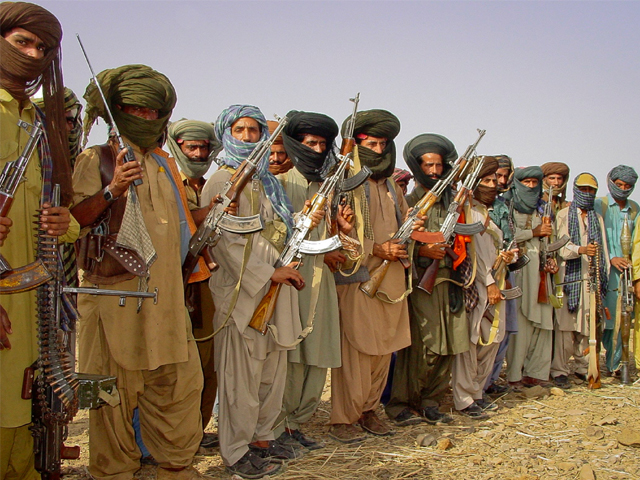 ---
Blaming India everytime for the problems in Balochistan is really not the solution, Pakistan
Surrendering of militants will not help normalise the situation until injustices are admitted and addressed.
---
The media wing of Pakistan's armed forces recently confirmed that at least 20 Baloch insurgents, including a Farrari commander, have surrendered to Pakistan Rangers Punjab. Neither the commander nor the insurgents were identified in the statement issued by the Inter-Services Public Relations (ISPR), nor were any details of the surrender provided. 

The erstwhile insurgents revealed that they were led by the self-exiled president of the Baloch Republican Party (BRP), Nawabzada Brahamdagh Bugti, and were receiving funding from the Indian intelligence agency, Research and Analysis Wing (RAW). Bugti is also accused of leading the Baloch Republican Army (BRA), a banned organisation which claimed responsibility for carrying out deadly attacks on security forces and infrastructural installations such as gas pipelines, power pylons and railway tracks.

This is not the first time Baloch insurgents have surrendered to law enforcement agencies in Pakistan.  Such surrenders were initiated soon after the 2006 military operation that led to the assassination of former chief minister and governor of Balochistan, Nawab Akbar Bugti. Akbar Bugti had never opposed negotiations with the Pakistani government or the army. A couple of days before his assassination, Akbar Bugti said that he was simply defending himself and his people.

 "I am not waging a war against a powerful army; I am acting purely in self-defence," he said.

In response to a question regarding negotiations with the government of then military dictator, General Pervez Musharraf, Akbar Bugti told the reporter,

"They are negotiating with us by dropping bombs and mortar shells."


This recent newscast of insurgents surrendering comes a few weeks after the announcement of operation Raddul Fasaad, a Pakistan Army initiative on the war on terror. This is reminiscent of the announcement of amnesty for Baloch militants which was declared a couple of years earlier. However, despite incentives, the package has failed to yield any significant results or bring peace to the unstable province.

As a citizen of Pakistan, I would like nothing more than to see peace finally come to Balochistan and Pakistan. But we cannot allow ourselves to be fooled by the hollow claims of politicians and law enforcers.

The insurgency in Balochistan may well have witnessed a decline in recent months, but the grievances of the people are still deeply felt and are capable of sparking outbreaks of militancy at any time. And it is not only militants and self-exiled leaders who complain about the prevalent injustice in the province, as mainstream political parties in Pakistan agree that the people of Balochistan are not treated equitably in comparison with Punjab and other provinces. Operations, initiatives and incentives for surrender will never lead to peace unless they are accompanied by practical steps of development for the province of Balochistan, with a promise to provide its people with equal opportunities in education and legislation.

During my long reporting career, I have never encountered a Baloch nationalist, or even a hardliner, who opposed development and mega projects in Balochistan. Their only concern has been and still is whether these projects are really going to improve the wretched socio-economic conditions under which the Baloch people are forced to live in. Although the multibillion-dollar China-Pakistan Economic Corridor (CPEC) is not opposed by any quarter of the province, what the people do want to know are the details of the project and who stands to benefit from it, considering the long list of betrayals by the likes of Saindak Copper, the multi-million Duddar Lead-Zinc project, and repeated incidents of exploitation of the province's natural gas and oil reserves. Considering the ruthlessness of the exploitation by the federal government and Chinese companies, the concerns and grievances are legitimate. Details of CPEC and other projects should be shared publicly and the needs of Balochistan and its people need to be made a priority, otherwise these surrenders and operations are futile.

Furthermore, the Pakistani armed forces have long blamed India for fuelling insurgency in troubled Balochistan by funding Baloch insurgents who target security forces and economic installations. Even though India does not share a border with Balochistan, the forces believe that it operates through Afghanistan, which currently has tense relations with Pakistan. Considering the capability of the militants, it is safe to conclude that there isn't any massive support by foreign powers as the source of this militancy is completely home-grown. In a video interview with BBC, Baloch guerrilla commander Dr Allah Nazar displayed a cache of small weapons and his armed fellows demonstrated their skills and their training process. Ironically, most of the weapons were made in China. The Baloch hardliners have been publicly seeking India's help for several years because they think they are being treated as second class citizens and all of Balochistan's resources are being utilised to develop cities in Punjab.

Furthermore, if Pakistan has concrete evidence of India's involvement, then it should take up the issue with the United Nations (UN) and the Indian government. This blame game between India and Pakistan is decades old and has nothing to do with home-grown militancy in Balochistan.

I myself have observed friends in Balochistan celebrating the victory of the Indian cricket team against Pakistan. However, what many fail to understand is that such celebrations were not born out of love for India but of anger and frustration at the Pakistani forces. This small act of celebrating a loss, which the Pakistani forces were presumably lamenting, provided the suffering people of Balochistan with a little relief. Whenever the security forces successfully conduct an operation and the national flag is hoisted, the people seem to be anything but happy; Balochistan is not an occupied region, to raise the flag as some sort of victory win just tells the people that they really aren't a part of the country.

Balochistan is a tribal society where everyone is related to everyone in some way or another. Hence when an operation is carried out, almost everyone knows a relative or a friend who was affected, injured or lost their life in the process. Regardless of the reason for the incident, how can there be a cause for celebration when there are people mourning in the next house? How do you think they must feel when they see the forces proudly hoisting the Pakistan flag when they just lost a loved one?

In Pakistan, a majority of the people living outside Balochistan are ill-informed about the situation in the province, especially since many issues are either taboo and not discussed in mainstream media, or a majority of the key analysts present in the media are naive about the province.

Instead of just pointing fingers and calling people traitors and terrorists, it is high time that the legitimate grievances of Balochistan are addressed. Many non-Baloch blame Baloch tribal chieftains for the poverty in the region. While there may be some truth to this, these very tribal chieftains are close friends of Islamabad and its establishment, and are encouraged to exploit the situation and plunder the resources.

The solution to this situation is simple – if the government was able to assassinate the most powerful tribal chieftain, Akbar Bugti, it can surely hold other tribal chieftains, the majority of whom are members of the mainstream political parties, accountable. These corrupt tribal chieftains enjoy complete impunity even though they are responsible for the deaths of dozens of people. All I am saying is that the problems present in Balochistan should be debated and addressed rather than exploiting or blaming India for them. The people of Balochistan deserve the hope of a peaceful and prosperous life. Instead, they face not only a serious law and order problem but also significant disadvantages due to the lack of educational institutions, hospitals and infrastructure.

Arresting foreign agents or militants surrendering from Balochistan will never help normalise the situation until injustices to this province are admitted and addressed. All they want is a sense of belonging.