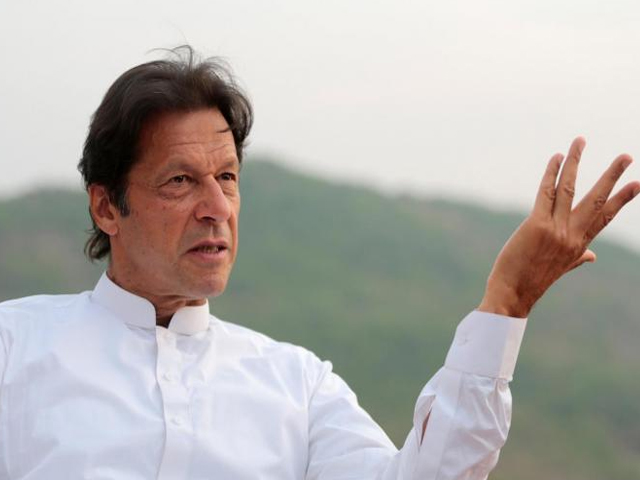 ---
Why is Imran Khan so racist?
According to Imran Khan's logic a player does not qualify to be foreign if he is darker than Imran.
---
Captain of a cricket world cup winning team, founding multiple cancer hospitals and a University - Imran Khan had enough credit to be welcomed as a hero anywhere he went in Pakistan but he seems to be on a one man mission to lose all the credit he has and then some. To paraphrase the quote from The Dark Knight, you either die a hero or you live long enough to see yourself become Imran. 

Imran has shown in the past that he is not averse to pulling any tactic to seize power - no antic is too shameful for him to berate the government or gain some political capital. I voted for Pakistan Tehreek-e-Insaf (PTI) in the 2013 elections – that was a time Imran could have ascended but his desperation for power since then has been highly troubling.

With every passing day Imran's fall from grace seems to get deeper and deeper. Imran's public denouncement of the Pakistan Super League (PSL) final being organised in Lahore was met with vehement criticism. Here is a man who has called for millions of people to take to the streets for public gatherings with not even one-tenth of the security provided for the PSL final pointing the security risk of a large public gathering.

The tacit admission in that statement is that the lives of foreign players is worth more than the lives of his supporters who come out in numbers for his dharnas and jalsas. In the last decade, at no point has there been a time in which the risk of a terrorist attack for such public gatherings has not been looming - when PTI was arranging their massive jalsas, Muttahida Quami Movement's (MQM) jalsas were being bombed.

However, you can see some reason in his argument. Sure Imran is using the opportunity to further his political goals and bring the government down a peg at a time they are celebrating a success. The Go Nawaz Go chants at a time when Pakistan was showing a united front to the world may be in bad taste but in a democracy everybody is entitled to political dissent and it is understandable for PTI to cling to straws in such a scenario.

But Imran's latest press conference on the matter is severely inappropriate for a leader of his caliber. Let alone a leader, the kind of language he used does not even suit a decent human being.

The video quickly went viral on social media where the PTI chief was heavily censured for using 'vile' and 'racist' language against foreign players, such as Darren Sammy who helped making the event a success.

[/fbvideo]

I am not of the school of thought that Imran's language in general has been too vulgar - the political landscape in Pakistan is much more vulgar than any words Imran can muster - but the words used by Imran in this press conference are plain racist.


Absolutely disgusting comments by Imran Khan regarding foreign players & even worse those trying to defend or spin it.

— Osama. (@ashaqeens) March 6, 2017
This 'Phateechar' player was able to win the hearts of millions of Pakistanis ... can some one please tell his name to Imran Khan. pic.twitter.com/pJyLirWaRy

— Mansoor Ali Khan (@_Mansoor_Ali) March 6, 2017
This is so vile and racist that I am thoroughly disappointed in Imran Khan. Genuinely respected his integrity. He is showing he has none. https://t.co/Wy5vLASUFv

— Abbas Nasir (@abbasnasir59) March 6, 2017


https://twitter.com/Nadir_Hassan/status/838817489790316544?ref_src=twsrc%5Etfw

He has no political enmity with the foreign players. There is nothing to gain by berating them - not judging them for the content of their character but by the colour of their skin. Martin Lurther King Jr would be turning in his grave.

According to Imran's logic, a player does not qualify to be foreign if he is darker than Imran. The Punjab Government has shown that racial profiling is not beneath them and the PML-N ministers have often targeted certain ethnicites, associating their ethnicity with their terrorism. However, Imran has gone international with his racism.

Imran claims,

"I don't know any of these foreign players, I have not even heard their names - the government seems to have grabbed someone from Africa and said look it is a foreign player".

From a purely semantic point of view, Africa does qualify as being foreign for Pakistan but in Imran's colonised mind only the white overlord would qualify as foreign. Ironically the only player from Africa was Sean Ervine from Zimbabwe, who is white.

Chris Jordan plays for England - a country Imran would know well as he visits often and bows his head to our British colonial overlords. Maybe Imran should have looked up his name before assuming every black person is from Africa.

At a time when the entire country was showing their gratitude to the entire West Indian contingent, particularly Darren Sammy, the megalomania filled mind of Imran was just looking at how dark their skin colour was and dismissing them as phateechar. A two time T20 world cup winning captain is a phateechar player because he looks like he is from Africa in Imran's world.

When you are ready to compromise on your fundamental sense of decency and humanity just to gain the least bit of political capital and hope for support by appealing the lowest common denominator in all of us then you know that you have truly lost all sense of your ideals.

Imran now walks as the shadow of the legend that he was, much like Donald Trump, you do not even take his claims seriously anymore. The overriding emotion is that of pity for a man who wanted so much but is left with so little.

Imran may have wanted to be Batman but has ended up becoming Lego Batman. My apologies if Imran finds that comparison offensive because he does not want to be equated with a character that dresses in black.