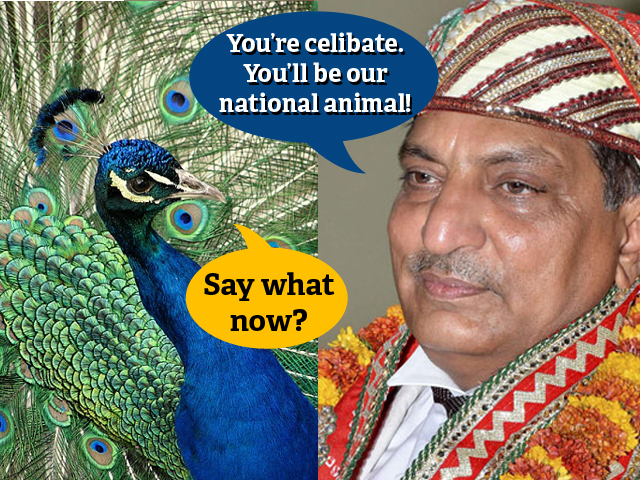 ---
One would think India is a progressive nation, until it makes "celibate" peacocks its national animal
The judge claims that celibacy is the reason why the peacock should be the national animal of India.
---
It stands to reason that a nation situated in one of the least well-endowed regions in the world would have an affiliation for peacocks. Instead, a Rajasthan High Court judge must have been rather afflicted by his peacock – he claims that peacocks are lifelong celibates. The answer shocked interviewers because the question was,
"Judge Mahesh Chandra Sharma, why are you a virgin?"

Steve Carrel will reportedly play Judge Chandra in the movie version of this story titled, The 40-year-old Judge.

Mr Chandra told the reporters,

"The peacock is a lifelong brahmachari (celibate). It never has sex with the peahen. The peahen gets pregnant after swallowing the tears of the peacock."

Why does the judge even know that? Somebody should delete his internet history before it is leaked online.

His claim is completely ludicrous because as animal experts would testify, it is next to impossible for the peacock to make the peahens swallow anything, especially after marriage.

It might be true that the peacock has spent many a night crying alone. It might also be true that the peahen got pregnant while this was happening, but if the peahen managed to convince the peacock that it was his tears that impregnated her, then the peahen deserves an Oscar.

The peahen has basically pulled a shaggy – she would probably start singing 'It wasn't me' if the peacock was to ever walk into the room while the peahen was not being a brahmachari.


I disagree with the judge.

The judge claims that celibacy is the reason why the peacock should be the national animal of India. India is a country with a population of over a billion people – it should be represented by an animal not having sex. Looking at the rate of population increase in India, nobody is not having sex in India, except maybe Judge Chandra, but that is only because of religious reasons and no other reasons. Nobody should Google his face and believe that it is a choice for the judge when he says he chooses to be celibate, just like his peacock.

It has to be a choice. I cannot imagine how a peacock could have difficulty in picking up peahens. It has a full proof strategy to pick up females. Anytime a peacock likes a peahen, it walks up to her and bares his backside. All the feathers from his back become upright completely. What peahen would not want the peacock after that?

I have tried to replicate this strategy at many a bar in the world, but somehow girls are not attracted to me. It has to be because I am a human being – if I was a peacock, I am sure I would have been the talk of the town.

India's national animal should not be the cow or the peacock. It should be the bonobo monkey – they use sex to greet each other, even then they have a slower population growth than India.

If only India was less interested in animal sex lives and more interested in creating safe spaces for human beings in their cities, then it could be truly regarded as a progressive nation. For now, the country has to contend with judges spending time Googling how much sex peacocks are having – or at least I hope he Googled that.

It would be really awkward if he went around interviewing peacocks about their sex life. It would also be really intrusive. The peacock is a revered bird in India.