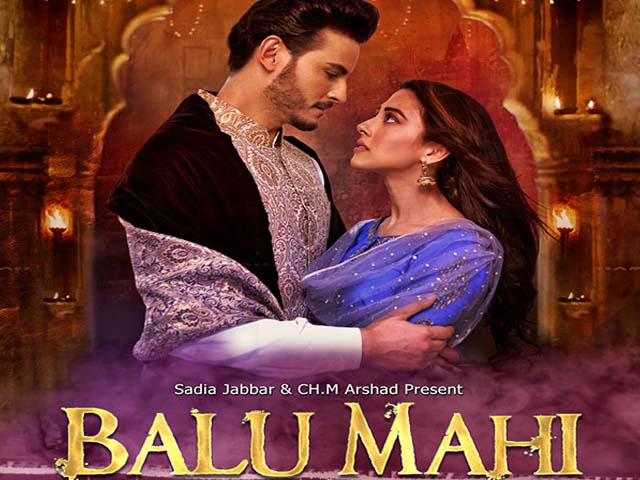 ---
Balu Mahi brought the Pakistani out in me
This movie has provided a new platform for direction in Pakistani cinema – one that is led by young visionaries.
---
Recently, Pakistan's movie industry has been going through the process of transforming and restructuring itself. Primarily related to this change is an alteration in movie production. The era of the "gandasa" (a wooden pole) and "horse-riding dhoti-wearing heroes" is over or at least diluted to some extent. This is the time to fill the big screen with colours, fun, and relationships backed by practical stories that resonate with our society.


Balu Mahi offers an assortment of feel-good moments, comic relief, and songs along with heart-warming moments between Bilal (Osman Khalid Butt) and Mahi (Ainy Jaffri). It started off slowly, and I wondered if it would turn into the movie promised in the trailer, and more so, if it would live up to the hype the actors created on social media.

I think this moment of hesitation, at least on my part, was necessary as it heightens the viewer's curiosity and makes the next part of the movie all the more interesting. Bilal and Mahi become a part of a chase that completely shifts the gears of the movie and what follows is a ride you do not want to miss. Definitely buy your popcorn before the movie, because you will not want to leave your seat.




While writing the preview of Balu Mahi a few days ago, I wondered how the chemistry between Director Haissam Hussain would work with Butt; they had worked previously together in Aunn Zara. It seems like both understand each other well as far as the technicalities of direction are concerned since Butt's emotions – both funny and serious – hit the mark. Jaffri's emotions and on-screen presence are also significant and she does justice to her role – in fact, after watching her play the role of Mahi, I would go so far as to consider her a method actor.

The protagonist's emotions make or break a movie and in my opinion, Butt's performance – accompanied with Jaffri's facial gestures – go far in providing an element of realism. Balu Mahi also establishes Butt and Jaffri as movie stars who can deliver a vigorous, spirited and lively performance while gripping the audience's attention. I definitely want to see the two as an on-screen couple again.




Honestly, I got more than I expected in terms of cinematography, story, and characterisation. The movie is a complete package with no drawbacks or loopholes. There was a slow and steady introduction to the story and its characters, a decent progression of the plot and seemingly flawless characterisation. A mix of serious moments and humour kept the story balanced.

Balu Mahi was a satisfying watch, and as a viewer, it's safe to say that I was immensely pleased with it. Firstly, the trio of Butt, Jaffri, and Sadaf Kanwal kept the flow of the story going. Secondly, as a couple, Butt and Jaffri worked in unison with their emotions and actions and illustrated a blend of fine storytelling. Thirdly, the director and writer used numerous casual yet relatable moments to capture the viewers' attention and curiosity. Fourthly, the dialogue delivery (from all the actors) was natural, and felt realistic. And lastly, the soundtrack of the movie reveals a modern take while still keeping cultural appeal.




The only concern I had after watching the movie is how long it took to end. The running time was nearly two hours, and that seemed a bit much. However, so much was happening in the movie that time passed by without taking a toll on the viewers.

Some movies bring out the hero in its viewers and others bring out emotions. Balu Mahi brought the Pakistani out in me; I could totally see myself as a part of the narrative. This aspect of the movie will help in defining filmmaking and storytelling in Pakistan.




Thus, Balu Mahi brings a fresh perspective with its story, just as I had predicted in my preview. Moreover, this movie has provided a new platform for direction in Pakistani cinema – one that is led by young visionaries.

My advice: Grab a bag of popcorn, a few friends, and let Bahu Mahi take you on an enthralling, very Pakistani, ride.