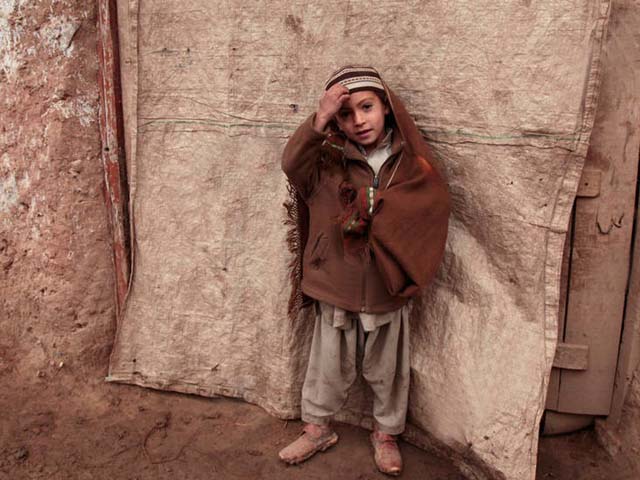 ---
"They thought I have a 'foreign agenda' because I teach children free of cost"
Does that also mean that more than 25 million children are not supposed to go to school because of the way of God?
---
I was volunteering at a makeshift school for nomads and slum children when one day, a young student of mine, not older than 10-years-old, approached me and said,
"God's anger does not work on me."

This was the first time in my life that I had been exposed to the slum life, aside from what I saw in movies and read in books. This young soul has suffered so much and yet he still lives every day with resilience. To him and so many others like him, life is a manifestation of every day survival.

Indeed, some people consider it an unchangeable fate as "God tests his loved ones the most" and nothing can be as convenient a lie as this. Many of us lack this realisation, which is reflective of the extent to which society has dehumanised our slum dwellers.

In Pakistan, we have no consolidated data on slums across the country. What we do know is that slums are growing at a faster rate than urbanisation. In Islamabad alone, there are about 10 illegal settlements and some of them get frequently evicted by the Capital Development Authority (CDA).

Even in Lahore, the development authority remains rigorously engaged in getting gypsy communities evicted without working on providing better alternatives for them in return. Many development projects like the Orange Line cost $16 billion per year. Projects like these have made numerous people homeless and many continue to live under the fear of soon being homeless.

However, we cannot blame the state alone for these conditions as there are numerous examples of religious zealots evicting minorities over fabricated blasphemy allegations in order to occupy their properties.

Those who suffer the most are the tent schools as only a handful of concerned people have set them up and one small disturbance affects the entire momentum of their informal schooling. Muhammad Ayub, a civil defence worker, has seen such disruptions during his 30 years of providing free education to street children in Islamabad.

"So many times my school had been evicted and I have on many occasions been harassed by the authorities, but I never gave up. It was only after I received the presidential award in 2015 did such harassment stop."

He now finally has a small space in F-9 Park where he is able to teach his pupils undeterred.

"They thought I am working with a 'foreign agenda' by teaching these children free of cost."

He joked about this as he told me more about his extraordinary experience as a teacher.

In our urban cities, a major portion of our society lives in slums yet we still ignore their existence by considering them as the "dirt" of the society. In fact, the culture of deliberately neglecting them is deep rooted and city planning revolves around 'disposing' instead of actually planning at all. And because they are considered lesser humans in society, the state has no intentions of improving their lives nor is there any concrete research on the subject, except for a few independent case studies.

There is a diversity of urban trends in different continents. The poverty stress is mainly laid on the urban populations in Africa, Asia and South America. However, it is important to note that all the slum populations across the globe share similar characteristics in terms of living standards. By using the United Nations (UN) Human Indicators, there are issues concerning undernourishment, hunger, disease, insufficient living spaces, overcrowding, and unemployment.

UN-HABITAT uses four indicators of slums at household-income level. These indicators are as follows:

1. Lack of water

2. Lack of sanitation

3. Over-crowding

4. Non-durable housing structures.

There is also a fifth indicator that emphasises on the security of the tenure, which is not easy to monitor as it mainly has to deal with the legality of these dwellings.  As a result, many problems surrounding these dwellings cannot be accurately addressed due to their lack of legal rights. This is particularly evident in Pakistan as there are innumerable illegal dwellings that continue to persist despite the government's efforts to remove them.

When it comes to countries that are working on poverty reduction and trying to achieve sustainable solutions, it is imperative to integrate the poor into the fabric of their urban societies. It is argued that ultimately, the Millennium Development Goals (MDG) will have to shift their focus on urban development as slums continue to grow in cities.

Another point to take into consideration is how people are deprived of opportunities through preferential treatment. A study in France revealed that job applicants from poor neighbourhoods were less likely to be called for job interviews. This is especially true in Pakistan as well. Even if a child has completed his/her education, and is ready to contribute to the society, their acceptance largely depends on their social background. Their personal relations are also heavily dependent on their income class. Arguably, in every city here, the slums are created for the advantage of the middle and upper middle classes. This is because an equal distribution of wealth would ultimately lead to breaking the class structure.

The status quo is even religiously justified by some society members. Recently, while speaking about the poor or lower class, which constitutes of 40% of Pakistan's population, Senator Yaqoob Nasar stated that it is the way of the God and we must not interfere in it.

Religion is invoked frequently, as that is one thing that cannot be questioned. One may ask then, does that also mean that more than 25 million children are not supposed to go to school because of the way of God? Is this the reason why less than 3% is spent on education annually in Pakistan?

I think this is why my student said what he said. Despite all the pain and all the struggles he endures, he still looks for an excuse to claim his childhood. Every time I gaze at his smile, I see a tale of hope, a tale that I pray makes our people realise that these children deserve dignity and happiness.